Homemade Nutella Coffee Cake Recipe from Scratch
I have mixed two of my favorite ingredients. Nutella and Coffee Cake! I think I'm in Heaven! I'm not gonna lie though, this recipe requires you to work with yeast. I can't tell you how many times I failed at a recipe that required me to use yeast. Until now. Don't let the yeast scare you away from this recipe. Once you prefect the art of using yeast, you won't ever go back to premade dough ever.Before we start you need to know a few things about yeast.
There are three different kinds of yeast. ActiveDry which is what I use. Instant Yeast, which is milled finer and goes a tad bit faster and fresh yeast which is super hard to find. This recipe will call for the ActiveDry yeast from Fleischmann's just like this one here on Amazon. You can get this yeast in your local grocery store. I always buy the 40z jar because it will last refrigerated for up to six months. Not that it ever takes me that long to use it.
Two very important things you need to remember about yeast:
Yeast will thrive in warm environments and feeds on milk/sugar.
You can kill yeast with salt and any temperature over 140 degrees.
If you can remember these two things you won't have any trouble with your recipes and you will have a better understanding as to why you wait when needed and why you add salt at certain times too.
I highly suggest you follow this recipe to a tee. Set a timer for the wait times and mix it exactly as explained. Don't deviate from the recipe at all. I'm a bit impatient but I've learned that this is extremely important in the success of your recipe.
Bakers tip: I use a scale to measure out all of my ingredients. It's what they teach you in culinary school. It's the most accurate way to measure ingredients. I'm hooked and will never go back to using a measuring cup. You don't need a super expensive scale either. In fact, I found this Ozeri Pronto Digital Kitchen and Food Scale on sale on Amazon and it's a best seller with amazing ratings. Perfect and inexpensive. The most important button on that machine is the Tare button. You can place the bowl on the scale without ingredients in it and then hit the Tare button to have it subtract the weight of the bowl or anything that is in it. Every time you add a new ingredient you just hit the Tare button to start over to measure your new ingredient.
I've written this recipe up in both ways just in case you don't have the scale or don't want to get one. (Even though you probably should if you bake a lot)
Homemade Nutella Coffee Cake Recipe from Scratch
Best Nutella Coffee Cake you will ever try!
Instructions
In a mixing bowl, stir together the yeast, warm milk and sugar. The milk should feel warm to the touch but not hot. Think of giving milk to a baby. Test it against your wrist if you don't have a thermometer.

Let this mixture sit for a full 5 minutes. This will allow the yeast to work!

Add 3/4 cup of flour to the mixture (saving the remaining flour for later)

Mix the ingredients just enough to cover all of the flour.

Let it sit for another 10 minutes.

Using a mixing bowl with a dough hook, mix the remaining flour.

Now add the butter, salt and one egg (be sure the butter and egg are at room temperature)

Mix it with a dough hook for about 4 minutes.

Place to dough in a bowl and cover it with saran wrap for about 1 hour until it doubles in size.

(Note: If you don't have a mixer you can knead the dough with your hands)

While the dough is rising. Mix together 1 cup of Nutella with one egg. This will be the filling in your coffee cake. The egg helps it to thicken so it doesn't melt out of the cake.

Once the dough is ready, punch is down and split it into 4 or 5 different sections. This will be the layers you need.

Begin to roll each section into a circle. Use a large plate to cut an exact circle from the rolled dough.

Spread a thin layer of the Nutella mixture to the circle.

Roll out the next circle and place it on top of the previous circle. Repeat the above steps until all circles are done.

Place a cup in the center of the circle.

Use a knife and cut at the 12 o'clock hour, 3 o'clock hour, 6 o'clock hour and 9 o'clock hour of the dough.

Next, cut a line in the center of each section you cut out. Continue cutting until you have 16 equal cuts (as shown in the photos)

Remove the cup.

Grab the ends of two neighboring strips of dough and twist them outwards. Grab the next two neighboring strips and turn them outwards. Continue this step until all strips of dough are twisted.

Now twist the dough one more time and pinch the ends together on all sections to create the final design.

Now create an egg wash mixture by whipping and egg and adding 1 tablespoon of water to it. Spread this on top of the coffee cake.

Bake at 350 degrees for about 25 to 30 minutes (until golden brown)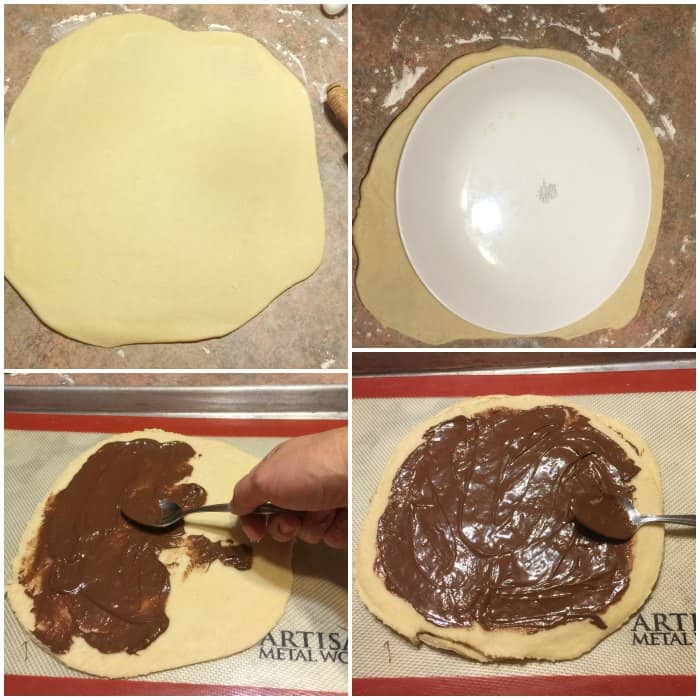 Egg Tips: Make sure your eggs are at room temperature. This will help them to mix with the other ingredients better. If you didn't give them time to adjust to room temperature, just add them to a warm cup of water until you are ready to use them.
Nutella Tips: If you like a thicker layer of Nutella, you can use 2 cups of Nutella and 2 eggs. I spread it thin but my kids love it when I make it thicker the most. Of course they do!
There's just one more thing about the dough I want to mention. You can freeze dough in your freezer for about one month. Just be sure to freeze the dough after it has gone through the rise stage of this recipe. I use my Foodsaver machine to seal it from freezer burn. Best machine ever and worth it's weight in gold in my opinion! This is a bit off topic but you should see the Mason Jar salads we've sealed with our Foodsaver. Back on topic, I've heard you can wrap the dough really, really good with plastic wrap to prevent freezer burn too.
2 pack of Artisan Silicone Baking Mats on amazon for just under $20 shipped. I do lots of purchases on Amazon. Can you tell? 🙂
Here's the recipe you will use when using your kitchen scale (my favorite recipe):
Homemade Nutella Coffee Cake Recipe from Scratch
Best Nutella Recipe you will ever try!
Instructions
In a mixing bowl, stir together the yeast, warm milk and sugar. The milk should feel warm to the touch but not hot. Think of giving milk to a baby. Test it against your wrist if you don't have a thermometer.

Let this mixture sit for a full 5 minutes. This will allow the yeast to work!

Add 7 oz of flour to the mixture (saving the remaining flour for later)

Mix the ingredients just enough to cover all of the flour.

Let it sit for another 10 minutes.

Using a mixing bowl with a dough hook, mix the remaining 10.5 oz of flour.

Now add the butter, salt and one egg (be sure the butter and egg are at room temperature)

Mix it with a dough hook for about 4 minutes.

Place to dough in a bowl and cover it with saran wrap for about 1 hour until it doubles in size.

(Note: If you don't have a mixer you can knead the dough with your hands)

While the dough is rising. Mix together 1 cup/8 oz of Nutella with one egg. This will be the filling in your coffee cake. The egg helps it to thicken so it doesn't melt out of the cake.

Once the dough is ready, punch is down and split it into 4 or 5 different sections. This will be the layers you need.

Begin to roll each section into a circle. Use a large plate to cut an exact circle from the rolled dough.

Spread a thin layer of the Nutella mixture to the circle.

Roll out the next circle and place it on top of the previous circle. Repeat the above steps until all circles are done.

Place a cup in the center of the circle.

Use a knife and cut at the 12 o'clock hour, 3 o'clock hour, 6 o'clock hour and 9 o'clock hour of the dough.

Next, cut a line in the center of each section you cut out. Continue cutting until you have 16 equal cuts (as shown in the photos)

Remove the cup.

Grab the ends of two neighboring strips of dough and twist them outwards. Grab the next two neighboring strips and turn them outwards. Continue this step until all strips of dough are twisted.

Now twist the dough one more time and pinch the ends together on all sections to create the final design.

Now create an egg wash mixture by whipping and egg and adding 1 tablespoon of water to it. Spread this on top of the coffee cake.

Bake at 350 degrees for about 25 to 30 minutes (until golden brown)