I received product in order to conduct this review.  No other form of compensation was received and all opinions are 100% my own.
I am on a new kick lately with my Mason Jar Salads.  I was recently given the opportunity to test a brand new Foodsaver and I wasn't too sure I was going to like it.  I've never thought of owning one.  I just didn't think I needed one.  The model I received is the FoodSaver V4840 Two-in-One Vacuum Sealing System.  Worth every penny!
I love salads but I really get quite lazy when it comes to actually making them.  I don't like to pull out all of the ingredients every time I want to make myself a salad.
I've already tried cutting up all the veggies and lettuce for the week only to be disappointed on the second day when the lettuce has wilted and it doesn't taste fresh either.  Needless to say, the prep I did for the week didn't last.  What a disappointment.
I had a one track mind when it came to this FoodSaver.  I was only thinking about my salads.  It shouldn't be too much to ask for me to make my lunches for the week on Sunday and have them stay fresh throughout the week.  This Foodsaver was about to be put through the test in a big way!
I started chopping veggies for the whole week!  I purchased a set of pint sized mason jars and used this mason jar attachment seen here on Amazon.  I made 7 days worth of lunches for me and my family!  I am happy to report that even on day 7 the lettuce was as fresh and crisp as the day I first cut it!  I'm hooked!  I cannot believe I have not tried this machine sooner!  That was the main test and it passed!
PRO TIP:  If I had to do this all over again, I would have used the wide mouth mason jars and the wide mouth jar sealer too.  This way your salads can easily be placed in the jar and removed easily too.  It's not too much of a hassle with the smaller lids but I would rather have the larger wide mouth jars for my salads.  I like that they make the pint size jars in the wide mouth too.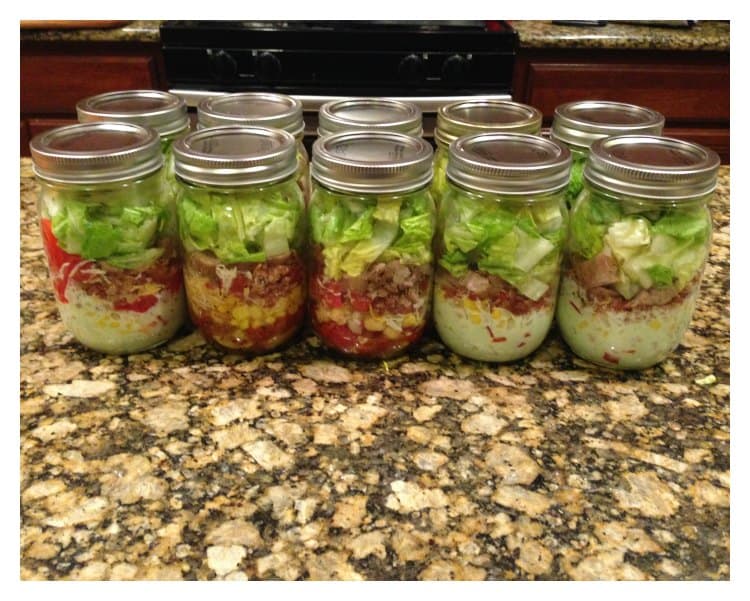 How to make Mason Jar Salads:
I started making my salads with the salad dressing first.  Next I put it the harder veggies that I knew would not get soft even while in the salad dressing.  I added corn, squash, zucchini, garbanzo beans, red peppers, carrots, onions, tomatoes and lastly I chopped up some Romaine lettuce and stuffed it full.   It's amazing how much lettuce can be packed into that small jar.
I finally had a chance to experiment with the FoodSaver bags too.  They store nicely in the top of the FoodSaver and there's a built in cutting device that cuts it perfectly with very little effort on my part.  It's nice to be able to buy a big amount of veggies from the Farmers Market on Saturday and keep them fresh all week long.  I love that!
Money Saving TIP:  If you want to save a big of money you can easily use the jars to store leftovers from dinner too!  I've stored left over pasta, sauces, meats and many other things in those jars.  I love that you can just wash them out and reuse them instead of worrying about the cost of the bags.  I do like the bags for certain things too.  It's nice to buy meat on sale and use it for freezing!  That's a huge plus for me and my frugal ways!
Overall, I'm extremely happy with the FoodSaver.  Now I'm wondering how I can ever live without it.  I'm not even kidding!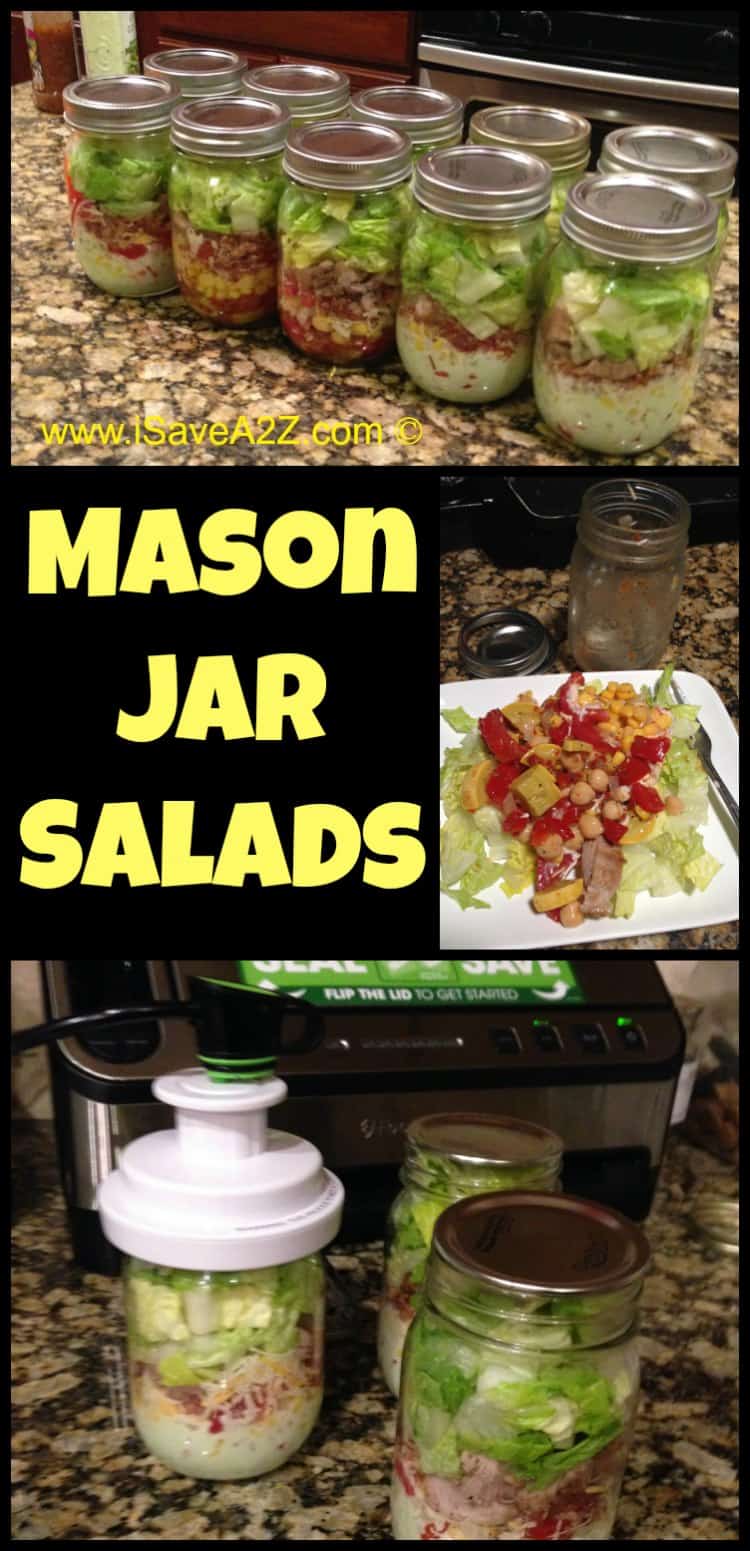 If you are looking for even more Mason Jar Salad Ideas you've got to read this article!  We have 50 recipes that are pretty amazing!  You won't eat the same lunch salad for a month!  I could live off of salads but I do find the need to change it up a bit each time.
UPDATE:  Since writing this article, there is a brand new FoodSaver machine that has come out!  Honestly, I'm not even sure how they could improve it but they did.  Check out the FoodSaver FM2000-000 Vacuum Sealing System
.   I'm a huge fan of preserving food because it will save you lots of money.  People just don't even realize how much food is wasted on a weekly basis.  I've been guilty from time to time myself.
Here are some tips the Foodsaver® brand offers up the following tips for long-term fruit, vegetable and herb preservation:
o   BANANAS: If you have ripe bananas for a recipe, but don't have time to make it right away, peel the bananas, place them in a FoodSaver® Bag, and vacuum seal. The bananas will keep for several days in the refrigerator and months in the freezer – without discoloring… perfect for making the recipe when you are ready!
o   BERRIES: Wash the berries and dry thoroughly. Pre-freeze them on a cookie sheet in the freezer for about 2 hours. Now, you can vacuum package them without crushing them. To store fresh berries in the refrigerator, place them in a FoodSaver® Canister and vacuum them. The berries will last up to a week or more this way!
o   LEMONS: Make fresh lemonade whenever you want it! Whether you have a lemon tree of your own, or like to buy lemons in season (at their lowest price), squeeze the juice, remove the seeds, and pour the juice into ice trays. After the juice has frozen, use pint-size or Portion Pouch™ FoodSaver® Bags to make packets that hold 1-2 cubes. Then vacuum package and store in the freezer. Whenever you need fresh lemon juice, just thaw the packet, snip a corner and pour out the juice.
o   VEGGIE STEAMERS: Stock up on vegetables when they're on sale and in season, then freeze them in appropriately sized servings using FoodSaver® Freeze 'n Steam™ bags. The bags have built-in steam vents to take veggies from the freezer to the microwave to your table in minutes.
o   CRUCIFEROUS VEGGIES: Cruciferous vegetables such as broccoli, cauliflower, cabbage and Brussels sprouts give off gases when they are stored. This gas will cause the bag to expand, and the vegetables will go bad. The best way to store all vegetables is to blanch them first, then cool, dry, vacuum pack with the FoodSaver® system and freeze.
o   CELERY: Due to the high water content of these vegetables, it is recommended that you do not freeze them. Instead, wash and dry them thoroughly, vacuum seal them in a FoodSaver® Canister, and store in the refrigerator until needed. They will last up to 6 weeks in this manner.
o   HERBS: Divide fresh herbs in individual bags so you can have the right amount on hand instantly. Preserve them in season and freeze for use later. Enjoy the flavor of freshness in your recipes any time of the year!
o   AVOID vacuum sealing soft cheese, mushrooms, and garlic.