Keto Pumpkin Cheesecake Cupcakes Recipe
The following recipe comes from, Amy as part of our Ketogenic Diet Pumpkin Recipe challenge.
Keto Pumpkin Cheesecake Cupcakes Recipe Ingredients
IMPORTANT TO USE A SILICON 12 CUP MUFFIN TIN
Crust
1/2 tbsp coconut oil
1/2 tsp Vanilla Extract
2 tbsp erythritol
1/2 cup Coconut flour
2 tbsp Butter
1/8 tsp salt
Cheesecake Filling
8 oz Cream Cheese
5 tbsp erythritol
3 tbsp sour cream
3 tbps Heavy Whipping Cream
Pumpkin cheesecake layer
1/3 of the prepared cheesecake above
6 tbsp Pumpkin Puree
1 tsp Pumpkin Pie Spice
1 large Egg
Keto Pumpkin Cheesecake Cupcakes Recipe Instructions
Crust
1.) Combine dry ingredients: coconut flour, erythritol and salt. Set aside.
2.) In another bowl whisk together vanilla and melted coconut oil.
3.) Slowly add the wet ingredients to the dry ingredients thoroughly combining.
4.) Add in cubes of room temperature butter and use hand to form dough.
5.) Using your hand mold the dough into the bottom of each cup of your greased cupcake pan. We use a silicon cupcake mold.
6.) Place pan into a 350 degree oven for 12-15 minutes (depending on thickness of crust layer).
7.) Once cooked, pull out and set aside to cool.
Cheesecake Filling
1.) Using mixer cream together the room temperature cream cheese and erythritol.
2.) Add egg, sour cream and heavy whipping cream. Continue to mix until thoroughly combined.
3.) Use 2/3 of batter filling up the cupcake pan. Reserve 1/3 of cheesecake filling for pumpkin cheesecake filling
Pumpkin Cheesecake Filling
1.) Add pumpkin puree and pumpkin pie spice to remaining 1/3 of batter and combine well (even out all lumps).
2.) Slowly layer the remaining (newly created pumpkin cheesecake mixture) on top of the cheesecake layer in the cupcake pan.
3.) Place into a 300 degree oven for 55-60 minutes. Use toothpick to check for a clean pull through.
4.) Place in fridge to chill and serve cold. Enjoy!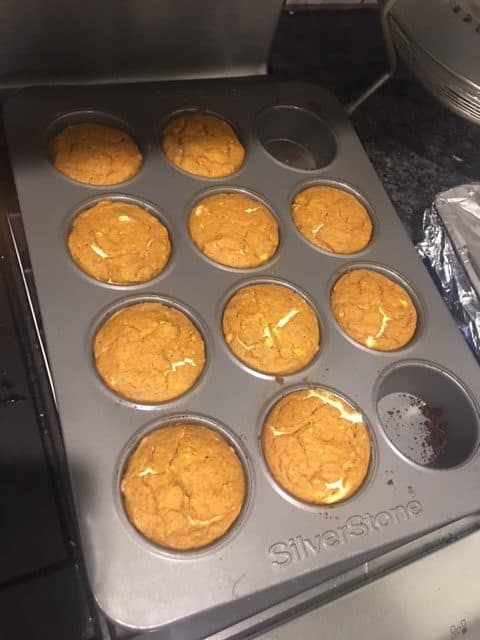 Be sure to save this on Pinterest!