How to Order a Keto Frappuccino from Starbucks (Printable Card Included)
How to Order a Keto Frappuccino from Starbucks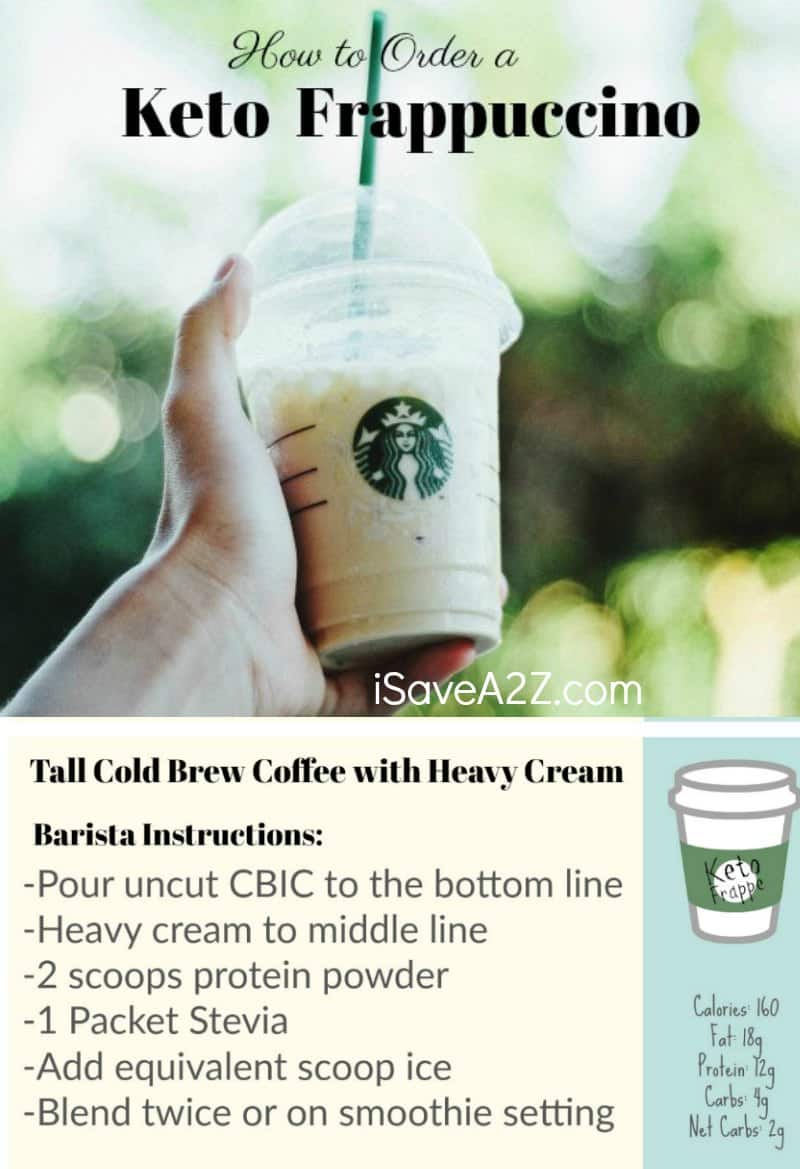 We all know how complicated the ingredients for the Ketogenic diet can be but take those rules to your local Starbucks and you might become a bit frustrated trying to figure it all out.
Today, in our Low Carb Inspirations Facebook group, a member linked a Reddit thread where a Starbucks Barista got a bit creative in making a frappe keto friendly! (Thank you WorldsOkayestBarista!)
If you are just starting out and learning about the Keto Diet, read this article: Simple Way to Start the Ketogenic Diet
How to order a Keto Frappuccino from Starbucks Instructions:
Here's what WorldsOkayestBarista says:
"Hello, fellow keto-ers! I'm a Starbucks barista and new to keto, so I've had to get creative for my breaks and lunch at work. It's essentially a cold brew, heavy cream, sweetener of choice and our protein powder, and ice blended together. Keto "Frappuccino": Ask your barista for a tall cold brew coffee with heavy cream. Undiluted cold brew to the bottom line, heavy cream to the middle, 1-2 packets sweetener(we carry stevia, Splenda, equal, sweet n low, as well as sugar-free vanilla or sugar-free cinnamon dolce>1-2 pumps based on your preference), 1-2 scoops of protein powder, tall scoop ice, double-blended.
The protein powder acts as an emulsifier so the "frappuccino" isn't quite so icy, 2 scoops is ideal, but 1 will work if you need to cut back."
You know what my first thought was? I didn't even know Starbucks has protein powder. Did you?
My second thought was that I plan on making my own Starbucks Copycat recipe at home now that I know protein powder acts as an emulsifier! That's good to know!
WorldsOkayestBarista also goes into exactly how you should order this drink. Yes, people asked her to state it word for word on exactly what to say because they don't want to overwhelm the barista, or even worse, get the order wrong.
I didn't read through all the comments but I did read that you cannot order this online because the system can't handle the substitutions you are requesting. Also good to know.
Nutrition Label for this Keto Frappuccino per MyFitnessPal:
Calories: 160
Fat: 18g
Protein: 12g
Carbs: 4g
Net carbs: 2g
If you love going to Starbucks and this Keto Frappuccino is your recipe, I've created a printable version of this card that you can print off and keep in your wallet. Another barista mentioned that it's easier for them to have simple instructions like this, especially during busy times!
Download the Keto Frappiccino Instruction Card Printables here:
If you are likely to use these cards often, I would highly suggest laminating them. I purchased a laminator machine off of Amazon for fairly inexpensive and always buy these 8.5 x 11 laminator sheets there too because they are the cheapest I've ever found them.
I've included both a color copy and a black and white version of each card.
Note: CBIC on the card means Cold Brew Iced Coffee
Download it here: Single Color Keto Frappe Instructions Card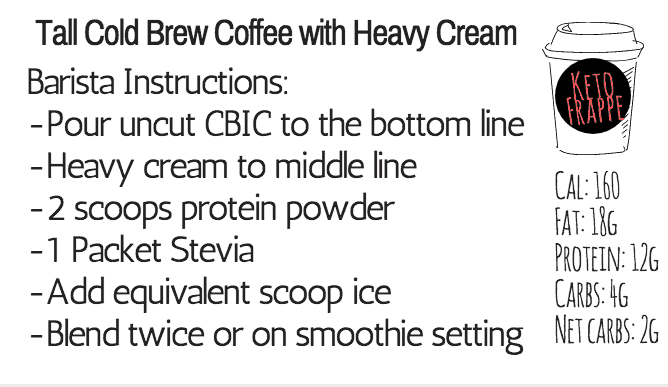 Download it here: Single B & W Keto Frappe Instruction Card
Or I have both of these cards in PDF formats with 8 cards to a sheet if you want to print many of them at a time.
Download it here: Keto Frappe Instructions Card Color set of 8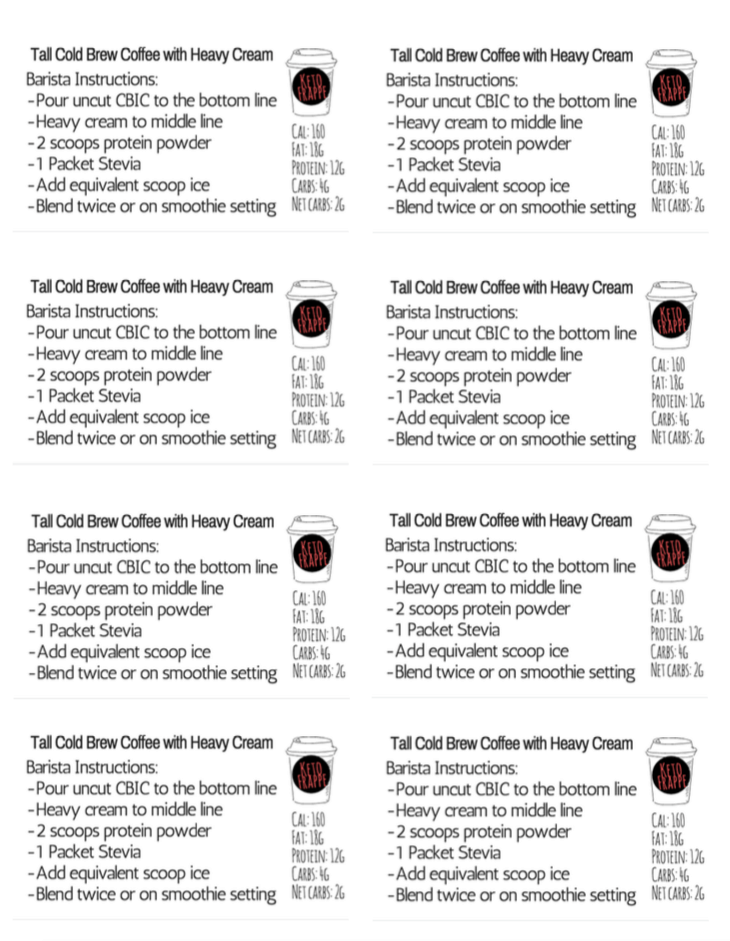 Download it here: Keto Frappe Instructions Card Black and White set of 8
We also have a Ketogenic Diet tips post you will find helpful: Tips for Success When Starting the Ketogenic Diet
Don't forget to Pin It on Pinterest for later!