Delicious Apple Dipper Sticks

Delicious Apple Dipper Sticks
I am in love with these delicious apple dipper sticks.  I know my kids are too.  We always have apples on hand but this is a way to make those apples disappear in no time.  My kids gobble these babies up!  I swear these only take about 5 minutes to whip up once you have all the ingredients in front of you.  This is just a quick recipe with a few sample topping ideas.  You can add just about any kind of topping you want.  We've make these with crushed candy bars or even crushed cookies too.  I think the crushed M&M candies might be my favorite.  Oh wait!!  One time I even used crushed Milano cookies.  The mint kind!  Oh man they were good.  Let your imagination go wild with topping ideas.
I really like to use the Granny Smith apples on this recipe because of the tartness of the apple mixed with the sweetness of the chocolate and toppings balances out the two.  But feel free to use your favorite apple either red or green.  They all taste pretty darn good if you ask me.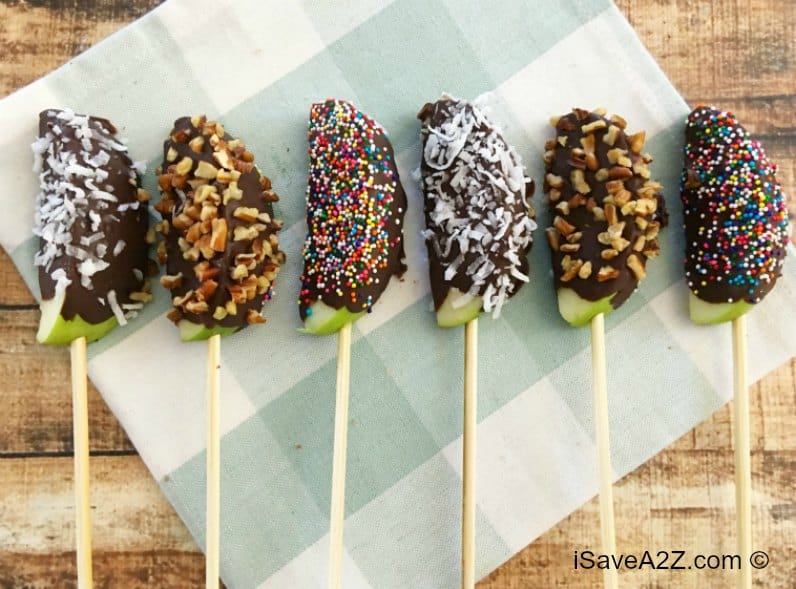 This recipe is perfect if you need apples to be eaten pretty quickly before they start to go bad.  Sometimes apples just sit until I do something special with them.  We also like to make a Apple Crisp recipe too.  It's amazing how you can make a popular dessert idea from a few ingredients such as brown sugar, oatmeal and apples.  My mouth is watering just thinking about it.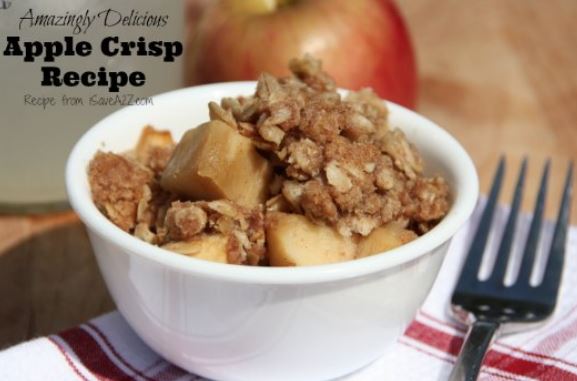 Now the last thing I should mention about this delicious apple dipper recipe is the chocolate you use.  It really does make a big difference.  Some might call me a chocolate snob but whatever…  I love my chocolate but only the good kind!  ha!  I love to use Ghirardelli melting chocolate.  It's way better than the chocolate almond bark you find at your local grocery store.  There are all different types of Ghirardelli melting chocolate too.  You can get dark chocolate, milk chocolate and even white chocolate.  Use your favorite in this recipe!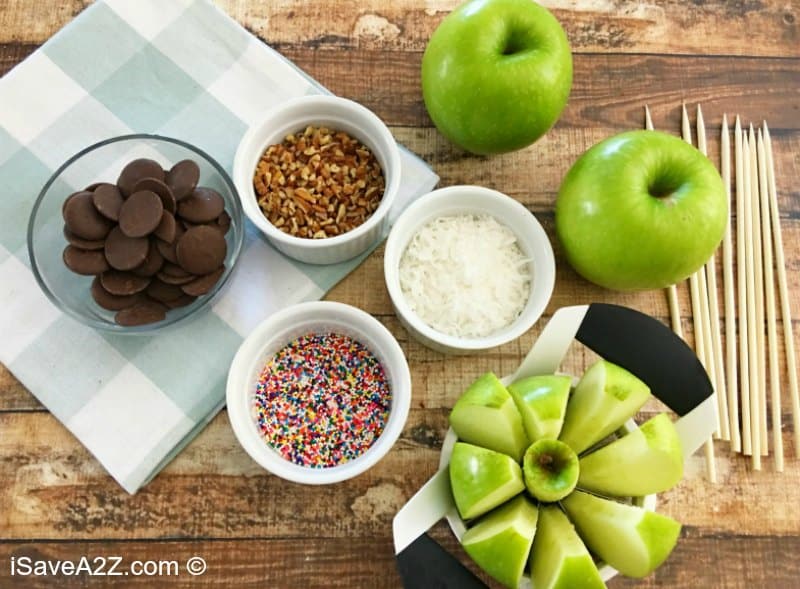 Ingredients needed to make apple dipper sticks:
3 Granny Smith apples
10oz Ghirardelli melting chocolate
1/4 Cup coconut flakes
1/4 Cup crushed pecans
1/4 Cup nonpareil sprinkles
Wood food skewers or lollipop sticks
Directions to make apple dipper sticks:
1. Wash your apples and use a apple corer to slice your apples.  My apple corer (just like this one found here on Amazon) is one tool I use often.  It's super easy to core apples in no time with this baby!
2. In a microwave safe bowl, melt you chocolate on 50% power for 2-3 minutes, stirring every 30 seconds until melted.  This is a very important step.  If you try and microwave this for more than 30 seconds at a time, you run the risk of burning your chocolate.  Don't risk it.  Have patience during this process.  
3. Place a skewer into the bottom of each apple.
4. Hold the skewer and dip each apple in your bowl of chocolate, use a spoon to help cover the apple.
5. Place your apples on a piece of parchment paper and sprinkle with either pecans, coconut flakes, or sprinkles.  The kids love helping with this part.
6. Transfer all of the finished apples to the fridge for about 10 minutes for your chocolate to harden.  
Here are a few process photos we took when we made apple dipper sticks: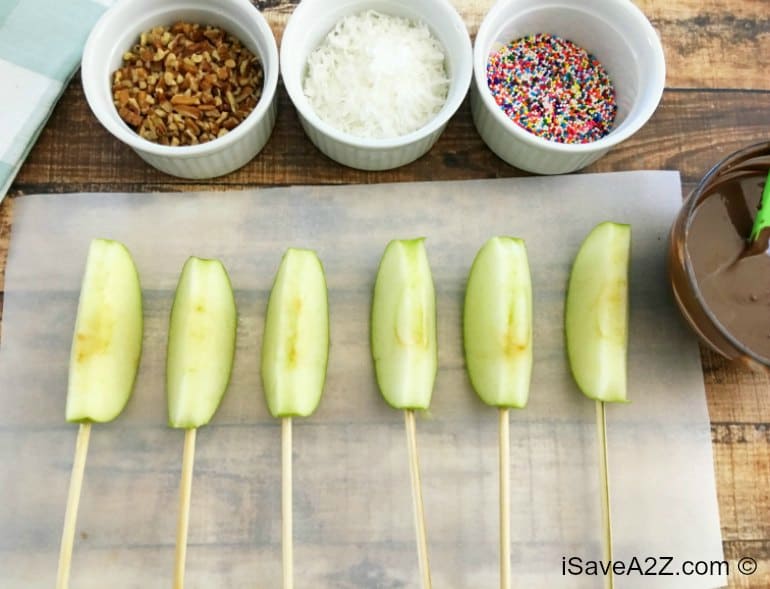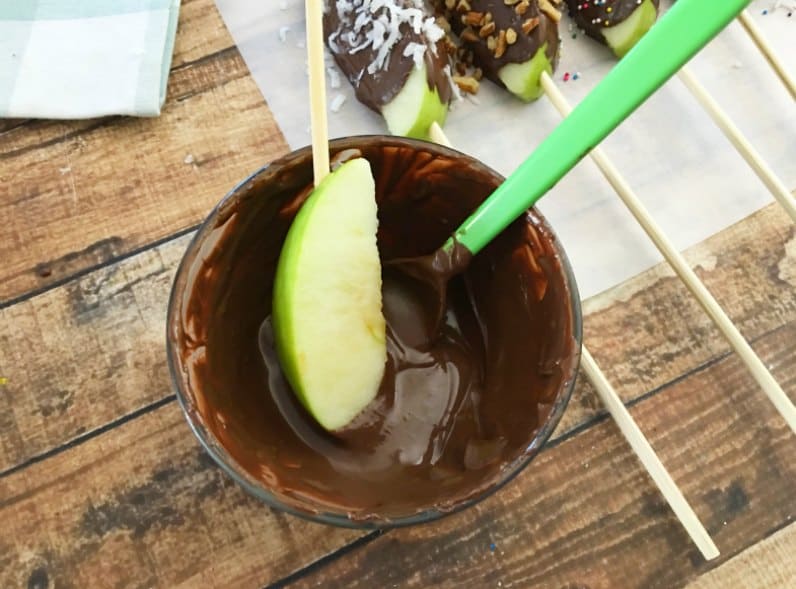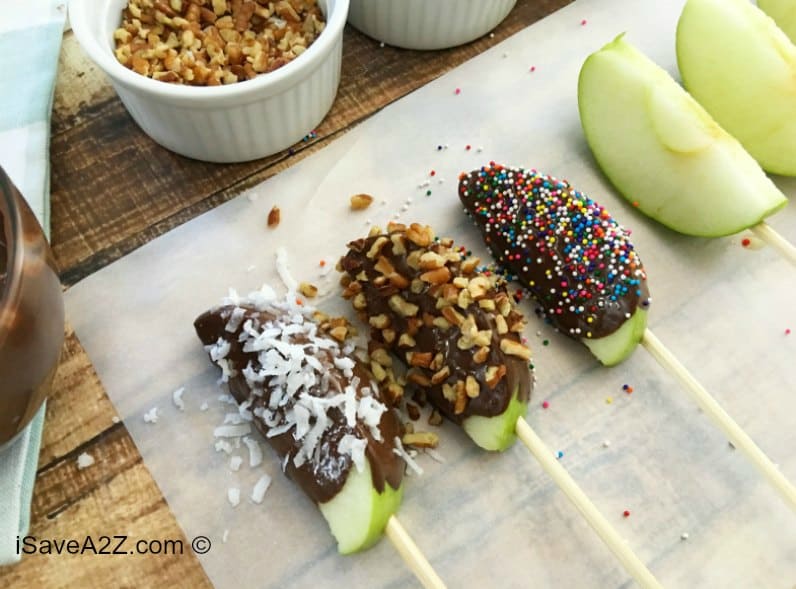 Feel free to Pin It on Pinterest here: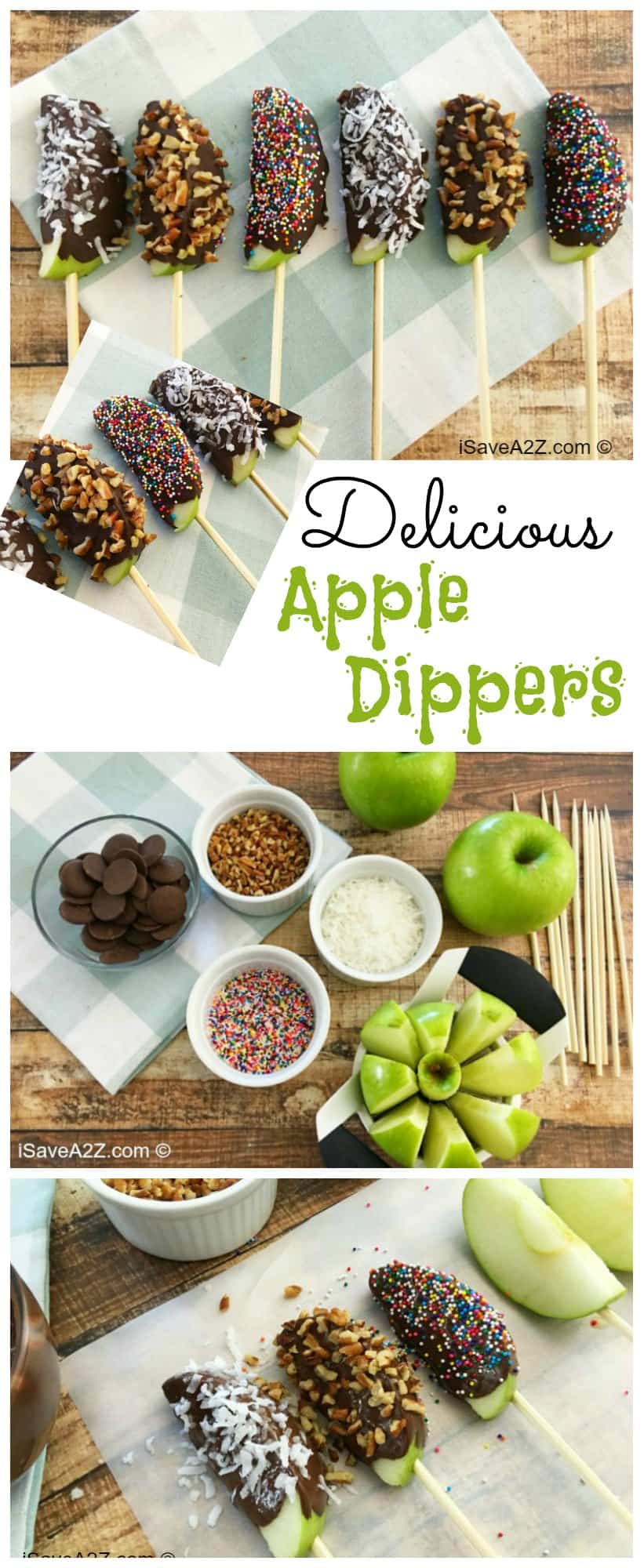 Voila!  That's it!