The Best Apple Crisp Recipe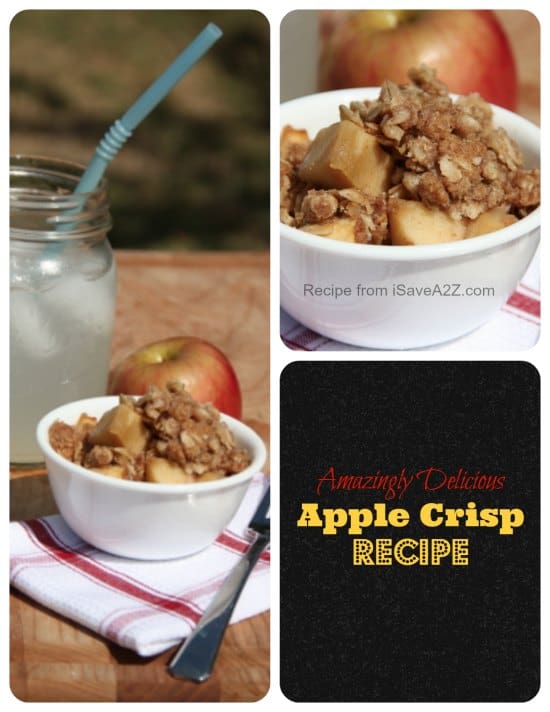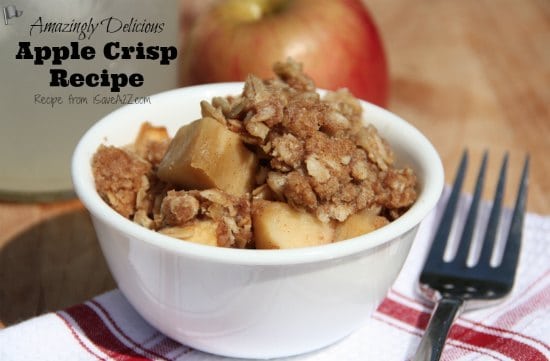 Best Apple Crisp Recipe
By Jennifer Garza, iSaveA2Z.com,
Today I was in a mood to do some baking but it had to be a quick and easy recipe because it's really hot in Texas in the summer. The thought of turning on the oven is just not good. However, my cravings for something sweet quickly overpowered that thought. I have tons of apples so I decided to make my Best Apple Crisp Recipe!
Ingredients:
4 or 5 medium apples of your choice
3/4 cup packed light brown sugar
1/2 cup all purpose flour
3/4 cup old fashioned oats
1/3 cup real butter (softened to room temperature)
1 teaspoon ground cinnamon
1/2 teaspoon nutmeg or pumpkin pie spice
Optional: Top with Vanilla Ice Cream
Prep Time: 15 minutes
Cook time: 30 minutes
Yield: 8 Servings
Instructions for the Best Apple Crisp ever:

I start off by preheating my oven to 350 degrees. Grease a 8 inch square pan. Cut the apples into small pieces and lay them in the bottom of the pan. In a medium bowl, combine all the ingredients and mix it well. Sprinkle it over the apples. Bake it for about 30 minutes. Serve it warm with the optional Ice cream over the top of it. Voila! That's it!
Enjoy!