Rhubarb Crumb Cake with Vanilla Sauce
I'm about to give you a really good recipe for Rhubarb Crumb Cake with Vanilla Sauce!  If you enjoy crumb cakes then I have a feeling you like really enjoy this one.  This cake is not too overly sweet at all.  It has a hint of bitterness from the rhubarb moist cake mixed with a sweet crunch of the crumb topping and drizzled with a vanilla buttery sweetness from the vanilla sauce!  When you take a bit of this Rhubarb Crumb Cake with Vanilla Sauce it's a perfect blend of  all the different textures and flavors all in one!  That's the best way I can describe this cake.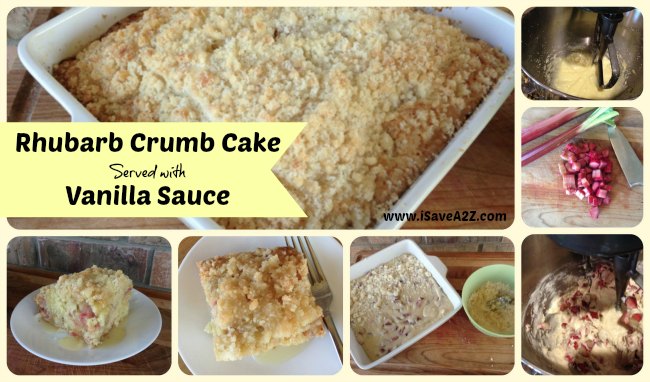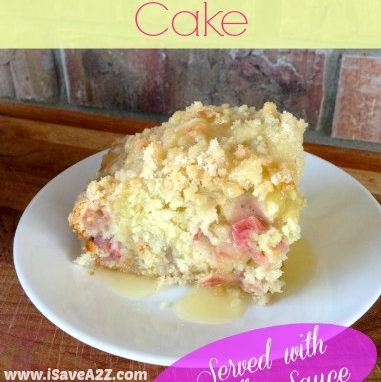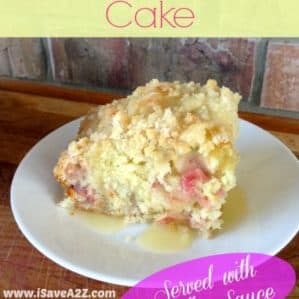 Rhubarb Crumb Cake with Vanilla Sauce
Rhubarb Crumb Cake served with a buttery Vanilla Sauce!
Instructions
RHUBARB CAKE:

In a large bowl, cream butter and sugar together. Beat

in egg. Combine flour, baking powder, baking soda and salt; add to

creamed mixture and slowly mix in the buttermilk, beating just until

moistened. Fold in the rhubarb. Pour into a greased 9-in. square

baking dish.

CRUMB TOPPING:

Combine topping ingredients; sprinkle over batter. Bake at 350°

for 45-50 minutes or until a toothpick comes out clean. Cool on a

wire rack.

VANILLA SAUCE:

Melt butter in a saucepan. Add sugar and milk. Bring to a

boil; cook and stir for 2-3 minutes or until thickened. Remove from

the heat; stir in vanilla. Serve with cake.

Enjoy!