Easy Reese's Peanut Butter Cupcakes Recipe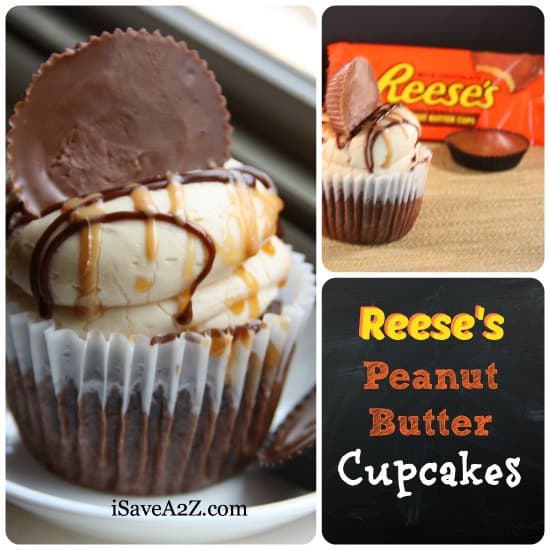 Easy Reese's Peanut Butter Cupcakes Recipe
By Jennifer Garza, iSaveA2Z.com,
There are plenty of recipes out there for cupcakes but this is a easy Reese's Peanut Butter Cupcakes Recipe because it's not from scratch but not exactly from a box either. It's just easy! I like easy! Basically you get your favorite boxed chocolate cake mix. My favorite is Devil's Food cake mix. It's moist and chocolatey just the way I like it. Drop a mini Reese's cup in the middle before you bake it and top it with Peanut Butter buttercream frosting! It is easy and yummy at the same time. The most time consuming part is the frosting and decorating each cupcake. It's all about the presentation.
Ingredients:
– 1 box Devil's Food cake mix
– 1 package of mini Reese's Cups
– 1/2 cup butter
– 1 cup creamy peanut butter
– 3 tablespoons of milk
– 2 cups confectioners' sugar
Prep Time: 20 minutes
Cook time: 25 minutes
Yield: 18 Servings (depending on size)
Instructions for the Easy Reese's Peanut Butter Cupcakes Recipe with Fluffy Peanut Butter Buttercream Frosting:

Prepare the Devil's Food Cake Mix according to the instructions and ingredients on the box. After you add the cake mix to the cupcake paper cups drop a mini Reese's cup in the middle of the unbaked cupcake. (Tip: I use a medium sized ice cream scooper so all my cupcakes will be the same size) Bake as directed. This will give you a creamy center that taste out of this world delicious! Now it's time to prepare the Peanut Butter Buttercream frosting. I don't like a real heavy frosting. I prefer a light and fluffy version I have. Start by mixing the butter and peanut butter in a medium box. Slowly add the confectioners' sugar. When you feel it start to get thick then add a tablespoon full of milk on scoop at a time until you get the light and fluffy consistency that you like. Don't add too much milk or else it will be too watery and not spreadable. (Note: to create the icing look on my cupcake I used the Wilton extra large round tip. I started off pressing the frosting down right in the center of the cupcake making one big dollop and then lifting it a bit to create another dollop until I got the height I wanted.) I finished it by topping it with a large Reese's Peanut Butter Cup and drizzling it with chocolate and caramel. Optional of course. Voila! That's it! You just made an amazing cupcake the easy way!
Enjoy!  We sure did!