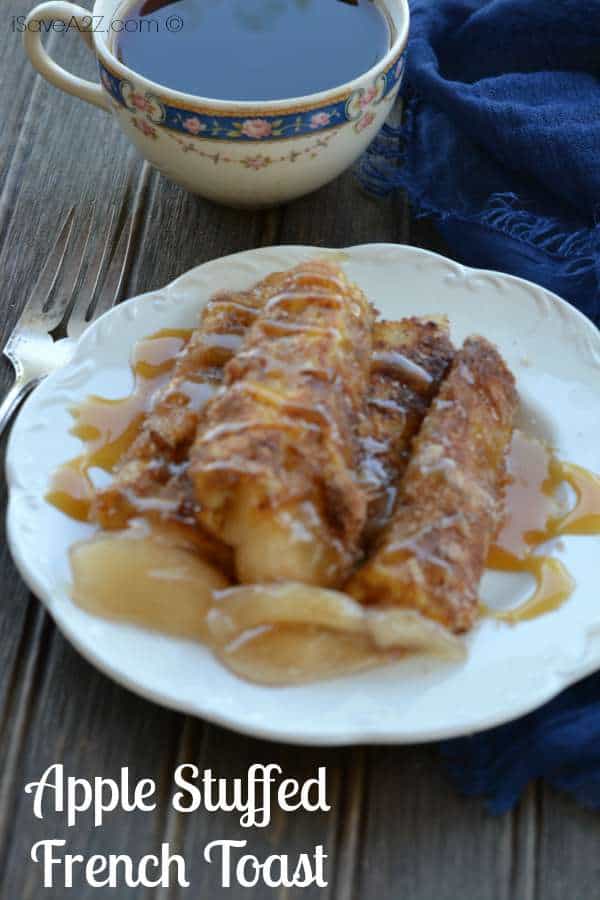 Apple Stuffed French Toast
I have the most Delicious Apple Stuffed French Toast Recipe you have to try! I tend to make my French Toast the same every time.  What makes this recipe extra special is the flavor.  We always add heavy cream and vanilla to our egg mixture to give it a rich flavor.  I makes the biggest difference in French Toast all together.  Sometimes we even add the zest of a lemon to change it up a bit too.
Now there is one more ingredient that will put this recipe over the top and that's the caramel sauce you can drizzle over it just before you serve it.  YUM!  I seem to always keep on hand a Ghirardelli caramel sauce.  I also really enjoy the Torani Caramel sauce too.  Either one of those are a big hit with us.  We tend to use it in coffee, over ice cream or on caramel brownies too.  Heck, who am I kidding.  Sometimes I even drizzle some on a spoon and eat it just like that!  It's so darn good.
I want to mention that you can experiment with different types of breads with this recipe too.  I'm not sure I would use Rye or anything but try your favorite white bread with this recipe.  Try a potato bread or a wheat bread.  I've even tried the hot french bread they serve in the bakery secti0n of my grocery store.  I think the French breach is my favorite.
This is one of the recipes we make in the morning after guests have stayed the night.  It's pretty simple to put together and it's loved by many.
You could even make this a dessert ice cream and serve it with a big scoop of vanilla ice cream too.  Oh!  That sounds heavenly, doesn't it?
Apple Stuffed French Toast
Ingredients
Instructions
In a small bowl mix cinnamon and sugar and set aside.

Lay your bread flat, remove the crust and roll it out with a rolling pin. Line each piece of bread with apples.

Roll bread sealing in the apples.

Whisk eggs in a separate bowl add cream, vanilla and milk.

Dunk each roll in egg mixture.

Melt butter in a pan.

Fry on a medium heat until all sides are brown. Remove and coat with cinnamon and sugar.

Optional: Top with caramel drizzle