Homemade Chicken and Dumplings from Scratch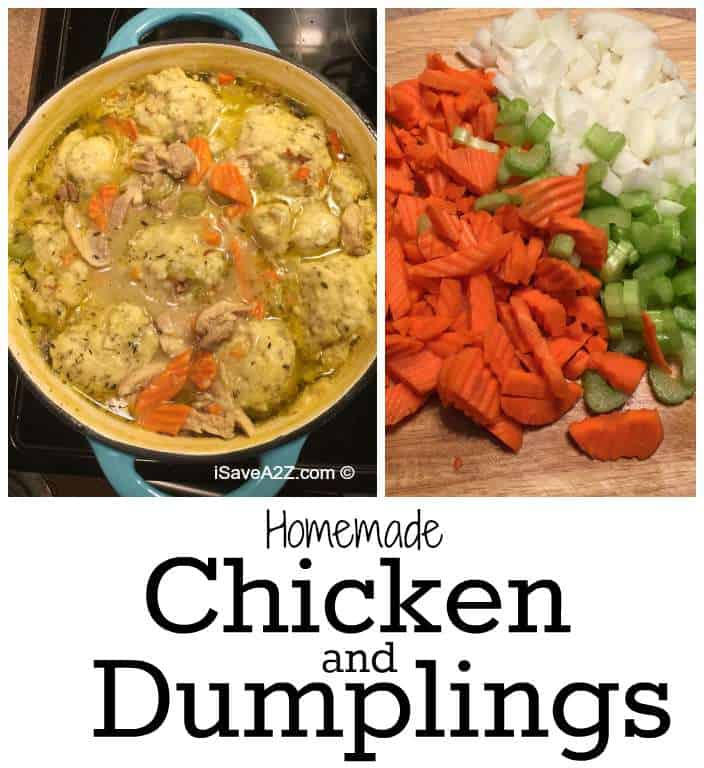 Homemade Chicken and Dumplings from Scratch
I started off craving a good bowl of homemade chicken and dumplings made from scratch.  It's not even that cold yet but I had to have a bowl.  We just moved not that long ago and the recipe I normally use was in a box somewhere in storage.  After a few hours of going through boxes reminiscing over photos I just found again I finally found it!  It's such an old piece of paper with spill marks from the previous times I had made it.  I really need to rewrite this recipe and laminate it so that I will have it forever.  Do you have a recipe like that?  Come to think about it there's another recipe that I feel the same way about.  It's my  delicious Banana Bread recipe.  It's a rare recipe because it uses sour cream in the ingredients.  Not many recipes use this ingredient in banana bread so I would never want to lose this recipe either.
I used my favorite enameled cast iron dutch oven to make this recipe.  It's a 6 quart pot and works perfectly for this recipe.  This recipe also feeds a lot of people.  It can feed 6 to 8 easily.
I'm a bit disappointed in the photos I took for this recipe.  I will have to update these photos when I make this meal again.  I was zipping right along making this recipe as the house was smelling so good that I forgot to grab some extra lighting.  The family was hungry because dinner was a bit later than usual so there was no making them wait any longer just so I could grab a few good photos.  I think the new back to school schedule has everyone a bit grumpy towards the end of the day around here.
NOTE:  If you are looking for a super simple recipe instead of a homemade from scratch, you've got to try our Easy Crockpot Chicken and Dumplings recipe.  It's a no fuss kinda dinner.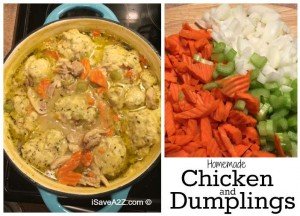 Homemade Chicken and Dumplings from Scratch
Ingredients
1

tablespoon

olive oil

6

bone in

skin on chicken thighs (this is about 2 lbs)

4

stalks celery chopped

4

carrots chopped

2

medium onions

yellow

2

tablespoons

fresh thyme

or 2 teaspoons dried thyme

3

cloves

of fresh garlic chopped

2

bay leaves

3/4

stick melted butter

about 3/4 stick

2

cups

chicken stock

2 1/2

cups

all purpose flour

1

tablespoon

baking powder

1

teaspoon

baking soda

3/4

cup

buttermilk

2

tablespoons

fresh parsley chopped
Instructions
Heat the oil in a large dutch oven.

Season the chicken with salt and pepper.

Brown the chicken about 4 to 6 minutes per side.

Transfer the chicken to a plate for later.

Add the chopped celery, onions, thyme and garlic to the drippings in the dutch oven and cook until the vegetables are soft. This will take about 5 to 7 minutes.

Add 8 cups of water and 2 cups of chicken stock in with the vegetables.

Shred the chicken with a fork (discard the bones and skin) and add it back to the dutch oven. Add the bay leaves too.

Bring the mixture to a simmer and cook about another 20 to 30 minutes until the chicken is fully cooked.

While that is simmering, whisk together a 1/2 cup of flour and 2 cups of the cooking liquid to create a thickening sauce. Slowly mix a little bit of this paste back in the pot a tablespoon at a time until it all dissolves. The soup mixture will thicken in about 8 to 10 minutes.

Next you will make the dumplings.

In a separate bowl, mix the remaining 2 cups of flour, baking powder, baking soda, salt, pepper and parsley. Then add the melted butter and buttermilk to the dry mixture and stir. The dough will get a bit thick.

Finally, spoon out small portions of the dough into the broth mix in the dutch oven. I evenly distributed about 8 to 10 spoonfuls. Simmer another 12 to 15 minutes until the dumplings are firm. Serve warm.
Nutrition facts are provided as a courtesy.
Here are a few process photos to give you an idea.
Cook the chicken first: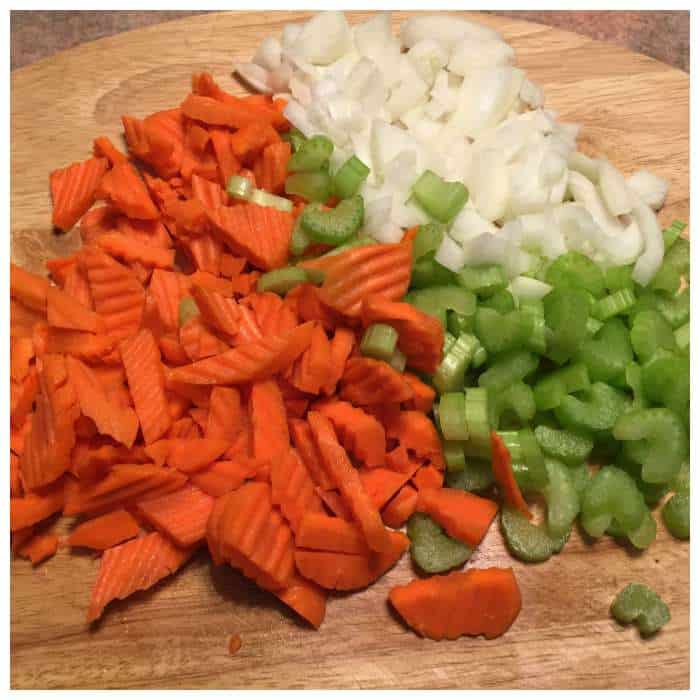 This is the thickening paste you make.  It doesn't look great but will make it taste amazing!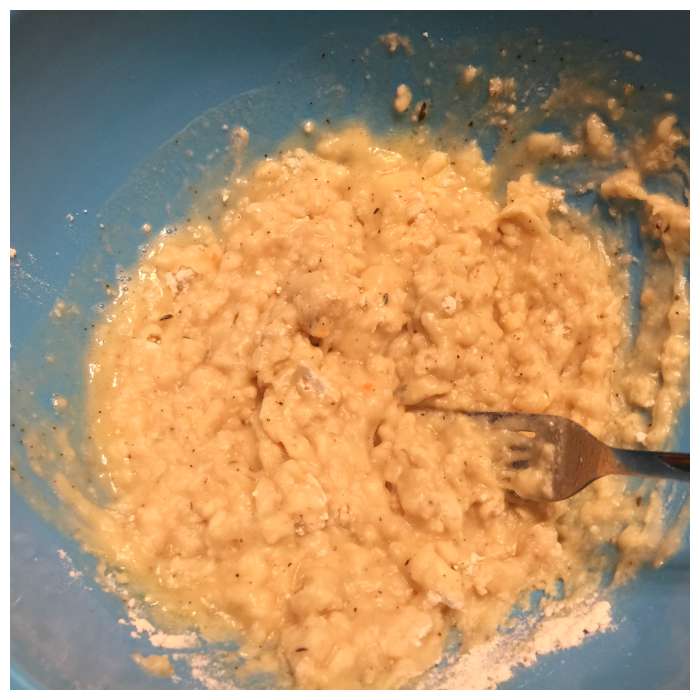 Add the shredded chicken back to the mix once the vegetables have softened: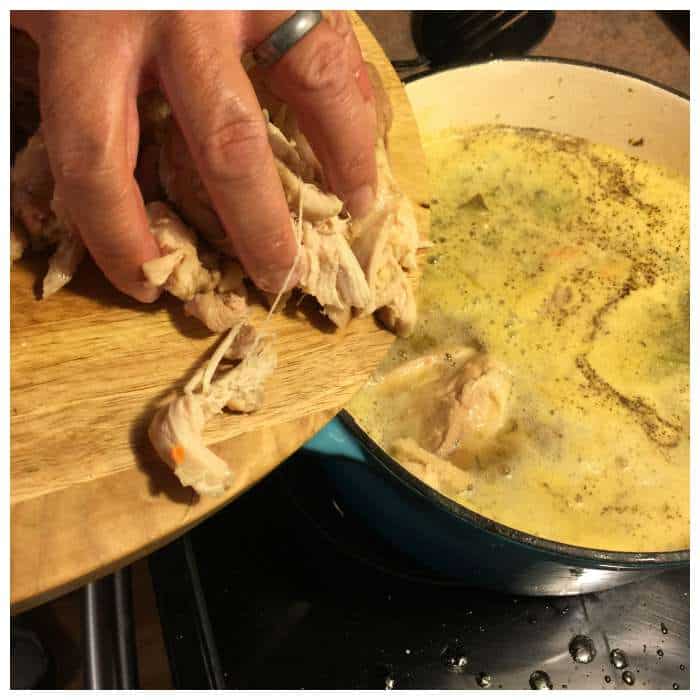 Start mixing the dry ingredients for the dumplings: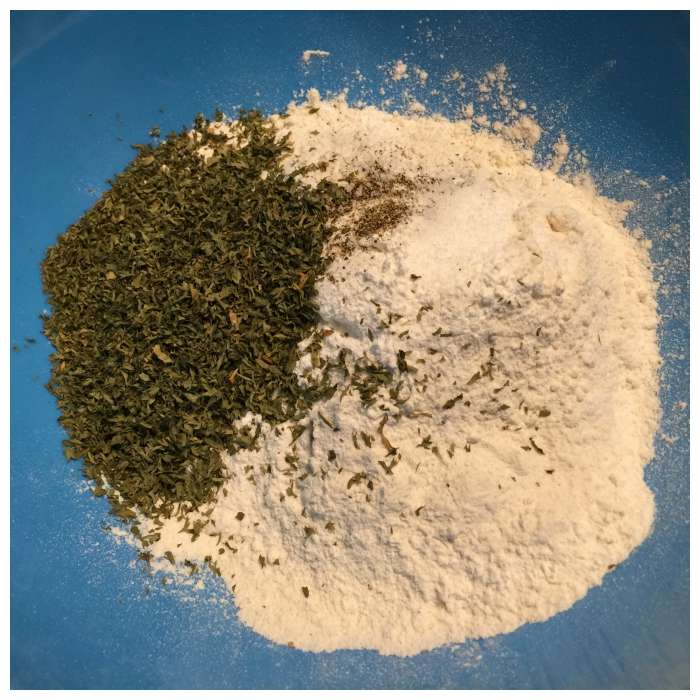 This dumpling dough will taste amazing when it's done: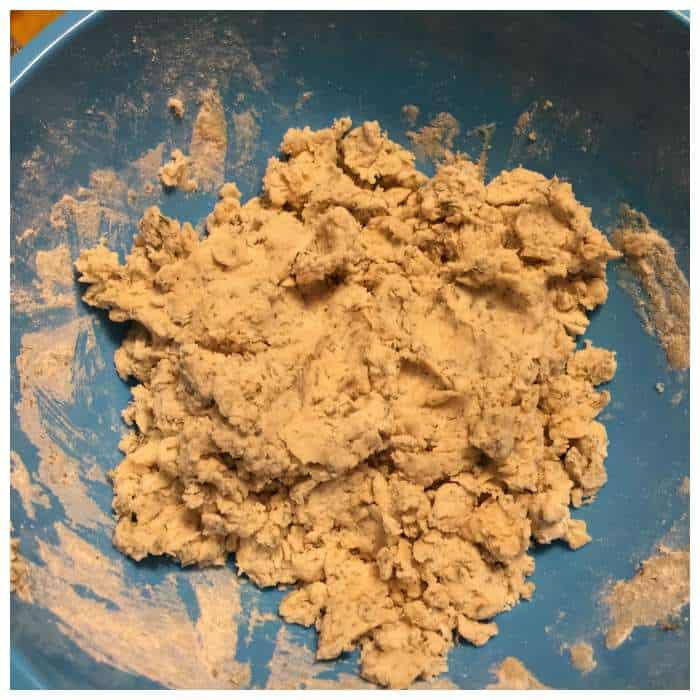 Scoop the dough into the soup: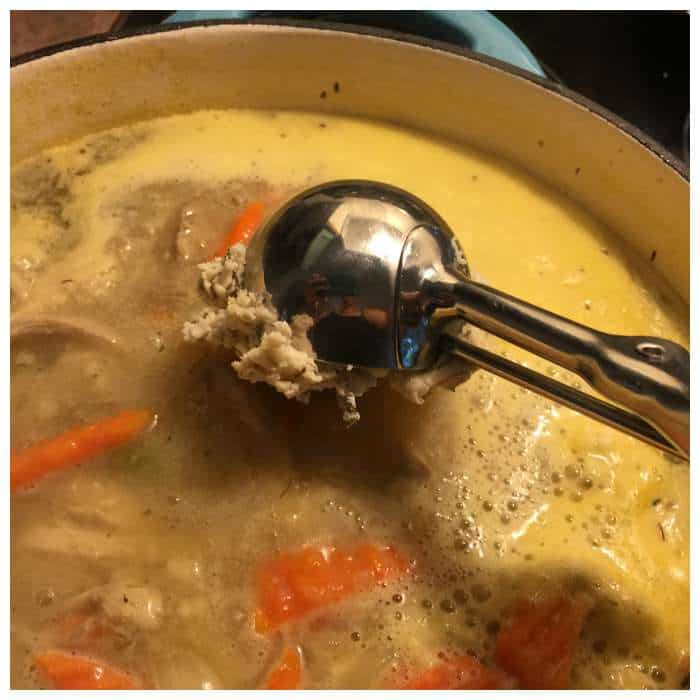 Voila!  You're done!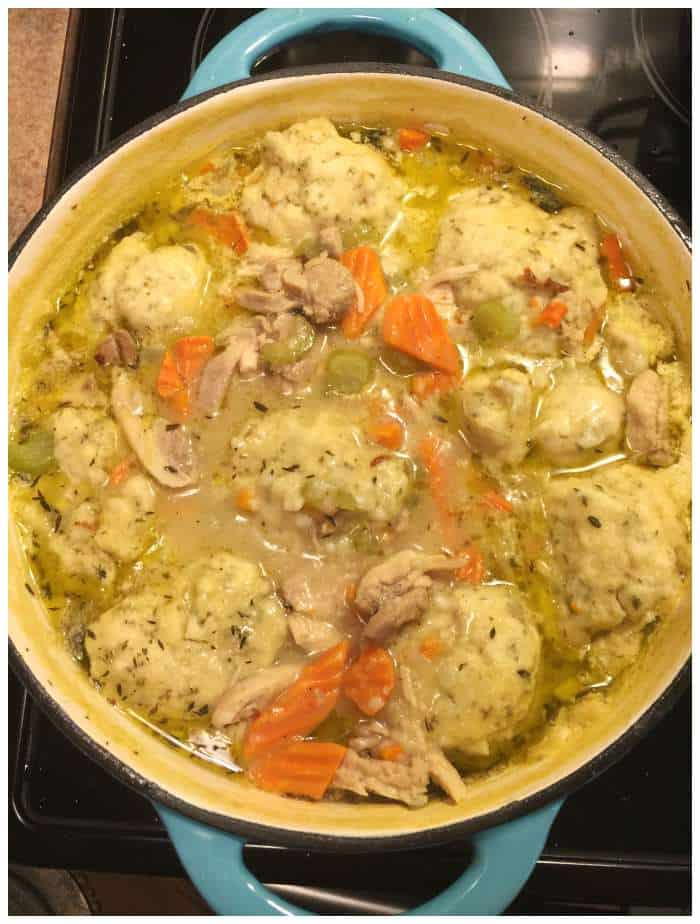 Feel free to Pin It here for later: