Low Carb Unicorn Yogurt Bark Recipe
We just made a fantastic low carb treat that won't leave you feeling guilty! We made the Low Carb Unicorn Yogurt Bark Recipe!
We got the inspiration from this recipe when we created this Keto Yogurt Bark Recipe.
The best part is… the kids think this recipe is fantastic. It will curb that sweet tooth with a healthy and low carb option.
We used a Wilton food coloring set to make our colors but you can use any food coloring set you want.
We really like using Two Good yogurt in this recipe because it's about 80% less sugar than other store bought brands of yogurt on the store shelves.
Another favorite is Fage Total 5% Plain Greek Yogurt because it has 6g of sugar per serving. It also has 10g of fat and a good amount of protein at 18g! We are always trying to find ways to add more protein options to all of our food choices because it helps balance insulin in treats like this.
Chobani, Cabot, Dannon Oikos Triple Zero Greek yogurt, and YQ by Yoplait yogurt are also good options!
You have plenty of yogurt options to choose from. Just find one enjoy.
Here's how to make this Low Carb Unicorn Yogurt Bark:
Low Carb Unicorn Yogurt Bark Recipe Ingredients
2 cups of your favorite keto yogurt
5 to 8 drops of liquid stevia or 2 tbs of your favorite keto powdered sweetener sweeten it to your liking
1 tsp

vanilla extract

Optional toppings: unsweetened coconut, nuts, diced berries strawberries, blueberries, blackberries, raspberries etc…
Low Carb Unicorn Yogurt Bark Recipe Instructions
Mix the keto yogurt with the sweetener and vanilla extract until it's fully combined.
Divide the yogurt into separate bowls. If you are using 4 different colors, divide the yogurt into 4 different bowls equally.
Place 2 to 3 drops of food coloring in each bowl and mix it up until it's fully combined.
Lay out a piece of parchment paper on a cookie sheet or large plate.
Place spoonfuls of yogurt in different colors all over the parchment paper lined sheet in any order you want.
Use a spatula and spread the sweetened keto yogurt over the parchment paper in swirl designs. Don't over mix it because you want the colors to slightly blend but not all the way. The thinner you spread it the quicker it will freeze.
If you are adding additional toppings to the yogurt bark, you will add them before placing it in the freezer.
Dice the berries into small bite size pieces.
Sprinkle the berries over the keto yogurt.
Freeze for a minimum of 3 hours or overnight if you have a thick spread of yogurt.
Break the yogurt bark into bite size pieces and enjoy!
Here are a few photos we took when we made this Low Carb Unicorn Yogurt Bark recipe: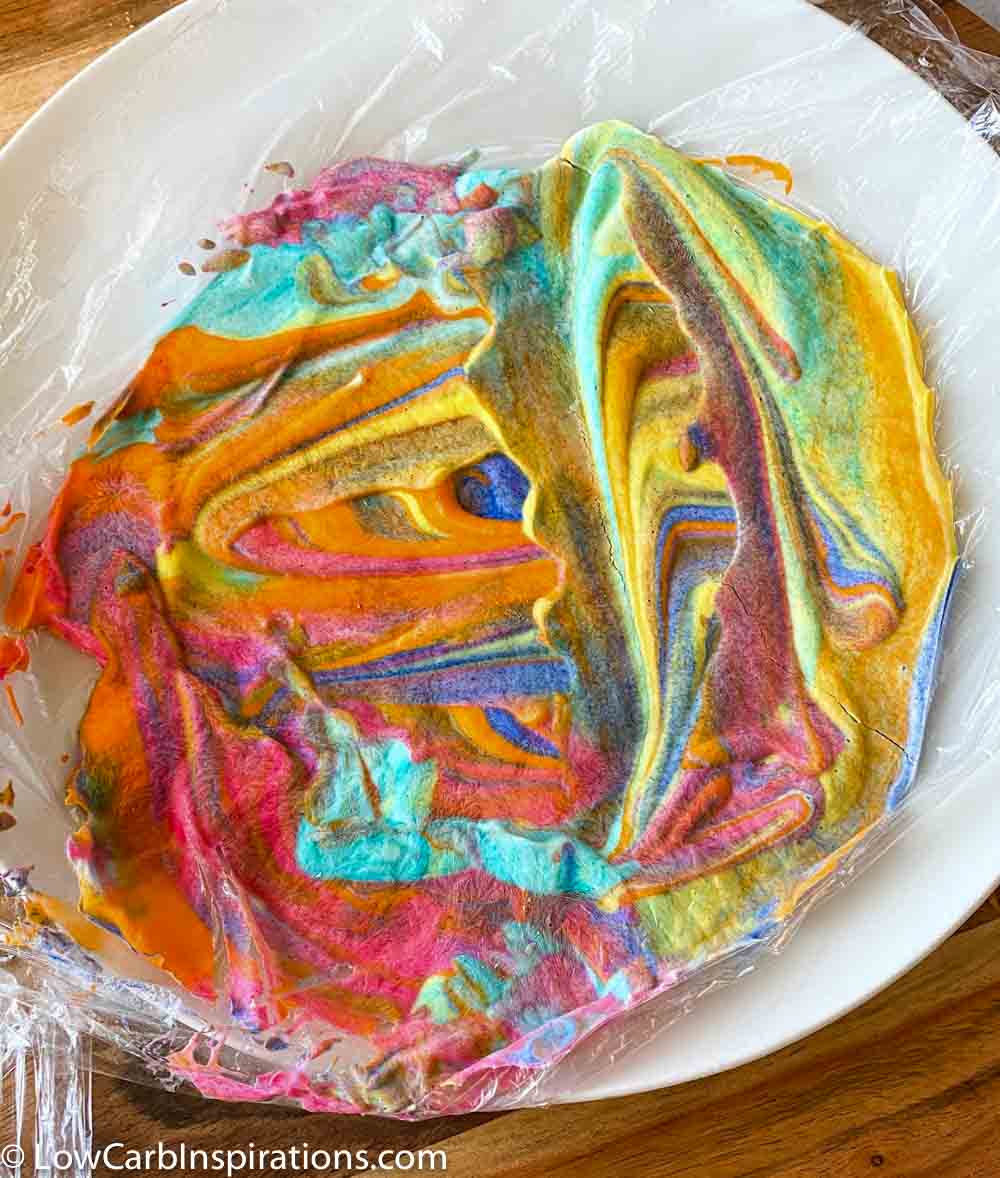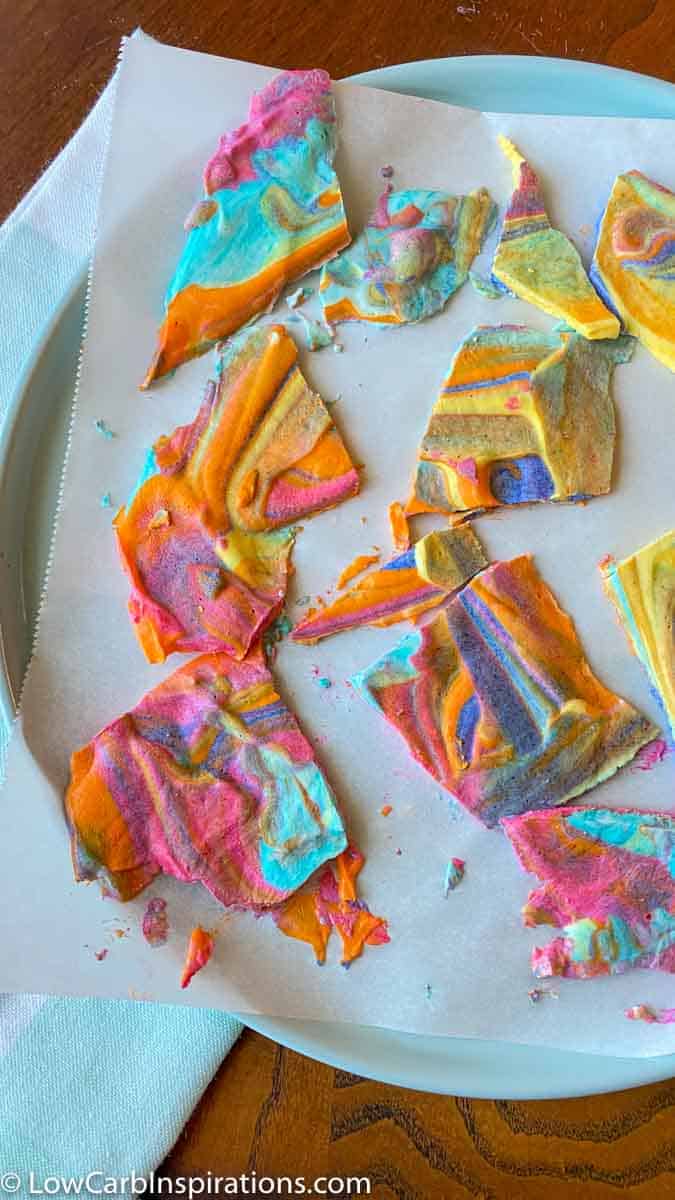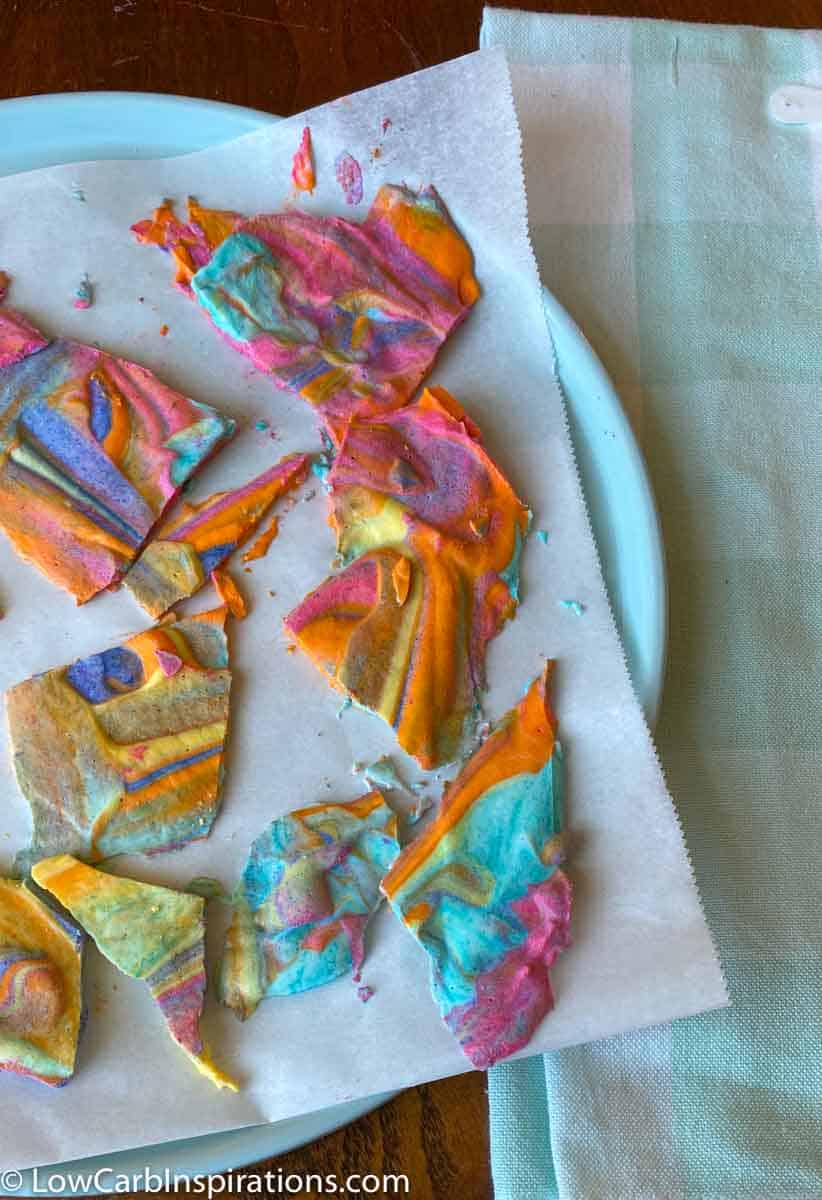 This is the Keto Yogurt Bark Recipe we made for the 4th of July! It was a huge hit with everyone who tried it!
I keep this stored in the freezer in a freezer-friendly zip lock baggie just like this. This will last in the freezer for up to 4 months with no issues at all. Of course, ours never lasts that long with kids that can't keep their hands off of this stuff.