Strawberry Chocolate Chip Quick Bread

Strawberry Chocolate Chip Quick Bread
Check out our new and great recipe for Strawberry Chocolate Chip Quick Bread! If you're looking for something sweet, with a bit of a fruity taste, than this recipe will be sure to be great for you! When it comes to quick bread, this Strawberry Chocolate Chip Quick Bread that we have here is nearly the best in my opinion. The recipe here will bring you step by step into making you're very own Strawberry Chocolate Chip Quick Bread right in you're very own kitchen! The family will be sure to love it! If you're not satisfied with this, we have plenty of other dessert recipes floating around! A few that I would recommend that you try would be our Strawberry Cheesecake Muffins, our Strawberry Lemonade Cupcakes, our Blueberry Lemon Parfait, or even our Peanut Bitter Pie Recipe! These are all favorites that you might enjoy as well! If you've got a sweet tooth, one of these recipes here will be sure to cure you of it, or help you "pull it out"!
If you liked these, then you might want to check out this neat cookbook too!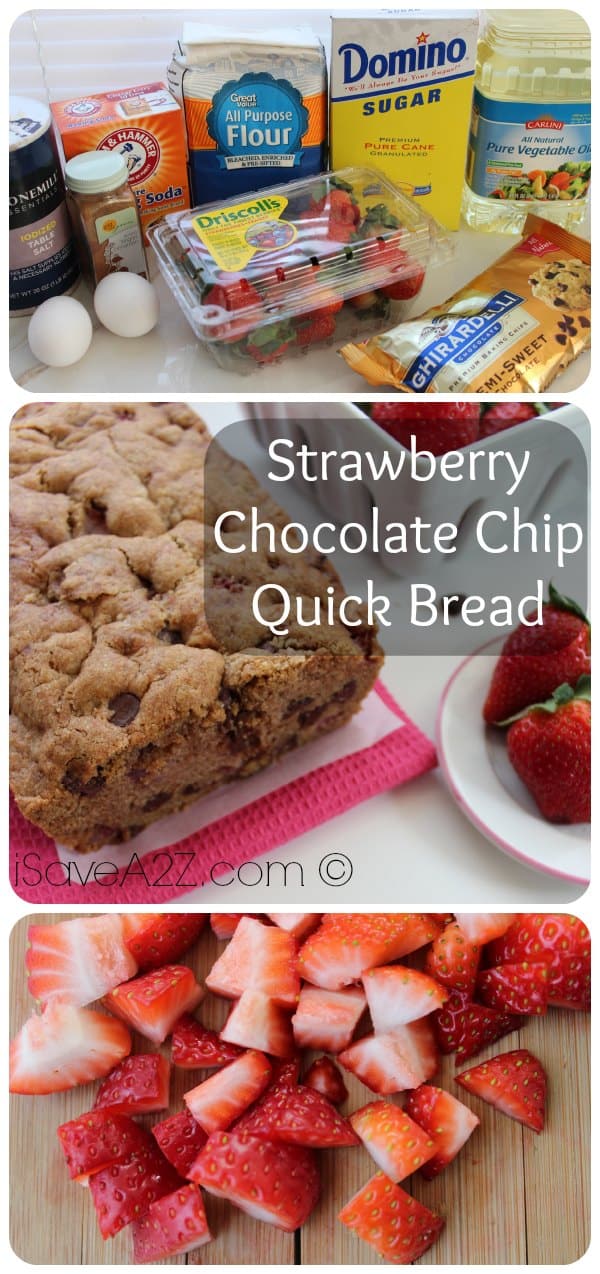 Strawberry Chocolate Chip Quick Bread
Instructions
Preheat oven to 350.

Butter a loaf pan.

Mix flour, sugar, cinnamon, salt and baking soda in medium sized bowl.

Beat eggs and oil in another medium sized bowl.

Add strawberries and chocolate chips.

Mix well.

Add strawberry and chocolate chip mixture to flour mixture. Mix well.

Pour into loaf pan.

Bake for 60 minutes until toothpick inserted in center comes out clean (cooking times vary a lot).
Nutrition facts are provided as a courtesy.
Hope you enjoy! If you like this recipe be sure to PIN IT here!  Follow us on Pinterest too so you don't miss anything!