Strawberry Cheesecake Muffins

Strawberry Cheesecake Muffins
If you're getting bored of your plain old muffins in the morning, then these Strawberry Cheesecake Muffins are right for you! These muffins bring the great taste of classic Strawberry Cheesecake, right into your very own breakfast muffin with simplicity! These would also make for a great side for any breakfast ideas you may already have planned! If you like these, be sure to try our Banana Cake Muffins Recipe as well!
I'm sure you'd like these other great muffin recipes too, if you enjoyed this one!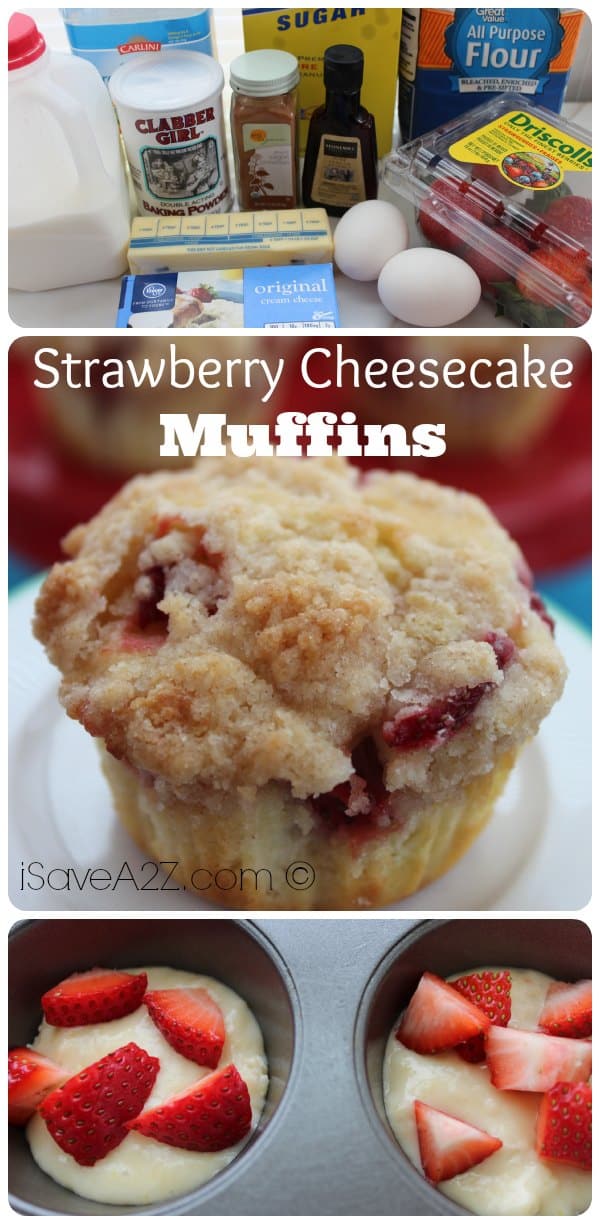 Strawberry Cheesecake Muffins
Instructions
Preheat oven to 400.

Line a 12 cup muffin pan with cupcake liners or spray with non-stick spray.

Combine 2 cups flour, 2 tsp baking powder and 1/2 tsp salt in a bowl and mix well.

Beat together 1 cup milk, 1/4 cup oil, egg and 1/2 cup sugar in anotheer bowl.

Add flour mixture to milk mixture just until well combined. Do not over mix.

In another bowl, cream together the filling ingredients until smooth,

In another bowl, mix together the dry topping ingredients, then cut in the butter with a fork until you get a grainy mixture.

In each liner, put a tablespoon of the muffin batter then a few strawberry pieces, then a half tablespoon of the filling, about a half tablespoon of topping, another layer of batter then fruit and finally remaining topping.

Bake for 25 minutes or until toothpick inserted in middle comes out clean.

Let cool in the muffin tin for 5 minutes and then transfer cooling rack.
Nutrition facts are provided as a courtesy.
Hope you enjoy! If you like this recipe be sure to PIN IT here!  Follow us on Pinterest too so you don't miss anything!