Santa Sugar Cookies
Check out our neat and amazing recipe for our Santa Sugar Cookies! If you're looking for some great Christmas and other holiday sweets, then this is perfect for you! Check out our Frozen Peppermint Pie recipe, our Eggnog Cinnamon Rolls recipe, our Eggnog Cookies recipe, our Christmas Cake Roll recipe, our Coconut Cream Cheese Pound Cake recipe, our Pumpkin Pie Cake recipe, our Pumpkin Pie Bites recipe, our Pumpkin Pie Fudge recipe, or even our Baked Apple Chimichangas recipe, and plenty of others!
If you happened to like any of the recipes I have listed here, then you should definitely try out this neat cookbook for everything sweet and wonderful! You will be sure to find the best dessert recipes with this!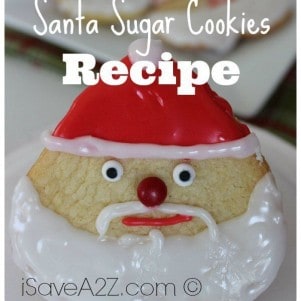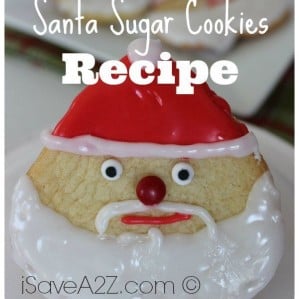 Santa Sugar Cookies
Instructions
Sift together flour, baking powder, and salt.

Cream together butter and sugar.

Add egg and milk and continue beating on low.

Slowly add flour, and beat until mixture pulls away from the sides of the bowl.

Divide the dough in half.

wrap each in waxed paper and refrigerate for at least 2 hours.

Preheat oven to 375.

Line cookie sheet with parchment paper.

Dust work area and rolling pin with powdered sugar.

Roll out dough to 1/4" thick.

Cut into heart shapes and place on prepared sheet.

Bake for 7-9 minutes or until edges are beginninh to brown.

Leave on sheet for 2 minutes before moving to wire rack to finish cooling.

Mix powdered sugar, milk and corn syrup in a bowl until smooth.

Divide icing in half and color one half with red food coloring.

Transfer each color to piping bag or zippered bag to pipe onto cookies.

Turn heart upside down.

Pipe red on top to make hat.

Pipe White around bottom to make beard.

Use white icing to glue down a red M&M for the nose and the two candy eyes.

Allow that to dry for 10 minutes.

Pipe red mouth between beard and moustache.

Pipe a white band at bottom of hat and white bal at the top.

Allow to sit for at least an hour for icing to get hard.
Nutrition facts are provided as a courtesy.