Pumpkin and Cream Cheese Bread
Pumpkin season is here!!! I can't tell you how excited I am to have pumpkin spiced everything! I'm gonna kick off this season with a beautifully delicious Pumpkin and Cream Cheese bread. Not just any bread but these cute little Mason Jar breads. I have found these cute little jelly jars are the perfect size and come in sets of 12! We alternate using the small ones or these 8 oz half pint mason jars too. Just be sure to get the wide mouth jars as they are much easier.
Here are a few other pumpkin recipes you should try:
Starbucks copycat Pumpkin Scones recipe
Pumpkin Belgian Waffles recipe
Starbucks copycat Pumpkin Cream Cheese Muffins recipe
Pumpkin Shaped Cheese Ball recipe
Pumpkin Pie Smoothie recipe
Pumpkin Cheesecake Parfait recipe
Pumpkin Pie Fudge recipe
Starbucks copycat Pumpkin Spice Latte recipe
Pumpkin French Toast recipe
Pumpkin Cream Cheese Truffles recipe
Halloween food ideas: Clementine Pumpkins and Banana Ghosts
Pumpkin Pie Muddy Buddies Mix recipe
Pumpkin Layer Cheesecake recipe
Super Easy Pumpkin Roll recipe
Or feel free to follow our Pinterest Board here:
Follow Jennifer – iSaveA2Z Blog's board Pumpkin Recipe Love on Pinterest.
Pumpkin and Cream Cheese Bread
Click To Tweet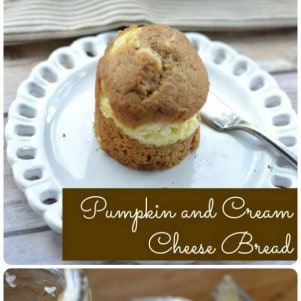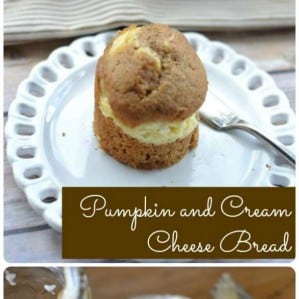 Pumpkin and Cream Cheese Bread
Instructions
Preheat oven to 350. Spray mason jars with pam cooking spray.

In large bowl mix together pumpkin puree, eggs, oil, water and sugar until well blended. In a separate bowl, whisk together the flour, baking soda, salt, cinnamon, nutmeg, cloves and ginger. Stir the dry ingredients into the pumpkin mixture until well blended.

In a small bowl mix cream cheese, egg, sugar, and vanilla.

Fill mason jar half way with pumpkin mix. Put your cream cheese mix on top. pour a little more pumpkin mix to cover the cream cheese mix. Place all mason jars on a cookie sheet and bake for 20 minutes or until tooth pick comes out clean.

Cover with lids and store for 1-2 weeks or serve immediately.