Easy Blackberry Crumble Bars
Easy Blackberry Crumble Bars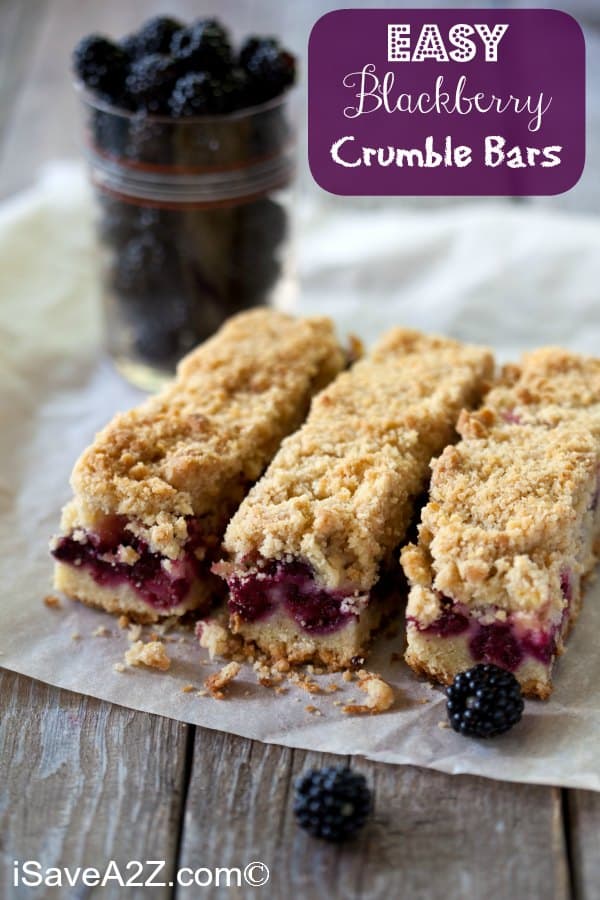 Blackberries take me back to when I was a little girl. My aunt had a huge garden of them and we loved to go over there and pick a basket full of them. These Easy Blackberry Crumble Bars are so delicious! With some fresh fruit and just a little bit of time, you can be enjoying this delectable dessert  before you know it!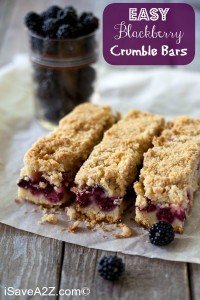 Easy Blackberry Crumble Bars
Instructions
Preheat oven to 375 degrees F and spray a 9x13 dish with non stick cooking spray.

In a medium bowl, mix together the sugar, baking powder, flour, salt and lemon zest.

In a separate small bowl, whisk together the egg and vanilla until well combined.

Using a food processor, blend the flour mixture, the egg and vanilla mixture and the butter until dough is a crumbly consistency.

Sprinkle half of the dough in the greased pan evenly and pat it down to form the crust.

For the filling:

In a large bowl, mix the sugar and cornstarch until combined. Then gently stir in the blackberries.

Pour the blackberry mixture evenly over the crust and then sprinkle with the remaining dough.

Bake for 45 minutes or until top is just browned.

Cool completely and cut into squares.
Notes
I like to heat the bars for just a few seconds in the microwave and serve with a small scoop of ice cream. Store extra bars (if there are any) in an air-tight container.
Nutrition facts are provided as a courtesy.
I could go on and on about how good these Easy Blackberry Crumble Bars are. These can be made with a variety of fruits, so get creative with it! Be sure to check out all of our amazing desserts HERE!
Want more desserts like this? Check out this Rustic Fruit Desserts Cookbook! It's got all the crumble, cobbler and crisp desserts your heart desires. And…..you can get the Kindle version for just $10.99!
Enjoy!