Cabbage Gratin Recipe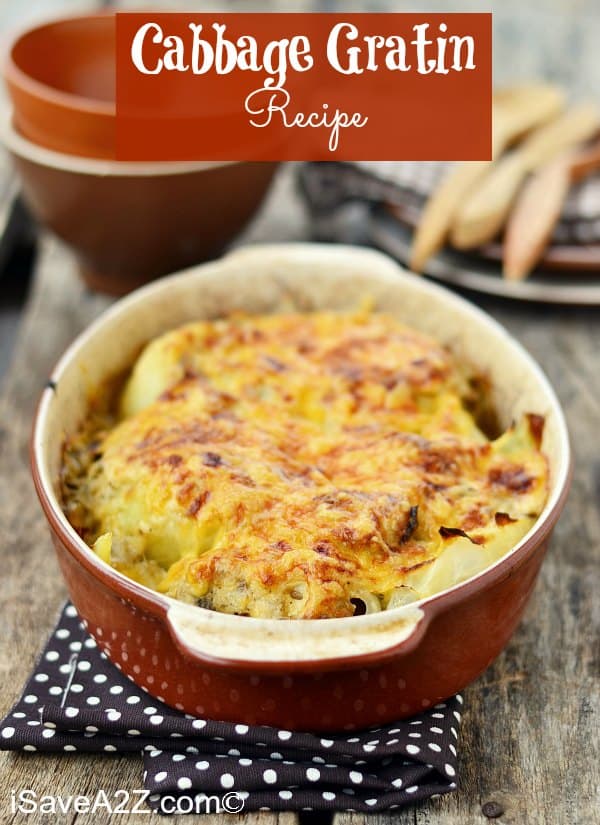 If you are a regular visitor here at iSaveA2Z.com then you know we do A LOT of recipes. You may have also noticed that there are a few picky eaters in my household….including me. I am okay with admitting that I am a picky eater. There are just some things that I CAN NOT EAT! Raw cabbage, I'm okay with. But cooked cabbage, well, that's whole different story. Or at least that's what I thought until I tried this Cabbage Gratin Recipe! If you already love cabbage, then you are going to love this recipe! I highly recommend giving it a shot!
Cabbage Gratin Recipe
Ingredients
1/4

cup

of finely grated Parmesan cheese

1/4

cup

of bread crumbs

2

tablespoons

of olive oil or butter

1

leek

trimmed and chopped up

6

cups

of shredded cabbage

about 1 pound

2

eggs

1

cup

of whole milk

1/2

cup

plus 1/4 cup of grated Swiss or Gruyere cheese

divided

1/4

cup

of flour

1

teaspoon

of salt

1/4

teaspoon

of black pepper

1/2

teaspoon

of caraway seeds

toasted

1

pinch

of grated nutmeg

optional

cooking spray
Instructions
Preheat oven to 375 degrees F and spray a 2 quart baking dish with cooking spray.

Dust the bottom of the baking dish with the Parmesan cheese and the bread crumbs.

In a LARGE skillet or saute pan, set over medium heat, add the olive oil and the leek and saute until tender (about 3 to 5 minutes).

Add the shredded cabbage and saute until the cabbage is tender and most of the liquid has cooked off.

While that is cooking, in a large bowl, whisk together the eggs, whole milk, 1/2 cup of the grated Swiss, flour, salt, pepper, toasted caraway seeds and nutmeg (if using).

When cabbage is done, add it to the mixture and stir to combine.

Pour everything into the baking dish and top with the rest of the grated Swiss (or whatever cheese you use).

Bake for 40 to 50 minutes or until the top is golden brown.
You can see all of our amazing recipes HERE! If you need some recipes to help with your picky eaters, then check out the Taste of Home Kid-Approved Cookbook! It's over 300 kid friendly recipes and the Kindle version is only $9.99!
Enjoy!