Easy Egg Muffins Recipe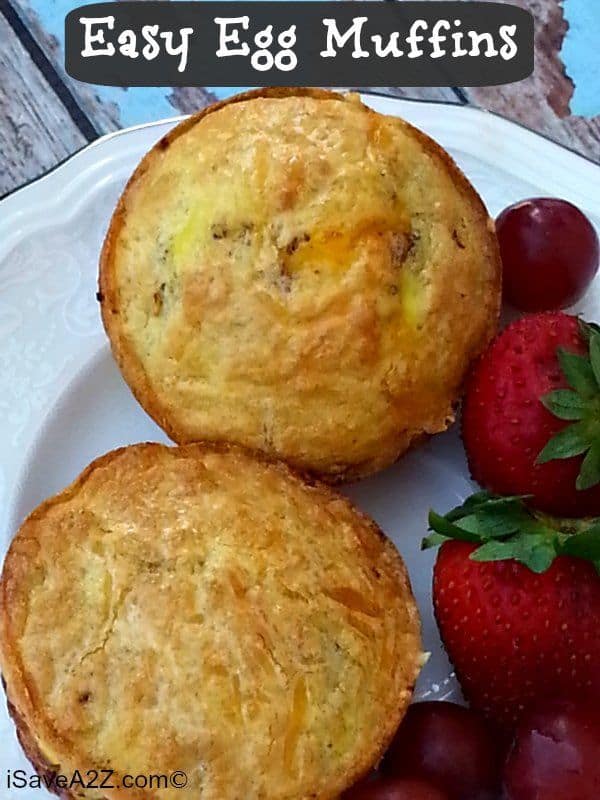 I am trying to get back on track with my diet and part of that is making better food choices. Recently, a friend of mine shared this Easy Egg Muffins Recipe with me. I tried it out yesterday morning and HAD TO share it with you! These are quick, easy, versatile and really really good! One of the great things about this recipe is that you can add any type of filling you like. We made ours with bacon, egg and cheese just to keep it simple. BUT…..you could add spinach, bell peppers, ham, tomatoes….anything you like. AND, you don't have to cook any of the vegetables before hand. They cook beautifully while the muffins are baking.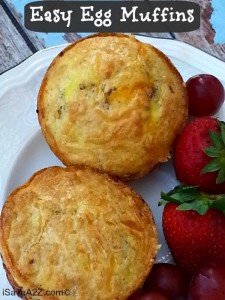 Easy Egg Muffins Recipe
Ingredients
4

Eggs

(will make about 6 muffins)

1/8

cup

Unsweetened Almond Milk

1/4

cup

Shredded Cheese
Filling of Your Choice (examples below)*
Bacon

Ham

Spinach

Bell Peppers

Tomatoes

Broccoli

Chicken
Instructions
Preheat oven to 425 degrees F and spray a muffin tin with cooking spray. Decide how many muffins you want to make and spray only those areas.

Place your "filling" in the bottom of the muffin cup. Remember, you can keep your veggies raw.

In a blender, mix about 1 egg per muffin that you want to make with a splash of milk. I wanted to make 4 muffins, so I used 4 eggs. BUT.....it ended up being enough to make 6. So 4 eggs will give you 6 muffins.

Pour the egg mixture almost to the top of each muffin cup and sprinkle with shredded cheese.

Bake for about 20 minutes and cool slightly before serving.
Notes
You can make several of these at one time and store the extras in the fridge for 3 to 4 days. Just warm in the microwave for a quick breakfast.
*nutrition does not include filling options
Nutrition
Serving:
1
muffin
|
Calories:
57
|
Carbohydrates:
0.3
g
|
Protein:
5
g
|
Fat:
4
g
|
Fiber:
0.01
g
|
Sugar:
0.2
g
|
Net Carbs:
0.3
g
Nutrition facts are provided as a courtesy.
I am in love with this Easy Egg Muffins Recipe! I had my "extras" for breakfast this morning, and they still tasted great! OH…..I was unsure how the muffins would turn out if I didn't use a liner, so I put a liner in two of the cups. As you can see, the muffins without the liner turned out perfect! The ones with a liner, not as pretty 🙂 I don't know how that works, but it does! On a side note…it looks like I need to spray my cooking spray a little lighter next time.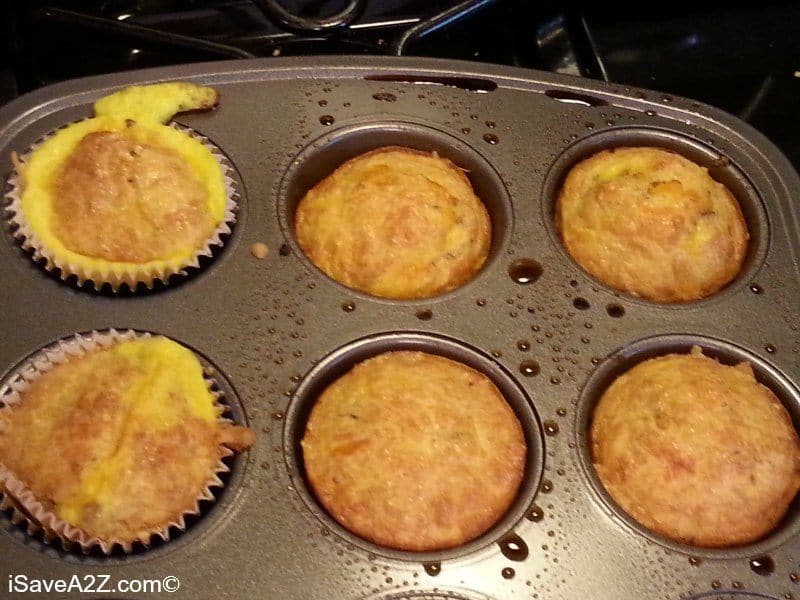 Be sure to check out all of our amazing recipes HERE!
Also, check out the 101 Breakfast & Brunch Recipes Cookbook! The Kindle version is only $8.69!
Enjoy!