Best Strawberry Smoothie
If you're ready to enjoy your summer with one of our amazing smoothie recipes, then our Best Strawberry Smoothie will be sure to do you some good! If you find yourself getting hot and dehydrated this summer, and you need something sweet or fruity, then our smoothie recipes are something you can't pass up! The recipe below lists all the ingredients you are going to need to make one of the absolute Best Strawberry Smoothies you have ever tried, or attempted to make! If you like this recipe, be sure to check out some of our other smoothie recipes for this hot summer! Like our Strawberries and Cream Oatmeal Smoothie Recipe, or even our delicious Strawberry Banana smoothie as well! As the summer goes on, there will definitely be more smoothies you will be able to find here on this site! While you're at it, check out our Smoothie Archives!
If you like these smoothies, yet you can't seem to find a recipe that pleases you, there is no need to worry! We have this neat recipe book here that has nearly one hundred different smoothie recipes! That should be more than enough smoothies to last you for the summer, right? Check out this cool cook book here! With this cookbook, there's no way for you to be disappointed, or for you to miss out on any kind of great smoothies that can be offered this summer! If that isn't enough smoothie recipes, then I don't know what to tell you!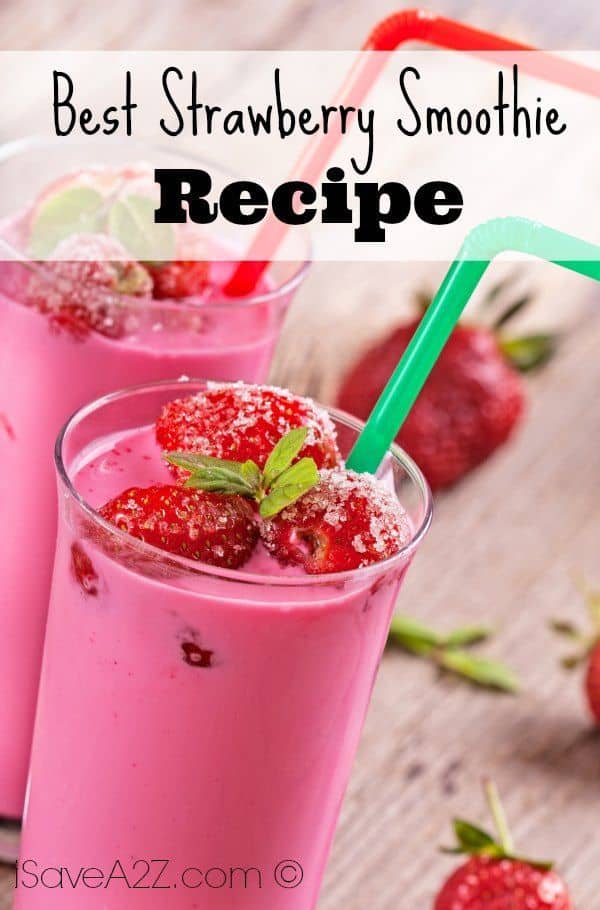 Best Strawberry Smoothie
Ingredients
3/4

cup

frozen strawberries

1/2

cup

apple juice

1/2

peeled orange

1/4

cup

vanilla yogurt

1

teaspoon

finely ground almonds
Instructions
Take the frozen strawberries, apple juice, peeled orange, vanilla yogurt, and your ground almonds, and pour into a blender. Blend these ingredients in the blender until mixture is smooth.

Serve now, or refrigerate until ready to serve.
Nutrition facts are provided as a courtesy.