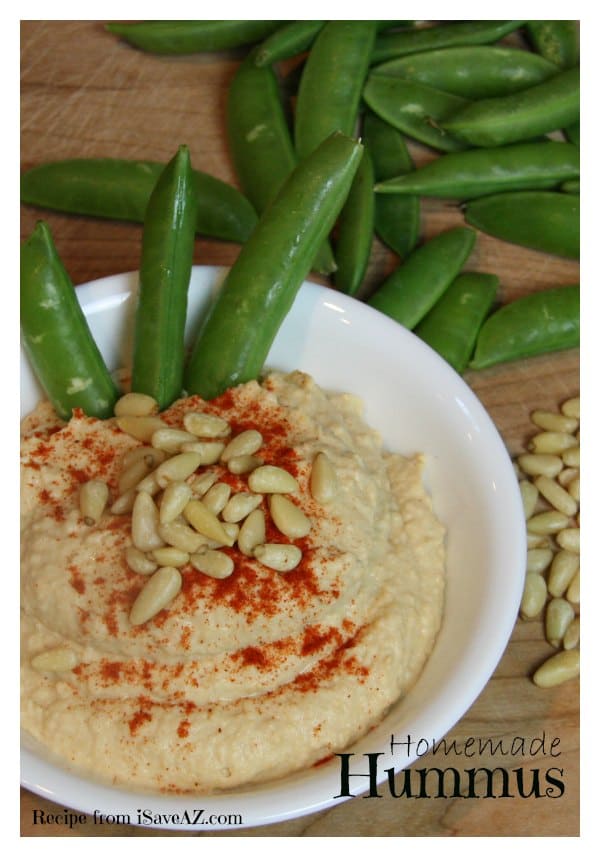 Homemade Hummus Recipe
By Jennifer Garza, iSaveA2Z.com,
I've got a really easy and delicious homemade hummus recipe that you have got to try! I will never buy the store bought stuff every again! Hummus can be served with chips, pita bread or any kind of fresh veggie! I personally like snap peas and it does help me with my goals to lose fat because it's a perfect substitute crunch from chips! I have certain good foods to lost fat and this is one of them! Did you know pine nuts are loaded with good fats your body needs and when you body has enough of the good fats, you will crave less of the bad stuff! It's true!
Ingredients:
– 4 teaspoons of fresh minced garlic
– 2 cans chickpeas, drained but reserve some liquid for later
– 1 1/2 teaspoons of salt
– 1/3 to 1/2 cup tahini (sesame paste)
– 2 freshly squeezed lemons (about 6 tablespoons)
– 2 tablespoons water or liquid from the chickpea juice
– paprika seasoning
– optional: add hot sauce to taste
– optional: pine nuts
Prep Time: 10 minutes
Cook time: 0 minutes
Yield: about 3 cups
Instructions for the Homemade Hummus Recipe:

I always make this using my favorite food processor. Honestly, my kitchen is not complete without it! If you have a large food processor like I do, simple add all the ingredients and mix it until it's to your desired consistency. I like my hummus really smooth so I mixed it for a good 2 to 3 minutes or more. I also like it really creamy. This may require a bit more liquid. Feel free to add water, chickpea liquid or olive oil. Whichever you like better. I like to top my bowl of paprika and I top it with a few pine nuts right before I serve it. Voila! That's it! Pretty easy recipe and definitely worth trying.
Note: I was able to find Tahini at my local grocery store but if you cannot, you can also order it on Amazon.