DIY Snow Cone Syrup Recipe
DIY Snow Cone Syrup Recipe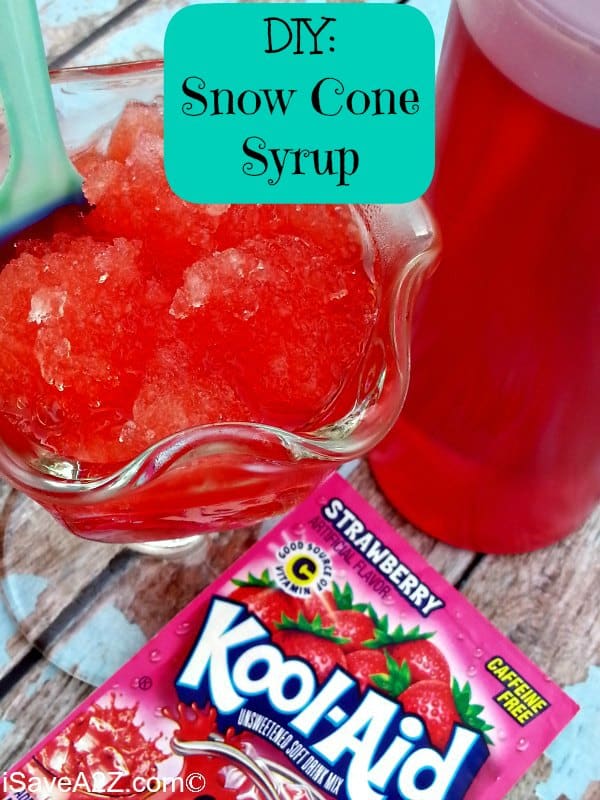 We are just days away from starting our summer break and a cold treat is something we like to enjoy often. For Mother's Day, my sweet husband got me a Ninja Ultima System! I have made smoothies and done some juicing with it, but our latest creation is pure enjoyment! One amazing thing that this Ninja does, is that it makes snow, also known as shaved ice!! Knowing that this was one of the first things I wanted to try and make with my new toy, my husband bought one bottle of root beer syrup for us to use. It was HORRIBLE!! It didn't even taste like root beer.
From that moment, it became my mission to make my own! I came across this really easy DIY Snow Cone Syrup Recipe and had to share it with you! This is so simple to make, and you more than likely already have everything you need to make it! Now don't worry, if you don't have a machine that makes snow, just put some ice cubes in your blender and blend. This will give you crushed ice, which will give you the original "snow cone" effect!
UPDATE!!! We added a new Sugar Free Snow Cone Syrup recipe and you can't even tell it's sugar free!!!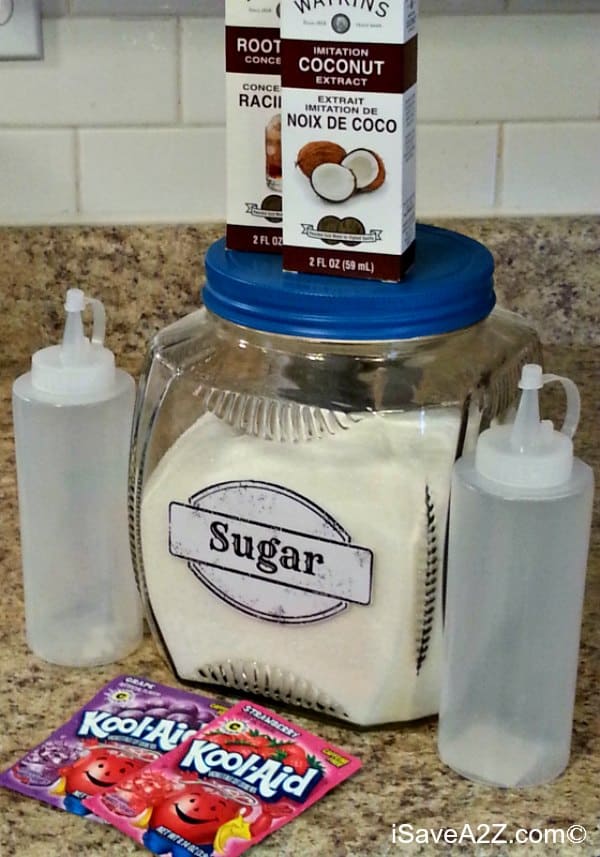 Here are the ingredients! Simple, right? You can basically make any flavor of Kool-Aid into a DIY Snow Cone Syrup! OR….you can use different flavors of extract to get even more flavors. There are super strong extracts that you can purchase to make flavors like bubble gum, cotton candy and MORE! The one I found is called LorAnn Hard Candy Flavoring and you can get a 5 pack (you pick the flavors) HERE! So here's how to make your own DIY Snow Cone Syrup!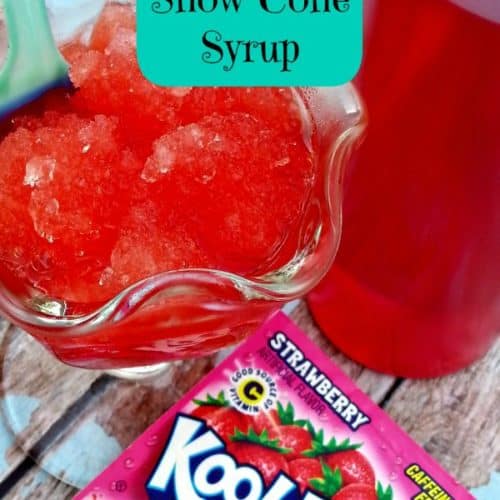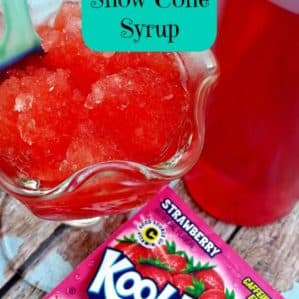 DIY Snow Cone Syrup Recipe
Ingredients
2

cups

sugar

1

cup

of water

1

package of unsweetened drink mix

Kool-Aid or other brand. Or you can use 1/2 teaspoon (or more depending on how strong you like it) of your favorite extract.

container to put syrup in
Instructions
In a medium saucepan, stir together the sugar and water.

Bring to a boil, stir until sugar is dissolved while boiling for about 1 minute.

Remove pan from heat and stir in flavored drink mix or extract. If using extract start with 1/2 teaspoon then add more to taste if needed.

Allow to cool completely and transfer to container for pouring. Syrup will get thicker as it cools.

Prepare shaved ice and pour on top.
Nutrition facts are provided as a courtesy.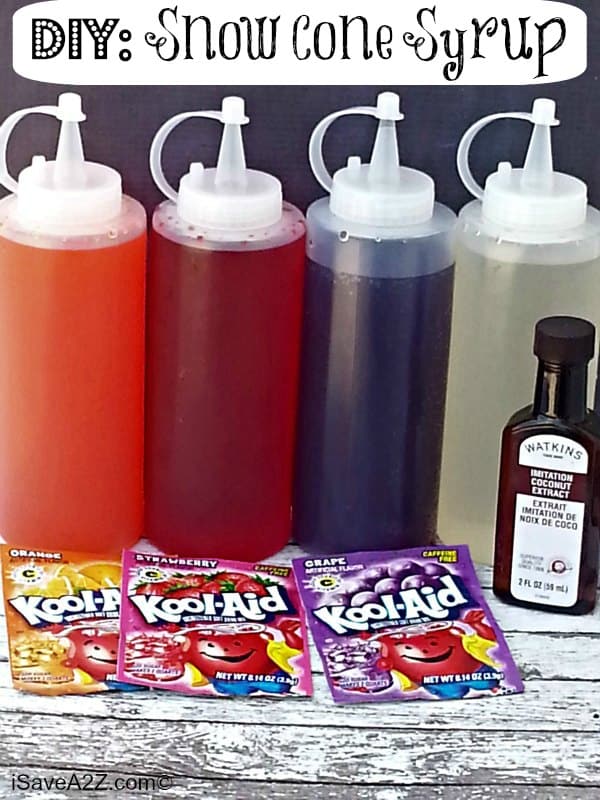 I found these condiment dispensers at Walmart for about a dollar, but you can also order a 3-pack HERE. This DIY Snow Cone Syrup Recipe does make a little more than this dispenser can hold, but we just ended up using an extra container and mixing two flavors to make a new one!
Update:
We make this recipe often during the summer time so we wanted to include a few more process photos with detailed instructions on how to make this DIY Snow Cone Syrup recipe with the candy oils.  We do many different versions and although we do have our favorites, many people love them all!  Besides, these candy oils are very potent.  A little bit goes a long way!
The recipe is the same as above.  Make the syrup exactly the same way with 2 cups of sugar to one cup of water.  Bring it to a boil for one minute and then let it set to cool down.  I want to make many different flavors so this is why I don't add my candy flavors while cooking the syrup.  Once it's cooled off I divide the syrup into different containers and flavor them.   Our family loves strawberry, pina colada, cheesecake and watermelon the most so I always make more of our favorite flavors.  There are tons of different Lorann candy flavors that you can see here on Amazon.  You can find them at your local Hobby Lobby but they don't have the selection you can find on Amazon.  They are much cheaper on Amazon too!  My local Walmart did not have them in stock but the bigger Walmart stores might carry them.
Tip:  The syrups taste best when they are fresh.  They don't have any preservatives so be sure to make the amount you think you will use in a month or so.
I have a good friend that runs a Sno Cone Stand and he does very well during the summer.  He has the best sno cones out of all of his competitors.  He swears his secret is the homemade syrups because they are fresh!  This recipe is the exact recipe he uses to create his syrups but he makes them on a much larger scale in big batches at a time.  He sells a ton of snow cones.  He is open 6 days a week and makes a new big batch of syrup every two days.  He is retired and this is a business that does well for him and his wife during the summer months here in Texas.  His biggest complaint is running out of one dollar bills for change.  He loves this business!
He also gave me another tip.  If you want to add cream to your snow cone be sure to use evaporated milk.  Most people think you would use condensed milk because of the sweetness for this dessert but don't.  It will be way to sugary.  The evaporated milk gives it the cream taste without the extra sugar.  There's already enough sugar in the syrup.  Try it,  you will be pleasantly surprised!  This is another good tip from my dear friend!
Tips for mixing the candy flavoring into the syrup:
The Lorann candy flavorings come in tiny bottles.  You can purchase a dram dropper if you want to measure out the flavoring oils.  I purchase a big pack of small eye droppers for 1 dram Lorann candy flavoring oils.  This was very helpful when making the flavored syrups.  I would fill a mason jar up about 1/4 way and put one small dram dropper full for every 2 ounces or so in that syrup to make sure the taste was perfect.  I used the 8 oz mason jars.   I was start with a small amount of flavoring and add more to your taste.
Here's another idea for you.  You can mix any of the flavor combinations together too.  We like to mix the strawberry and cheesecake together.  YUM!!!  You can also make any flavor tart.  For example, we love to add Tart and Sour flavoring to our apple candy flavoring oil.  You can find the tart and sour here on Amazon also.  I have not seen this sold at my local stores.  This bottle will last you a very long time.  I would only add a few drops (about 5 drops) at a time and taste it in between.  We love sour apple snow cones!
Last tip,  you can use a soup ladle to create that smooth snow cone top you see in the photo below.  You can also use a funnel.  The funnel (like these funnels found here) work best because you can pack in the snow ice nice and tight.
Here are a few photos we took during our cooking and flavoring process.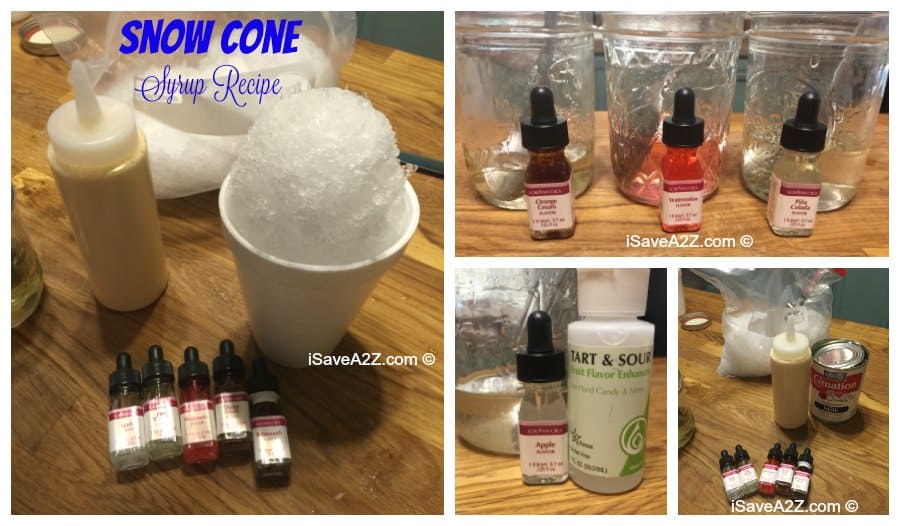 Enjoy!