Chocolate Strawberry Swiss Roll

Chocolate Strawberry Swiss Roll
Check out this neat and delicious recipe for a Chocolate Strawberry Swiss Roll! If you're looking for a fantastic dessert for after you meal, then this swiss roll will be more than sure to please your family, friends, and any other guests you may have!
If you like this recipe, try some of our other fantastic desserts here! If you would like some more dessert recipes, then you should check out this cookbook!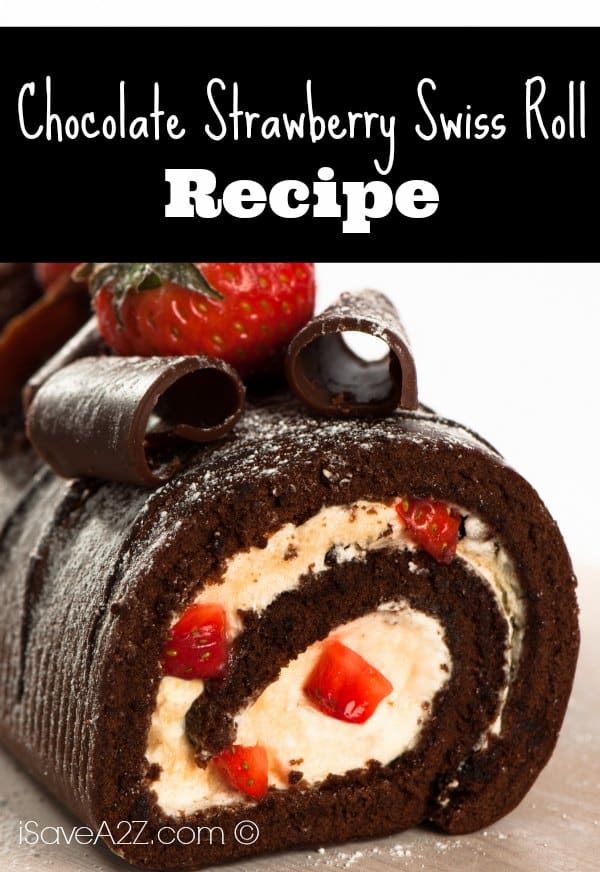 Chocolate Strawberry Swiss Roll
Instructions
Preheat your oven to 400 degrees F, and line a 15 x 11 pan (jelly roll pan) with parchment paper. Make sure to grease the top with bakers spray and set it aside.

Take a bowl and add in your eggs and sugar. Mix on low speed and increase in speed slowly, and mix from 3 - 4 minutes on high until thick.

Take a spatula and fold the flour, cocoa, baking powder, and chocolate in.

Spread in the batter even;y in the baking pan that was prepared earlier, and bake for 6 - 7 minutes.

While this is cooking, sprinkle some powdered sugar on a clean tea towel.

Invert the cake onto the clean towel, gently removing the parchment paper as you do so. Roll the cake with the towel starting from the short side.

Cool the cake completely.

Once the cake is cold, whip the heavy whip cream until soft. Add the 2 tbsp of sugar and continue whipping until firm.

Unroll your cake and spread the cream evenly on the cake. Sprinkle the diced strawberries here. Roll up the cake once more and without a towel this time. Chill it in the fridge for a couple of hours.

When you are ready to searve, sprinkle some powdered sugar on top and cut the roll into thin slices.
Nutrition facts are provided as a courtesy.