Fresh Rhubarb Pie
Check out this awesome recipe for a Fresh Rhubarb Pie. If you are looking for something sweet and simple, then you have come to the right place my friend! This could be the perfect dessert for after you and the family have had a nice dinner. Try bringing this pie to a special occasion too! Your guests will be sure to love it! If you're a lover of pie, then this recipe will be just right for you. The recipe below will take you step by step into making some of the best and fresh rhubarb pies you will have ever tried. If you're looking for some other fantastic sweets, then you can look no further! We have plenty of recipes here, and you can be sure to find one you love! Be sure to check out our Banana Chocolate Chip Cookies!
If you are interested in other great pie recipes, check out this great cook book; Pie: 300 Tried and True Recipes for Delicious Homemade Pie. With this cookbook in hand, you shouldn't need any other pie recipes for quite a long time! Bake your pies and share them with friends! Who doesn't love a good pie?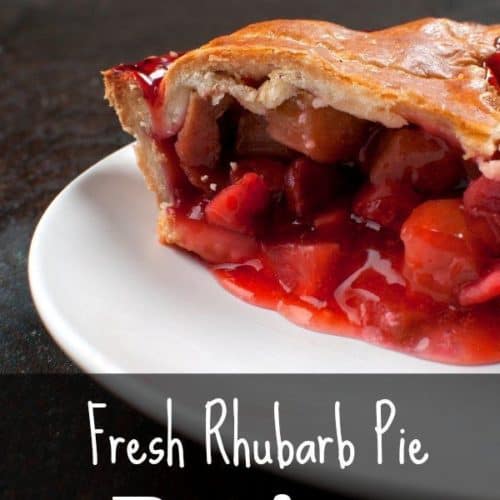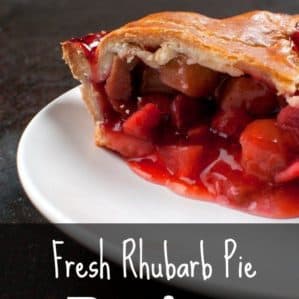 Fresh Rhubarb Pie
Instructions
First; Preheat the oven to 450 degrees fahrenheit.

Second; Combine sugar and flour. Sprinkle 1/4 of it over the pastry in pie plate, heap rhubarb over this mixture, and sprinkle with remaining sugar and flour. Put small pieces of butter then cover with top crust.

Third; Place the pie on lower rack in oven. Bake it for 15 minutes and reduce oven temperature to 350 degrees fahrenheit then continue baking for 40 to 45 minutes. You can serve it warm or cold, either or.
Nutrition facts are provided as a courtesy.