Easy Pine Cone Cheese Ball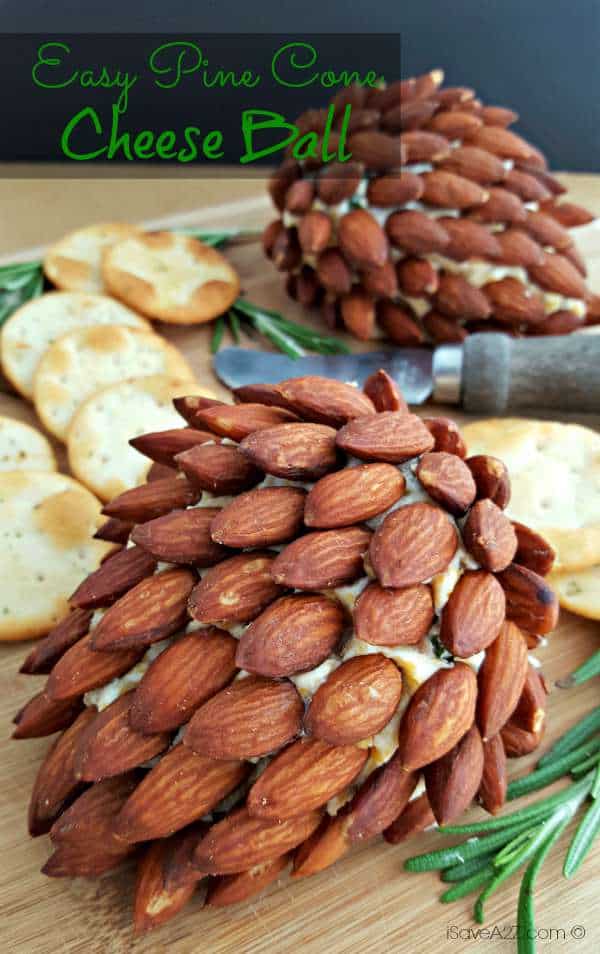 Easy Pine Cone Cheese Ball
I love creating amazing appetizers that are fun and creative. This Easy Pine Cone Cheese Ball recipe is super simple to make and would make an excellent addition to your Thanksgiving day table especially if  you like almonds.  The hardest part around here is keeping the kids away from the almonds before the party starts.  Those cute little fingers always seem to find a way into this dish even though I hide it in the refrigerator. I like to add fresh jalapeno to mine but you don't have to.  It won't be too spicy if you take the seeds out.  I should also mention that real bacon bits really add a lot to this recipe too.  Lastly, we always add a sprig of Rosemary as a garnish on the side.  I love having a Rosemary bush right outside my door.  Makes it real easy to grab some whenever I need it.  I love how easy it is to grow too.  It's one of those plants that is hearty and easy to manage.
If  you are looking for even more creative and fun cheese ball recipes I highly suggest grabbing this book called Great Balls of Cheese on Amazon.  Just look at that cute little owl cheese ball on the cover.  It's adorable and so creative!  Love it!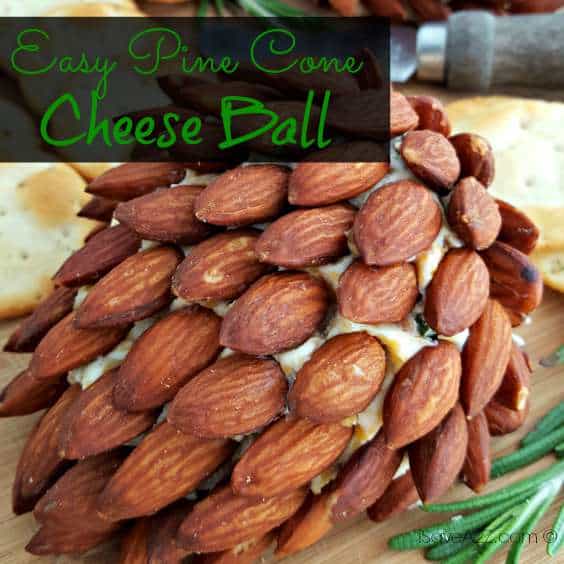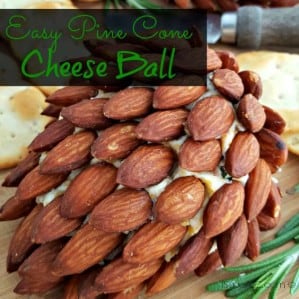 Easy Pine Cone Cheese Ball
Ingredients
1 ¼

cups

almonds

8

oz

cream cheese

1

jalapeño

diced and seeds removed

½

cup

pepper jack cheese

grated

½

cup

cheddar cheese

grated

Salt and pepper

Optional: sprigs of rosemary for garnish
Instructions
In a large bowl, combine cream cheese, bacon bits, diced jalapeño, and grated cheese. Season with salt and pepper to taste. Use clean hands and work the ingredients together to create a large ball. Chill overnight in covered bowl to allow flavors to blend.

On a serving platter, divide cheese mixture into 2 portions and shape each into a pine cone. This works best by simply using your hands to roll each portion into a ball, then gently squeezing on end downwards to create somewhat of a narrow point.

Press the almonds at a slight angle into the cheese, starting at the narrow end of the pine cone shape. Continue to overlap rows until all of the cheese is covered.

Garnish with rosemary sprigs, and serve at room temperature with crackers or toasted crostini.

Note: This cheese ball has a slight spiciness to it from the pepper jack cheese and jalapeño. To create a milder flavor, simply replace the pepper jack cheese with a milder cheese and substitute the jalapeño with green onions.
Nutrition facts are provided as a courtesy.