Homemade German Chocolate Cake Frosting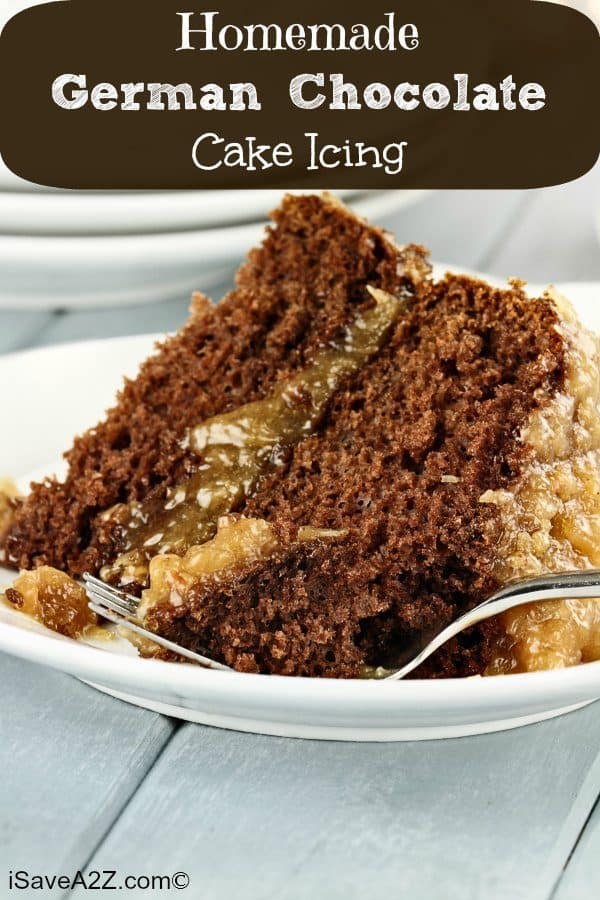 If you like German Chocolate Cake then you've got to have this Homemade German Chocolate Cake Icing Recipe!! It has been in my family for years and is absolutely amazing! My grandmother made this for as long as I can remember and German Chocolate Cake is my dad's favorite!
In fact, it's really the only cake he will eat. BUT….he's very particular about it because it has to taste just like his mom's. My sister has been trying to perfect the recipe (cake and icing) for years and I think she's got it.
German Chocolate Cake Frosting Recipe
We did finally convince him that it was okay to use a box cake…..although he would prefer everything to be done from scratch. By using a box cake, it will really save you some time. PLUS, the icing is so amazing, you won't even notice the cake isn't from scratch!
Homemade German Chocolate Cake Icing
Ingredients
1

cup

of evaporated milk

1

cup

of sugar

3

egg yolks

1/2

cup

of butter

1

teaspoon

of vanilla extract

1 1/3

cup

of sweetened coconut flakes

make sure to pack it down when measuring

1

cup

of chopped pecans

or pecan pieces
Instructions
In a large saucepan, combine the evaporated milk, sugar, egg yolks, butter and vanilla.

Cook over medium heat, stirring often, until thickened. This takes about 12 minutes.

Remove from the heat and stir in the coconut flakes and pecans. Mix until all is well combined.

Let the icing cool completely (at room temperature) and then ice the cake.
Notes
We like more pecans and more coconut than the recipe calls for. So we use 2 cups of coconut and almost 2 cups of pecans.
German Chocolate Cake Frosting
Homemade German Chocolate Cake Icing Recipe is definitely one of our family favorites so I hope you enjoy it too. Like I said in the notes, we use more coconut and pecans than is required, but that's just our preference.
Be sure to check out all of our amazing recipes HERE!
Looking for more icing and frosting recipes? Check out the Dollop Book of Frosting! You can get the Kindle version for just $9.99!
Enjoy!