Copycat Chick Fil A Chicken Nuggets & Sauce

Copycat Chick Fil A Chicken Nuggets & Sauce
Check out our neat and amazing recipe for our super delicious Copycat Chick Fil A Chicken Nuggets & Sauce! If you have been looking around for some great copycat recipes, then you can look no further! The recipe below will bring you step by step into making this amazing Copycat Chick Fil A Chicken Nuggets & Sauce! If you are looking for some more copycat recipes, then be sure to check out our Copycat Nutella Recipe, our Copycat Pumpkin Spice Latte, or even our great Copycat Bang Bang Shrimp Recipe!
If you are a fan of all of these great copycat recipes, then you will be sure to enjoy this great cookbook filled with nothing but copycat recipes! Now you can eat out for dinner, in your very own home! There's nothing better than having the food you love right at your very own kitchen!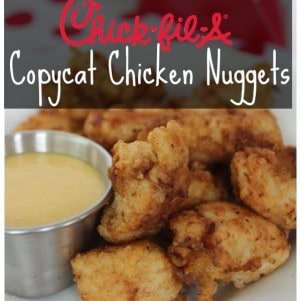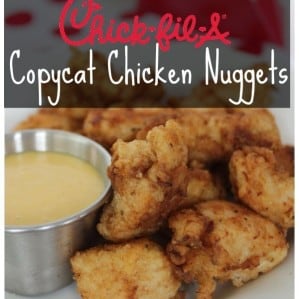 Copycat Chick Fil A Chicken Nuggets & Sauce
Instructions
Combine honey mustard and BBQ sauce. Set aside.

Cut chicken into roughly 1" pieces and place in zippered bag with pickle juice to marinate in refigerator for at least 4 hours.

Mix together milk and egg in a large bowl.

Drain pickle juice from chicken and add to egg mixture.

Toss to ensure all pieces are coated.

Drain excess egg mixture.

Heat oil on medium high to about 375.

In a zippered bag, add flour powdered sugar, paprika, salt and pepper. Shake well to mix.

Add chicken to zippered bag and shake to coat.

Cook chicken pieces in oil for until crispy and browned (about 3 to 4 minutes).

Drain on paper towels.
Nutrition facts are provided as a courtesy.