Italian Bruschetta Recipe

Italian Bruschetta Recipe
Check out our new and amazing Italian Bruschetta Recipe! Italian Bruschetta is a fantastic Italian appetizer that is sure to satisfy your guests before the main course of the meal! This recipe will take you step by step into creating the best Italian Bruschetta right from your very own kitchen! If you're looking for some other great appetizers, then you might like our Watermelon Salsa Recipe, our Mini Taco Bowls, or even our Caprese Garlic Bread.
If you're looking for a good Italian recipe to match up with this great appetizer, then check out this Italian Cookbook!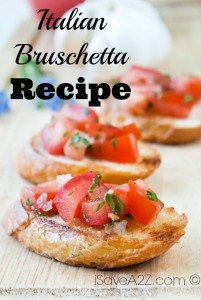 Italian Bruschetta Recipe
Instructions
Prepeare your tomatos, and parboil them in boiling water that was just removed from the burner for one minute. Drain, then remove the skins of the tomatoes. Then cut the tomatoes in halves or quarters, and remove the juice and seeds from their centers. Be sure to cut out the stem area too.

Preheat your oven to 450 degrees F.

Chop up the tomatoes finely while oven is heating. Put the tomatoes, 1 Tbsp of olive oil, garlic, and vinegar into a bowl, and mix. Add your salt pepper and chopped basil.

Slice your baguette, on a diagonal, about 1/2 inch thick slices. Then coat one side of each of the slices with olive oil. Place them on a cooking sheet, make sure oil side is down. Toast them on the top rack of your oven. Once oven is preheated, place the tray on the top rack, and toast for 5-6 minutes, or until golden brown.

Take the bread and align it on a serving platter, oil side up this time. Place some topping on each slice of bread and serve. Do this right before serving. If it will be a while before serving, you can place the topping in a separate bowl with a spoon for people to serve themselves.
Nutrition facts are provided as a courtesy.