Copycat Nutella
Check out our neat and amazing recipe for an easy to follow Copycat Nutella recipe! If you have been looking to make your very own delicious tasting nutella, then you can look no further! The recipe below will bring you step by step into making the amazing hazlenut spread we all know as Nutella! If you are looking for different ways to use your new nutella creation, then you are looking in the right place! Check out some of our amazing recipes that use this great hazlenut spread! Such as our 2 Ingredient Nutella Brownies, and even our Nutella Pumpkin Pie!
If you liked this recipe that we have here, and you would like to explore some other great Nutella related recipes, then you are in luck! There's this neat cookbook here that is filled with nothing but unique recipes with Nutella as a main ingredient! This cookbook will be absolutely perfect for any of your nutella recipe needs! Be sure to check these great recipes out when you have a chance! You definitely will not be disappointed!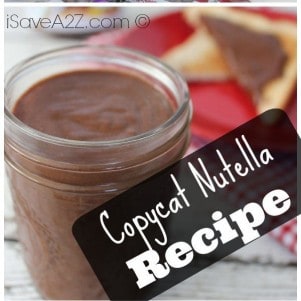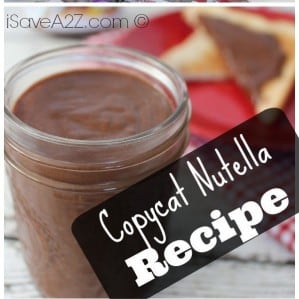 Copycat Nutella
Ingredients
1 1/2

cup

raw Hazelnuts

1 1/2

cup

Milk

3/4

cup

Powdered Milk

1

tbsp

Honey

1

cup

Semi Sweet Chocolate Chips

1

cup

Milk Chocolate Chips
Instructions
Preheat the oven to 400.

Spread hazelnuts onto cookie sheet and bake 10 minutes.

Put nuts in dishtowel and rub to remove skins.

Place nuts in food processor and run until they turn to paste.

Combine the milk, powdered milk and honey in a pan.

Heat over medium until it begins to boil stirring frequently.

Remove from the heat.

Melt chocolate chips by microwaving for 30 seconds then stirring and repeating until smoth and melted.

Pour the melted chocolate into the ground hazelnuts and continue grinding until blended (scrape down sides periodically).

Add the milk mixture and continue processing until smooth.