Nutella Pumpkin Pie
Have you ever heard of Nutella Pumpkin Pie?  Yeah, me either!
Last week I posted an amazing Homemade Pumpkin Pie recipe that has turned out to be extremely popular!  This week I want to tell you a little story about how my daughter took Nutella and changed our pumpkin pie eating habits!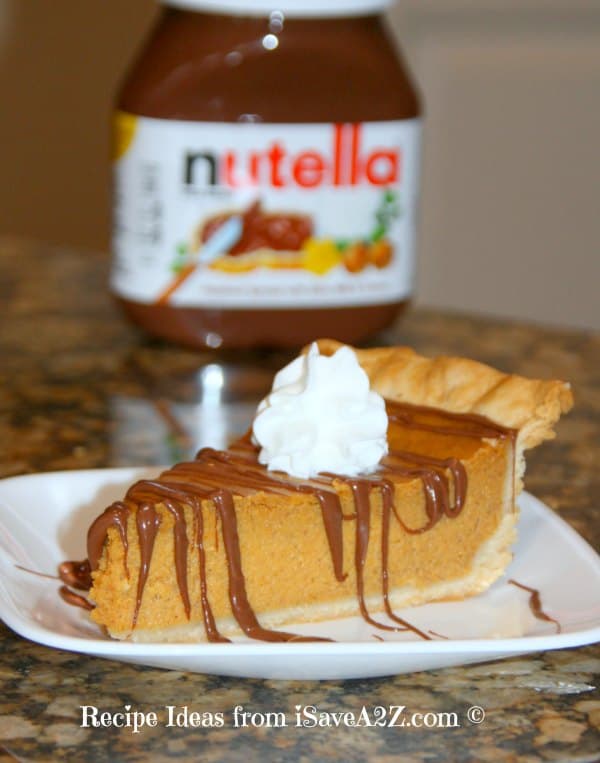 The Creation of Nutella Pumpkin Pie
I just have to tell you the story of how Nutella came into the picture.  I have an 8 year old daughter, Melanie, that is a total foodie to the max.  She loves all kinds of foods.  I mean all kinds from vegetables to desserts.  She takes food seriously.  You know Emeril right?  Remember that show Emeril Live with Emeril Lagasse?  BAM!  He used to always say?  When Melanie was little she would always want to watch THAT show!  Yeah.  Not. Even. Kidding!  Serious Foodie!
After I made the above ah-mazing pumpkin pie recipe she was my taste tester.  Needless to say it passed the test but she decided to take it up a notch.
The next evening after making this pie I hear a noises in the kitchen.  I rush in to see what's going on and I see Melanie with Nutella all over her face.  Behind her I see a half eaten piece of this amazing pumpkin pie with Nutella drizzled ALL OVER IT!  I immediately had to taste it because I never, in my life, would have thought to put Nutella on a piece of pumpkin pie.  We love Nutella!  It was delicious!!  Amazing!
Amazing Pumpkin Pie just got kicked up a notch, or ten!  Genius, I say!  Absolutely freakin' genius!  Inspired by my 8 yr old daughter, introducing Nutella Pumpkin Pie people!  I have a feeling this will happen every year when I make my pumpkin pie for Thanksgiving!
I just had to share this story with you!  Actually, she insisted!
So the question is…  What do you eat with Nutella?  Do you have a crazy Pumpkin Pie idea of something totally different???  We've gotta hear your stories!!!