Crockpot Apple Butter
Check out this neat and amazing recipe for our fantastic Crockpot Apple Butter! If you have been looking for some great crockpot or slow cooker recipes, then you can look no further! The recipe below will bring you step by step into making these absolutely delicious Crockpot Apple Butter! If you would like to try out some other crockpot recipes, then you should be sure to try out our Crockpot Chicken and Dumplings, our Crockpot Stuffed Peppers, our Crockpot Porkchops, our Crockpot Carnitas, our Crockpot Breakfast Casserole Recipe, our Crockpot Root Beer Chicken Recipe, and plenty more! If any of these recipes that I have listed here could have piqued your interests, then be sure to check out our Crockpot and slow cooker archives for plenty more recipes!
If that isn't quite enough slow cooker or crockpot recipes for you, then you can be sure to check out this amazing cookbook dedicated to only the most loved slow cooker recipes! With that cookbook, and the recipes here on this site, you should be able to have all of the slow cooker recipes you could ever need! No matter what the situation, have it be for some sort of party or get together, or even just a casual family dinner, that may include a few friends, these recipes should cover anything you could possibly need in the slow cooker or crockpot category! Check it out!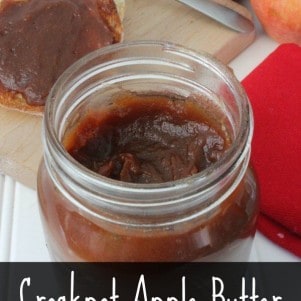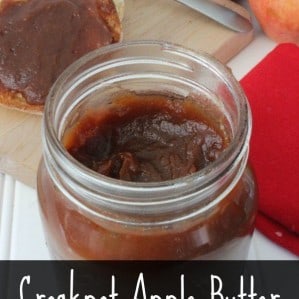 Crockpot Apple Butter
Instructions
Core peel and chop apples.

Place in slow cooker.

Mix together remaining ingredients and pour over apples.

Cook on high for 1 hour.

Reduce to low and cook for 10-12 hours until mixture turns dark brown.

Use immersion blender to remove lumps or preocess in blender in batches.

Leave uncover cooking for 1-2 hours until mixture thickens.

Allow to cool.

Transfer to airtight containers and store in refrigerator,
Nutrition facts are provided as a courtesy.