Raspberry Meringue Cookies

Raspberry Meringue Cookies
Check out this neat new recipe for these amazingly delicious Raspberry Meringue Cookies! If you are looking for something sweet and possibly fruity to ease that sweet tooth of yours, then you are in luck! This great recipe we have here will definitely do the trick! However, you might also want to check out some of our other great desserts! Try checking out our No Bake Twinkie Strawberry Dessert Recipe, our Banana Chocolate Chip Cookies Recipe, or even our Oreo Poke Cake Recipe!! Find just the right dessert to help with that sweet tooth!
Still not satisfied with any of these desserts? There's no need to give up just yet! Try this cookbook with enough desserts for you to try a new dessert recipe each day for an entire year! That's a lot of dessert recipes! Now there is no way you can ever be at a loss for an amazing dessert recipe, right? Not until next year!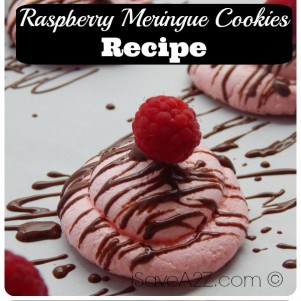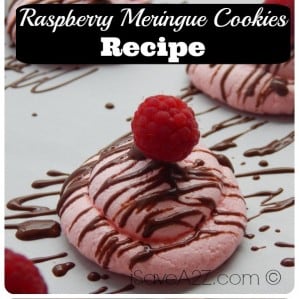 Raspberry Meringue Cookies
Ingredients
Raspberry Meringue Cookies
Instructions
Cover 2 baking sheets with parchment paper and set aside.

In a cold glass or metal bowl add in the egg whites. (Make sure bowl and blender are clean)

Whip egg whites on medium-high speed. Once it starts to thicken add in the tartar and extract while still blending and beat on high.

Continue to beat egg whites until they are thick and firm.

Add in sugar a tiny bit at time while beating at the same time.

Now you can add in the drop of food coloring if desired.

Using a zip lock bag, scoop the meringue into the bag and chop of a corner.

Now pipe 2-3 inch sized circles.

Bake at 185 for 45 min on middle and lower rack-switching pans every 15 min so they each get even baking.
Nutrition facts are provided as a courtesy.