Cast Iron Skillet Swedish Meatballs

Man, Oh man this recipe is so good!!!  This cast iron skillet Swedish Meatballs recipe is one of those comfort foods that is loaded with flavor.  There's something special about making the meatballs in the cast iron skillet too.  They get a bit crispy and brown on the edges which pulls the most amazing taste when it's all combined in the end.  Maybe I'm just partial to cooking in the cast iron skillet.  Ever since I learned how to season it properly it has been my favorite cookware.  It will last forever!  I know plenty of people who pass down their cast iron cookware.  I even know collectors.
This recipe is made with half beef and half pork.  I'm not sure why but it makes a big difference in the taste.  I tried making it one time with just beef and it wasn't the same.  I much prefer the pork to beef ratio for texture and flavor.  I also know the nutmeg is another flavor you don't want to omit.  I used to buy those prepackaged meatballs but not after realizing how easy it is to make them myself.  There's a huge difference in taste that is worth the little extra effort.  You have got to try it if you haven't already.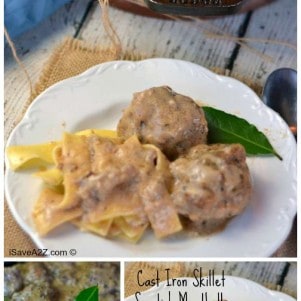 Swedish Meatballs
Ingredients
1

pound

of Ground Beef

1

pound

of Ground Pork

2

eggs

1

cup

of breadcrumbs

1

onion chopped

1

Teaspoon

of nutmeg

4

tablespoons

of butter

2

cups

of beef broth

2

tablespoons

of flour

½

cup

of Sour Cream

1

tbs

of olive oil
Instructions
In your 10' Cast Iron Skillet saute chopped onions in olive oil for 2-3 minutes or until tender. Remove and set aside.

In a large bowl mix beef, pork, 2 eggs, bread crumbs, onions, and nutmeg. Mix all ingredients until well combine.

Use your hands to form the meatballs about an inch-thick. This should make about 20-30 meatballs.

Melt 2 tbs of butter in the cast iron skillet over a medium heat fry meatballs until brown on all sides. remove meatballs from the pan. In the same pan melt 2 tbs of butter add flour. Add beef broth slowly stirring constantly. The sauce will be begin to thicken. Re Add the meatballs to the sauce and let cook on a medium heat for ten more minutes. Remove the meatballs and add in sour cream. Mix well until you have a nice creamy sauce.

Serve over your meatballs.

Enjoy.
Nutrition facts are provided as a courtesy.