Homemade Pretzel Recipe
This homemade pretzel recipe instantly brings back memories of my mom baking in the kitchen.  I couldn't wait for these to come out of the oven. The recipe makes the most amazing tasting dough I've ever tried but the kicker that puts this recipe over the top is the use of pretzel salt
.  Oh. My. Word.  I would pick the large pieces of salt off the top and eat those by themselves.  My mouth is watering.  You can use course or kosher salt too but there is a slight noticeable difference.  Once you try pretzel salt you won't ever go back.  We use to get crazy with this recipe too.  We would add all kinds of toppings such as pepperoni, ham, cheese…  Oh the cheeses!  We would use many different types of cheeses.  When they bake they become slightly crispy on the outside.  It matches perfectly with the soft dough from the pretzel itself.  We almost always make a sweet version too.  We can't go without a cinnamon and sugar pretzel.  Yum!
Every time I make these the kids have to make their own designs too.  They almost never do the knot design that I do.  Kids get crazy.  It makes for some good quality time with them in the kitchen.  I swear they will remember these moments for a long time.
Good food fixes almost everything that is stressing you. #foodie
Click To Tweet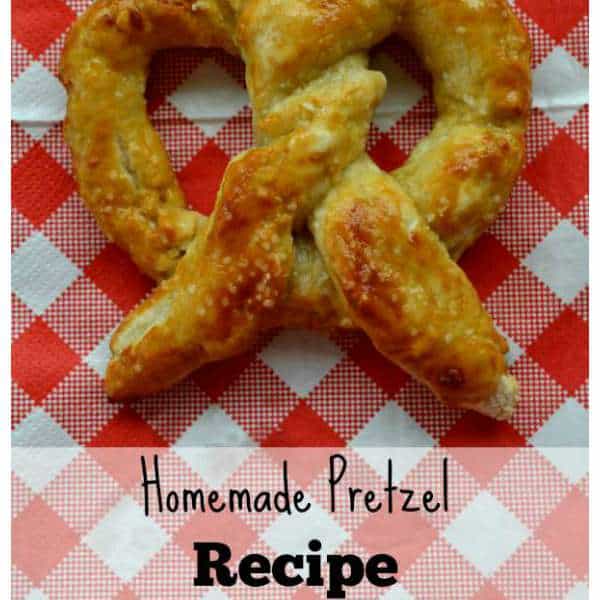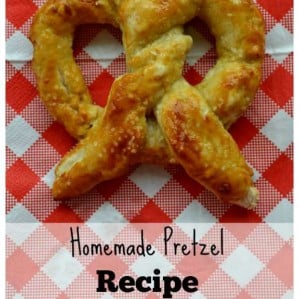 Homemade Pretzel Recipe
Instructions
In a small bowl, dissolve the yeast in warm water. Set aside for a few minutes until it starts to get foamy.

In a large bowl, combine flour, sugar and salt. Add in the yeast water and vegetable oil.

Mix into a dough.

Knead the dough for 5 minutes until it is nice and smooth.

Lightly oil a bowl and place dough inside. Cover and let rise in a warm space for 45 minutes or until it doubles in size.

Preheat your oven to 425.

You will want an area that will allow you to spread out a bit. You will need to create a water bath by mixing warm water and the baking soda. Stir until the baking soda mostly dissolves.

Place a few paper towels on a plate and set next to your water bath. You will also need a lightly greased baking sheet.

Divide the dough into 8 equal pieces.

Roll each portion into a 3 foot long rope. (Remember making snakes with Play-Doh when you were younger? It's time to put those skills to action again!)

Pick up both ends of the dough and give it a little spin so the middle of the dough spins around.

Then flip the twisted ends down toward you to create the traditional pretzel look. Pinch the ends in place.

Dip the pretzel in the water bath and let drip on the paper towel for any excess water to drain off.

Then place on your baking sheet.

Cook for 4 minutes. Then turn the baking sheet and cook for 5 more minutes.

Melt the butter. Brush over the pretzels and sprinkle with salt.