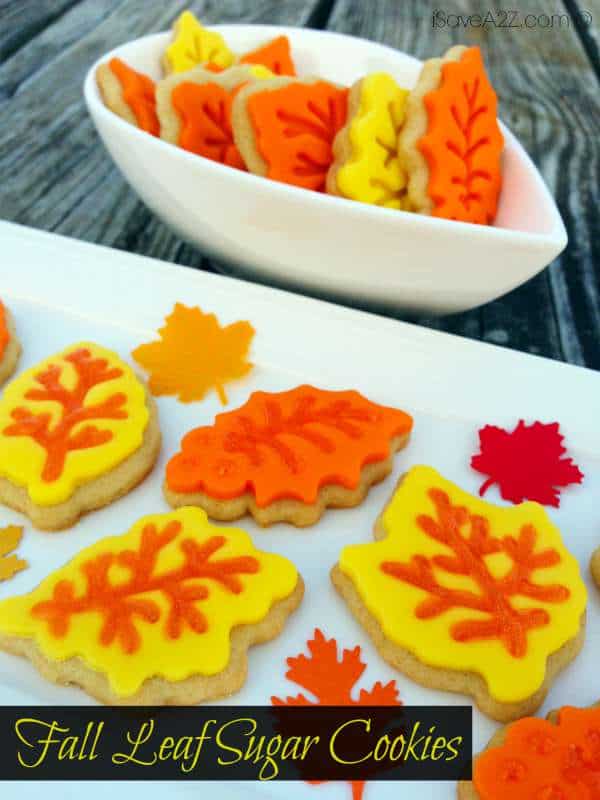 Fall Leaf Sugar Cookies
I absolutely love making these fall leaf sugar cookies.  They are perfect for the month of November too!  The leaves are falling, the air is crisp and it's almost Thanksgiving!  It's my favorite time of the year.
This cookie is decorated a bit differently than ones we've done in the past.  It's decorated with rolled fondant.  You really don't need some super cookie decorating skills to make these cuties.  As long as you can work a rolling pin on that rolled fondant you are good to go!  This recipe would be good for the younger kids too.  You will use the cookie cutters to cut out the fondant shapes.  It's this time of year that I buy a big bucket of white fondant (seen here) and use gel food coloring to make it any color I want.  Now be sure not to use the regular food coloring.  You must you the gel food coloring (seen here).  You don't need very much either.  Start off with small dots of color a little at a time.
Here's how to color fondant:
Add Dots of Color. Roll fondant into a ball, kneading until it's soft and pliable.
Knead color. Knead color or flavor into your fondant ball. (just like kneading bread)
Knead Until Blended. Continue kneading until color is evenly blended; add a little more color or flavor if needed.
Baking Tip:
One of the best tips I've ever received was to use silicone mats when baking cookies.  The crust comes out perfect every single time.  I've purchased mine almost 4 years ago and still use them to this day.  This silicone mat set here is my exact set.  LOVE IT!
Here's a printable recipe for our Fall Leaf Cookies: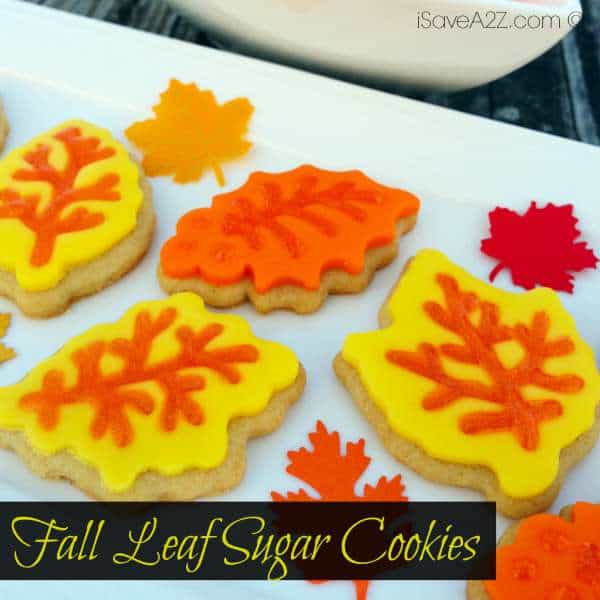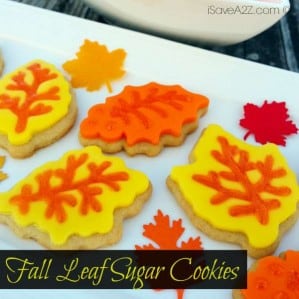 Fall Leaf Sugar Cookies
Ingredients
1½

cups

Butter

room temperature

3

cups

Sugar

2

tbsp.

Greek Yogurt

3

tsp.

Vanilla Extract

2

Eggs

3½

cups

Flour

1½

tsp.

Baking Soda

1½

tsp.

Baking Powder

½

tsp.

Salt

Celebrate It 4-Piece Fall Leaf Pie Crust Cutters

Wilton Rolled Fondant Set of 4 Primary Colors – You will use:

Yellow Fondant

Orange Fondant

make this color by mixing yellow and red fondant

Wilton Orange Sparkle Gel
Instructions
Preheat oven to 350 degrees F.

Using electric mixer, cream butter and sugar together for a few minutes at medium speed using paddle.

Add Greek yogurt and vanilla extract to butter and sugar mixture in mixer. Cream together for 1 to 2 minutes at medium speed.

Add eggs to mixture and beat together for about 3 minutes.

Combine dry ingredients in medium mixing bowl: flour, baking soda, baking powder, and salt.

Slowly add dry mixture to mixer on low speed until all ingredients are evenly combined.

Scoop mixture into medium mixing bowl. Seal and place in refrigerator overnight.

Remove from refrigerator. Scoop out one fist-sized ball at a time and place onto parchment paper. Knead with hands. Sprinkle flour onto rolling pin and dough as needed to avoid sticking. Use rolling pin to flatten dough evenly.

Using all 4 of the fall leaf cookie/fondant cutters, begin to cut each shape into the dough as many times as possible. Do NOT press down on spring button.

Place all of the fall leaf shaped cookies onto baking sheet. Bake at 350 degrees F for 5 minutes per batch.

Remove from oven. Let cool for approximately 5 minutes.

Knead yellow fondant in hands for a few minutes. Use fondant roller or regular rolling pin to flatten into a thin layer. Using the same fall leaf shapes, begin to cut as many leaves as possible from the fondant. Be sure to press down on the spring button when cutting each shape, this will create 3-dimensional detailing and indentations for your leaves.

Repeat step 12 for the orange fondant.

Using the orange sparkle gel, begin to fill the indentations. Do this to about half of the sugar cookies. Add fondant leaf cutouts to each cookie and press down gently to secure.

Serve and enjoy!