Gingerbread Cupcakes
Check out our neat and amazing recipe for our great Gingerbread Cupcakes! If you're looking for some great Christmas and other holiday sweets, then this is perfect for you! If you happened to like this recipe, then you should definitely check out some of our other great sweets! Such as our Frozen Peppermint Pie recipe, our Eggnog Cinnamon Rolls recipe, our Eggnog Cookies recipe, our Christmas Cake Roll recipe, our Coconut Cream Cheese Pound Cake recipe, our Pumpkin Pie Cake recipe, our Pumpkin Pie Bites recipe, ourPumpkin Pie Fudge recipe, or even our Baked Apple Chimichangas recipe, and plenty of others! Any of these great recipes would be great as a family dessert when it comes to be the time for the holidays! Don't miss out on a great holiday opportunity with any of these gret sweets!
If you happened to like any of the recipes I have listed here, then you should definitely try out this neat cookbook for everything sweet and wonderful! You will be sure to find the best dessert recipes with this! With all of these recipes here, you will be sure to find the perfect recipe for any occasion that you could need something sweet! Don't keep these sweets waiting!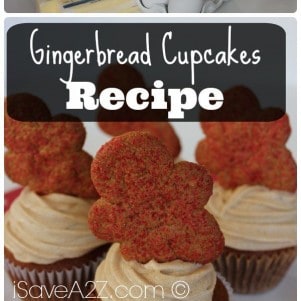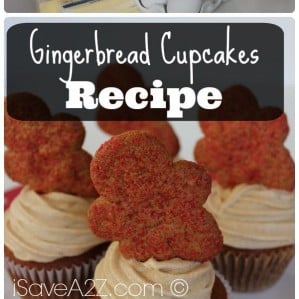 Gingerbread Cupcakes
Instructions
Heat oven to 375.

Line muffin pan with liners.

Beat together sugar, butter, molasses, water and eggs on medium speed.

Whisk together flour, baking soda, salt, ginger, cinnamon and allspice.

Add dry ingredients into wet ingredients and mix until combined.

Spoon about 1/4 cup batter into each cup.

Bake 16-18 minutes or until toothpick inserted in middle comes out clean.

Allow to sit in muffin pan for 5 minutes before moving to cooling racks to finish.

Beat cream cheese until smooth, scraping down sides as needed.

Add butter and continue beating until mixture is blended and smooth.

Add vanilla and brown sugar and beat for 5 minutes until sugar is dissolved and frosting is light and fluffy.

Transfer icing to piping bag with star tip and frost tops of each cupcake.

Place in refrigerator for 30 minutes to firm icing.

You can optionally top with a gingerbread man cookie as garnish.
Nutrition facts are provided as a courtesy.