Marshmallow Frosty Hats
Check out our fantastic recipe for our great Marshmallow Frosty Hats!
If you're looking for some great Christmas and other holiday sweets, then this is perfect for you! If you happened to like this recipe, then you should definitely check out some of our other great sweets! Such as ourFrozen Peppermint Pie recipe, our Eggnog Cinnamon Rolls recipe, our Eggnog Cookies recipe, our Christmas Cake Roll recipe, our Coconut Cream Cheese Pound Cake recipe, our Pumpkin Pie Cake recipe, our Pumpkin Pie Bites recipe, ourPumpkin Pie Fudge recipe, or even our Baked Apple Chimichangas recipe, and plenty of others! Any of these great recipes would be great as a family dessert when it comes to be the time for the holidays! Don't miss out on a great holiday opportunity with any of these gret sweets!
If you happened to like any of the recipes I have listed here, then you should definitely try out this neat cookbook for everything sweet and wonderful! You will be sure to find the best dessert recipes with this! With all of these recipes here, you will be sure to find the perfect recipe for any occasion that you could need something sweet! Don't keep these sweets waiting!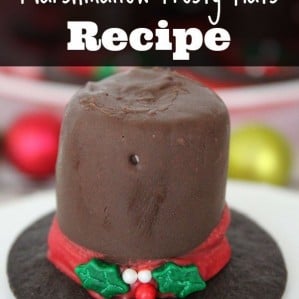 Marshmallow Frosty Hats
Instructions
Melt chocolate by heating in microwave for 1 minute then stirring and heating additional 15 seconds as necessary.

Prepare a cutting board or cookie sheet by lineing with wax paper.

stick a toothpick in the top of each marshmallow.

Dip each marshmallow in chocolate and roll to coat. Shale off excess chocolate and place on prepare sheet.

Place in refrigerator for 15 minutes to set.

Melt red chips by microwaving for 30 seconds and stirring and repeating until melted and smooth.

Dip bottom of each marshmallow in red to form hat band. Use a spoon to rmove excess from bottom of marshmallow.

Place in center of a wafer.

Carefully place 2 leaves and several red and white berries between leaves.

Retunt to wax paper and place in refrigerator for 20 minutes to set.

Carefully twist out toothpick and touch up with melted chocolate.
Nutrition facts are provided as a courtesy.