Best Crockpot Swiss Steak Recipe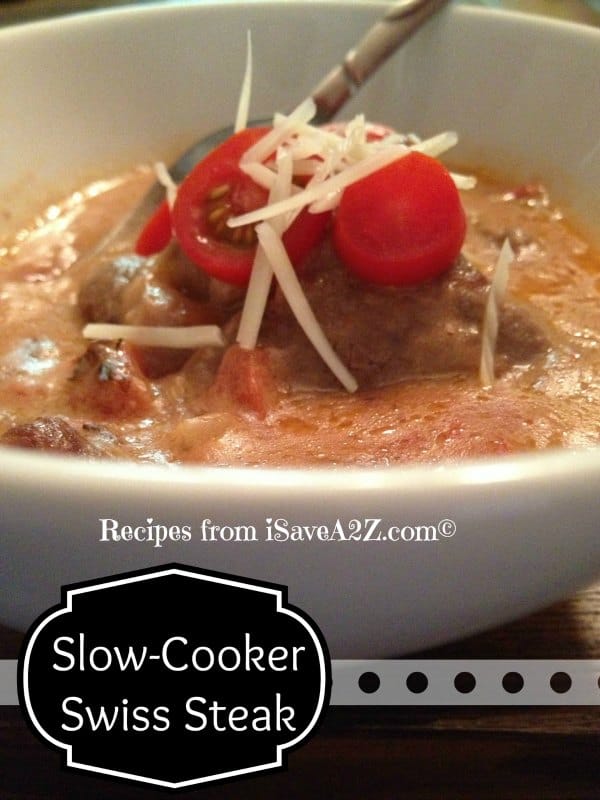 Best Crockpot Swiss Steak Recipe
By Jennifer Garza, iSaveA2Z.com,
Check out this super yummy and my Best Crockpot Swiss Steak Recipe! It's super easy and it comes out tender and juicy every single time!!! If you like Crockpot recipes be sure head over here to see our TOP 50 Crockpot recipes and bookmark it!
Ingredients:
1.5 pounds Swiss Steak
1 Large Onion, Sliced
½ cup All-purpose Flour
Olive Oil Spray
2 teaspoons Salt
¼ teaspoon Black Pepper
Meat Tenderizer
1 can Diced Tomatoes
1 can Fire-roasted Diced Tomatoes
2 cans Cream of Mushroom Soup
Sliced Tomato and Parmesan Cheese (to top)
Prep Time: 15 minutes
Cook time: 7 minutes
Yield: 8 Servings
Instructions for the Best Crockpot Swiss Steak Recipe:
1. Coat Slow-Cooker with olive oil spray
2. Line the bottom of the slow-cooker with the sliced onion
3. Cut steak into even portions and generously sprinkle with meat tenderizer
4. Combine flour, salt and pepper and coat steak completely
5. Place coated steak on top of onions
6. In medium size bowl, combine tomatoes, cream of mushroom soup and remaining flour mixture
7. Cover steak and onions with soup mixture
8. Cover and cook on low for 7 to 8 hours, or until teak is tender
9. Top with sliced tomato and Parmesan cheese
Voila! That's it!
Here's one of my favorite cookbooks: Fix-It and Forget-It Big Cookbook: 1400 Best Slow Cooker Recipes!
Enjoy!