Toddler Party Ideas
Trying to come up with fun and original Toddler Party Ideas can be a real challenge. My son's birthday is in the summer and my daughter's is in the winter. So I am faced with different challenges for each. Is it going to be too hot? Um, Hello?? It's Texas, it's probably going to be HOT! Is it going to be cold? What if it rains? But really my main quandary is, what kind of party can we have that isn't the same old thing everyone else is doing?
So I wanted to share my Top 10 Toddler Party Ideas! These will work with little and big kids so everyone can enjoy the party!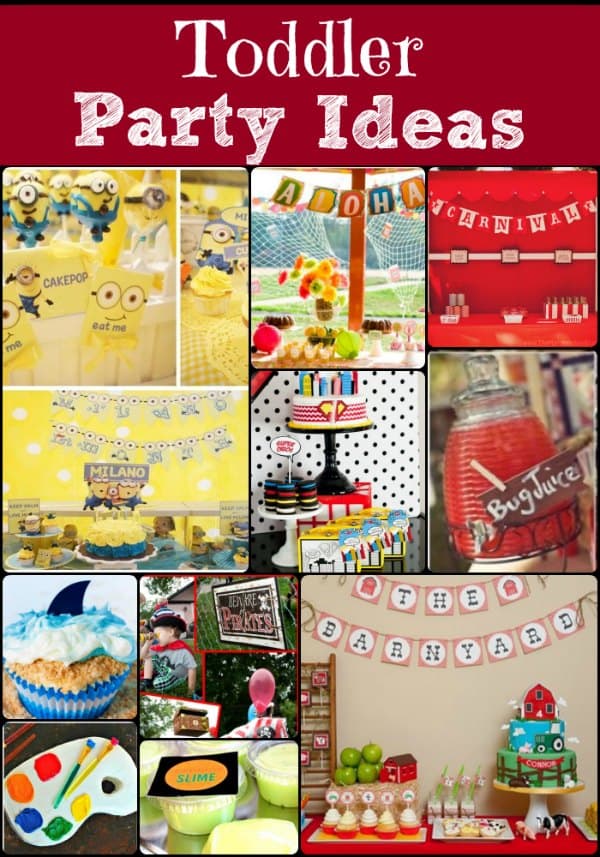 Carnival Theme: We actually did this for my son's 2nd birthday and had an amazing time. We sent out carnival invitations, put up a large portable shade tent in our driveway and set up several different stations. We had a bean bag toss, a fishing game I had picked up from a party store, ring toss, a temporary tattoo station and even bowling! Each station had prizes, so they filled up their goody bag as they went along. We had a concession table with drinks, fresh popped popcorn and cotton candy! I had my siblings and my husband "work" the stations and everyone had a blast!
Photo Credit From: The Marshmallow Studio
Super Hero: All kids (big and small) love to tie up a blanket or towel and pretend like it's a cape. I'm pretty sure I witnessed my husband do this not too long ago! A super hero party is a great way for the kids to run around and play together. You could let them each decorate their own cape or mask, which would also serve as an awesome party gift!
photo Credit From anders*ruff
Luau: Grass skirts, leis and a good game of limbo are a great start for this party! Use bold and bright colors to decorate. Have different fruit juices and a variety of fresh fruit for healthy snacks.
Photo Credit from Kara's Party Ideas
Farm Party: Cowboy hats and bandanas will go a long way here! Add in some baby chicks, rabbits or even a pony ride and the kids will have a blast! Serve ice cold milk in different flavors with your cake.
Photo Credit from Blowout Party
Pirate party: My kids love anything and everything that has to do with pirates! It's so cute to see little ones running around with eye patches on and doing their best pirate voice. ARG!!!  Fun things to do are dig for buried treasure, make them walk the plank and play hook toss!
Photo Credit from M&N Party Store
Camping Theme: I LOVE this idea of serving Bug Juice at the party! Remember those A-Frame Tents we showed you how to make? Those would be perfect for this! Have trail mix for a snack or make some smores! You could also put the smores ingredients into some cute packaging for your guests to take home.  You should also see our cute Smores On A Stick tutorial!  I've brought these for a school birthday party before and they were a HUGE HIT!
Photo Credit from Gina Lee Photography
Art Party: Get creative! Last year for my daughter's 3rd birthday, we bought small canvases for each guest to paint on. The paintings sat to dry while the party went on and the kids got to take them home. Be sure to ask parents to bring a "painting shirt" so they don't ruin good clothes.
Photo Credit from Savvy Mom ca
Water Party: Our summers in Texas are HOT!! So everyone always enjoys a water party. If you have a beach or a pool to go to that is an added bonus! Water balloons, sponge bombs and super soakers will keep everyone cool…watch out parents! Serve some "Pool Water Punch" and these adorable shark cupcakes! You can cut out fins from blue card stock.
Photo Credit from niner bakes
Mad Science: You may be thinking a mad science party may be too grown up for toddlers. But trust me, they will love the glow in the dark slime! Plus, it's educational!
Photo Credit from The Clever Pink Pirate
Favorite Character: I know this is more of a common birthday, BUT kids interests change so quickly! Plus it's really easy to get your decorating supplies in one place. Despicable Me is all we hear about in our house so I'm pretty sure this is what we'll be doing next month!
Photo Credit by Kara's Party Ideas