Crockpot Pork Chops
Check out this neat slow cooker recipe for our amazing Crockpot Pork Chops! If you have been looking for a nice slow cooker recipe, then you are definitely in luck! The recipe that we have below will bring you step by step into preparing some of the most amazing Crockpot Pork Chops ever!! Why wait? Try it now! If you are looking for other slow cooker recipes, then look no further!! Check out some of our other fantastic slow cooker recipes, such as our Crockpot Carnitas, our Honey Garlic Chicken, our French Dip recipe, our Dr Pepper Pulled Pork, our Beef Burgundy Recipe, and plenty more here! Check out the last link for our whole category dedicated to slow cooker crockpot recipes! We have plenty to go through!
If that isn't enough slow cooker recipes for you, then check this out! There's a neat cookbook here from amazon, filled with 1400 different, unique, and simply amazing slow cooker recipes for any of your cooking needs! With that many slow cooker recipes, that is enough to try a different one each day!! That should last you quite a while, right?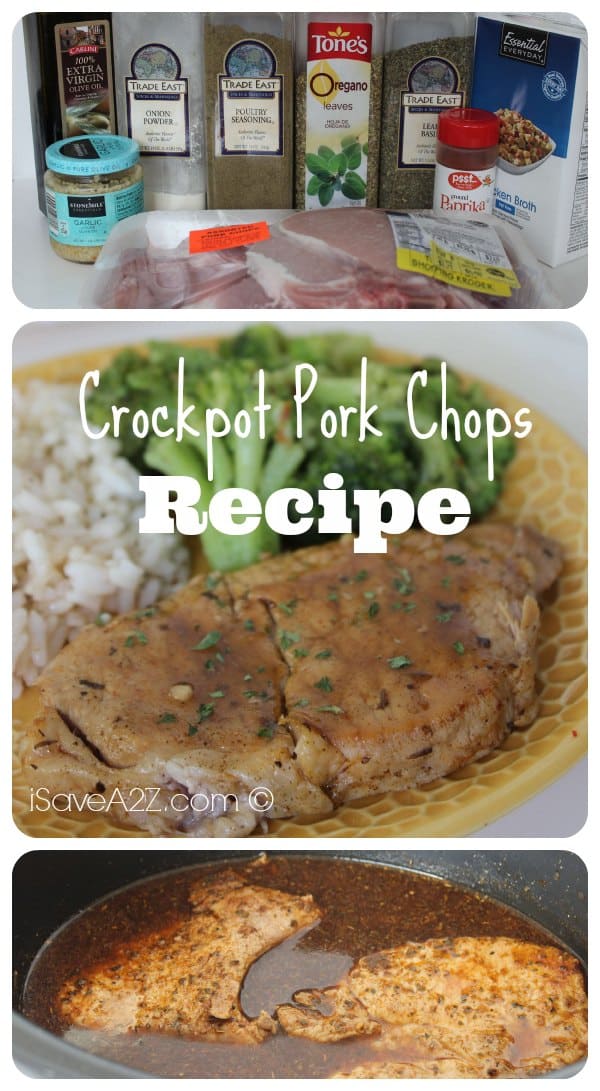 Crockpot Pork Chops
Instructions
You can optionally brown the pork chops in a skillet in 1 table spoon of olive oil.

Place pork chops in slow cooker.

Whisk together remaining ingredients and pour over pork.

Cover and cook on high for 4 hours or low for 7 hours.

If you would like, you can make a slurry of 1 tablespoon of cornstarch amd 1/4 cup water and whisk until smooth.

Add cornstarch mixture to some of the liquid from slow cooker and heat to boiling whisking until thickened.
Nutrition facts are provided as a courtesy.