Pretzel Rudolph Noses
Check out this super cute recipe for our Pretzel Rudolph Noses! If you're looking for some great Christmas holiday sweets, then this is perfect for you! The recipe below will bring you through all of the steps that you will need to take in order to make these amazing Pretzel Rudolph Noses!
Now, if you happened to like this recipe, then you should definitely check out some of our other super holiday type recipes here! Such as our Frozen Peppermint Pie recipe, our Eggnog Cinnamon Rolls recipe, our Eggnog Cookies recipe, our Christmas Cake Roll recipe, our Coconut Cream Cheese Pound Cake recipe, our Pumpkin Pie Cake recipe, our Pumpkin Pie Bites recipe, our Pumpkin Pie Fudge recipe, or even our Baked Apple Chimichangas recipe, and plenty of other great recipes! Any of these great recipes would be great as a family dessert when it comes to be the time for the holidays! These tend to be our favorites.
If you happened to like any of the recipes I have listed here, then you should definitely try out this neat cookbook for everything sweet and wonderful! You will be sure to find the best dessert recipes with this! With all of these recipes here, you will be sure to find the perfect recipe for any occasion that you could need something sweet! You will be inspired with plenty of dessert ideas.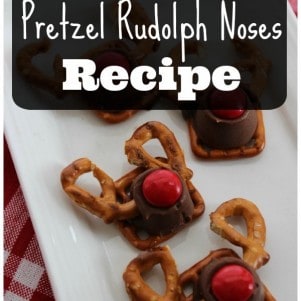 Pretzel Rudolph Noses
Ingredients
12

square Pretzels

12

Mini Twist Pretzels

actually a lot more depending on how long it takes you to break them in half

12

Rolo Candies

12

Red M&M's
Instructions
Preheat oven to 250.

Line a cookie sheet with parchment paper.

Split mini twists in half to make antlers (this may take some practice). I used a serrated knife.

Place square pretzels on prepared sheet.

Unwrap and place a Rolo in the center of each.

Place in oven for 3 minutes.

Press "antlers" into both sides of Rolo simultaneously.

Press M&M down on Rolo to make nose.
Nutrition facts are provided as a courtesy.