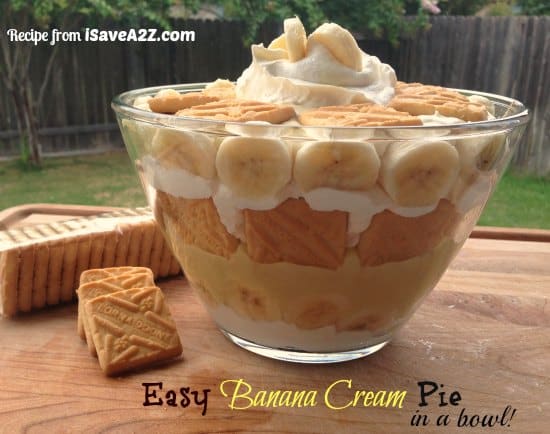 Easy Banana Cream Pie Recipe
By Jennifer Garza, iSaveA2Z.com,
If you are looking for a simple, yet delicious dessert, this Easy Banana Cream Pie Recipe is for you! It contains shortbread cookies that act as the crust of the pie making it a no baking required dessert! I love it and I bet you will too.
Ingredients:
– 1 package or Lorna Doone Shortbread cookies or Pepperidge Farm Chessman Shortbread cookies
– 2 small packets of Jell-O Instant Banana Cream Pudding
– 4 Bananas
– 1 12 oz container of frozen whipped topping (thawed)
– cold milk  (use the amount of milk as per instructions on your pudding packet)
I love preparing this dessert in this type of glass bowl because it almost always creates the "wow" factor when others see it!  It's perfect for bbq parties too!
Prep Time: 10 minutes
Cook time: 0 minutes
Yield: 8 Servings
Instructions for Easy Banana Cream Pie:
Start by making the instant banana cream pudding according to the instructions on the package. Stir completely and wait for it to set. Once it has set I folded in about 1/2 of the whipped cream to the pudding mixture for a light and fluffy texture.
Next, add the first layer of shortbread cookies at the bottom of your bowl or pan (whichever you prefer). The next layer will be sliced bananas. Add a layer of the Banana Cream pudding mixture you prepared earlier. Now add a layer of whipped cream. Repeat these layers until you run out of room or ingredients. Top with the remaining a dollop of whipped cream and bananas on the top. Voila! That's it!