Skillet Chicken Alfredo Pizza
If you have yet to try this Skillet Chicken Alfredo Pizza recipe, you are totally missing out!! Just image your favorite pizza that's piping hot just out of the oven with the perfect crust. Seriously, the crust is what makes the whole pizza. Give this cast iron skillet pizza recipe a try today.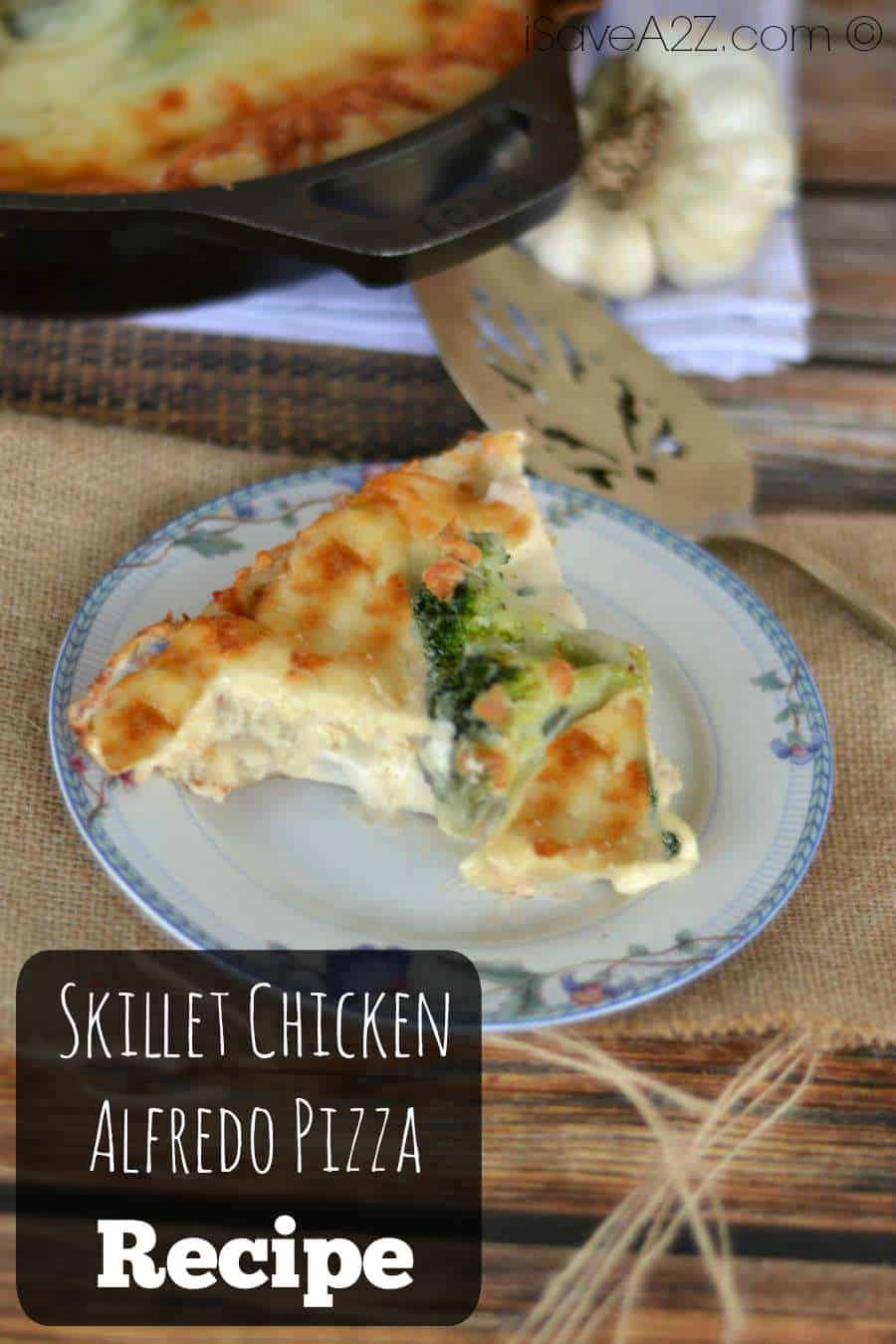 Skillet Chicken Alfredo Pizza
Depending on how long you cook it will depend on the crispiness of the crust too. There's just something super special about a pizza made in a cast iron skillet and you have got to give it a try.
Skillet Pizza
The cast-iron skillet cooks evenly and retains heat which is perfect for crust. This recipe is super simple because you can use the pizza dough already made found in the refrigerator section at your local grocery store. Of course, you can make your own too but I wanted you to have a simple option. Skillet pizza is a fun and creative way to make an incredibly tasty pizza.
Chicken Alfredo Pizza
If you have yet to try any of our other recipes that involve cooking in a skillet, then I would highly suggest for you to try out Skillet Peach Cobbler Recipe! This is one of the first skillet dishes I tasted, and I was anything but disappointed!
If this is your first time attempting to cook in a skillet, or if you're still looking for a place to get a nice skillet, then I would suggest that you check out this 10 inch pre-seasoned Cast-Iron Skillet here!
It's a darn good pan at a smashing price! Perfect to start out with. If you already have one, then great! You already know the joys of owning cast iron. In fact, if you already use cast iron I would love to know what your favorite recipe is using cast iron for cookware. I need some new recipes to try. Leave a comment below! Can't wait to hear what you suggest.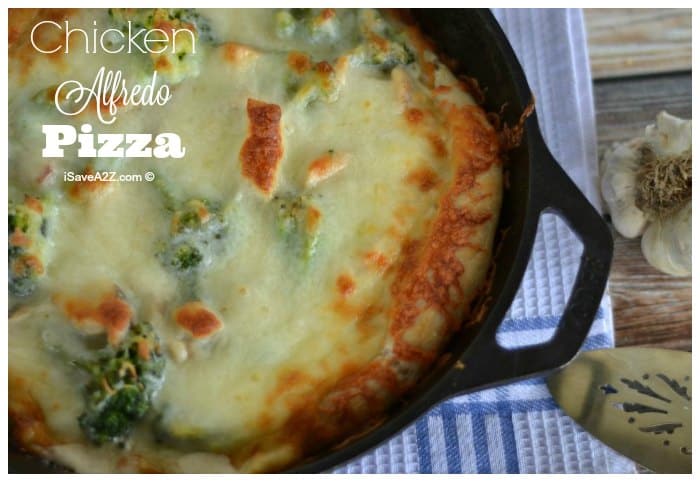 Searching for more pizza recipes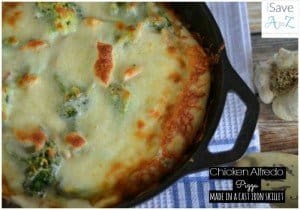 Skillet Chicken Alfredo Pizza
Ingredients
1

package of pizza dough or make your own

1

cup

of Alfredo sauce

1- 6

oz

pkg of shredded Mozzarella cheese

1

cup

of Steamed Broccoli

1

cup

of Grilled Chicken
Instructions
Preheat oven to 500 degrees.

Oil your cast iron skillet and place dough inside cover with saran wrap and let sit while oven is preheating, about 20 minutes.

Spread the dough out on the bottom of the pan.

Place in preheated oven for 5 minutes.

Remove from oven and place sauce, toppings and lots of cheese on your pizza

Place your skillet in the oven for 15 minutes or until cheese is bubbly and brown. If you like an extra crispy crust you can place the skillet on top of the stove for 1-2 minutes.

Slice and ENJOY!
Nutrition facts are provided as a courtesy.