Easy Peach Cobbler Recipe made in a Cast Iron Skillet

Easy Peach Cobbler Recipe made in a Cast Iron Skillet
I just love this Easy Peach Cobbler Recipe made in a Cast Iron Skillet recipe.  When I was younger I was never really into cast iron skillet cooking at all.  I can remember the food sticking and when I washed the pan it rusted.  I was so frustrated with this pan but it's only because I didn't know anything about it.  The world of cooking in a cast iron skillet changed the day I purchased this Lodge Pre-Seasoned Cast Iron Skillet on Amazon.  I purchased it because it was an amazing price but I also purchased it because it's pre-seasoned.  This was my biggest mistake when I tried cast iron before.  What a world of difference.
My hubby is a big fan of peach cobbler but he's a bit picky too.  He loves a tasty cobbler on the top of the peaches that has a sweet, light crunch to it.  He doesn't care for the soft, cake-y type toppings.  This is the one recipe that he loves!  Actually, we all love it!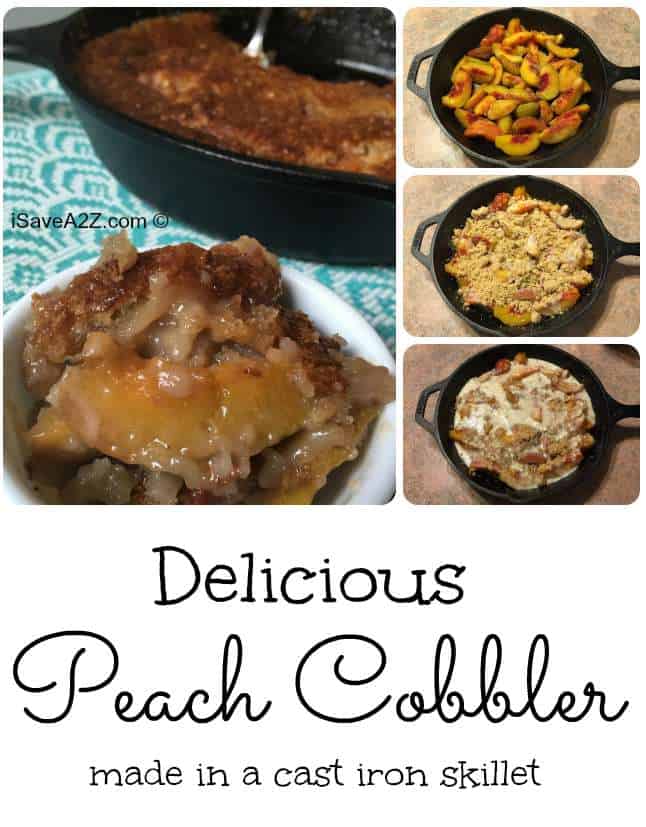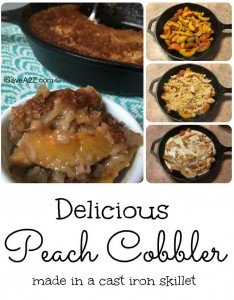 Easy Peach Cobbler Recipe made in a Cast Iron Skillet
Best Peach cobbler recipe I've ever tried!
Instructions
Pre heat the oven to 350 degrees.

Lay out the peaches evenly at the bottom of the pan. Pour the melted butter over the peaches.

Sprinkle the brown sugar on top of the peaches.

In a separate bowl, mix together the flour, sugar, milk and vanilla.

Pour that batter over the peaches.

Bake at 350 degrees for about 45 minutes or until the top has cooked completely.

Top with vanilla ice cream if you desire.
Nutrition facts are provided as a courtesy.
Now after using my cast iron skillet for a while I have learned some things that I found important enough to share.  This will be helpful if you have the same frustrations I had in the beginning.  It's worth trying to cook with the cast iron skillet or at least I think it is.
My new love for cast iron cooking has taught me that I can use this pan to cook on all different types of surfaces such as:
Ceramic
Electric and Gas cooktops
In the oven
Over a grill
Over a campfire
I tend to use my mostly in the oven.  I have a glass top surface on my stove which I am afraid to scratch.  They say I can use it but you have to have a flat bottom pan which mine does.
My next favorite is using my Kalorik Induction Plate.  Remember the article I wrote last year when I reviewed the Kalorik Induction plate here?!  I've used it a few times and it doesn't scratch it!  I love that I can use it on my counter which gives me lots working room too.  It helps when frying chicken because of all the pans (flour, buttermilk etc…) I use around the frying pan.
The next thing I learned is that having a pre-seasoned pan to start with created a non stick surface.  Yay!  Most of the Lodge pans come pre-seasoned now.  I can't wait until I use my pan enough to build up that natural black patina for a smooth surface.
Finally, cleaning the pan is super easy.  Some people refuse to use soap and other do.  I personally use a little bit of Dawn dish washing detergent for super messy meals.  I scrub it and wipe it clean.  I make sure to use oil or crisco and the washing to make sure I season it to prevent the rust.
I love this video from Lodge on cleaning my pan:
I've definitely turned a new leaf with my cast iron cooking.  I've made some amazing chicken wings, buttermilk biscuits and many more recipes!  I hope this gives you a bit of inspiration if you want to attempt to cook using cast iron.  Stay tuned for more amazing recipes as I experiment with my pan!
Feel free to Pin It for later here: