Easy Cheesy Pizza Bombs with Pepperoni and Bacon

Easy Cheesy Pizza Bombs with Pepperoni and Bacon
I've got to admit something…  I've been real lazy today and that's how these Easy Cheesy Pizza Bombs with Pepperoni and Bacon came about.  Have you ever had one of those days you've been cleaning the house like crazy and next thing you know it's dinner time and you didn't even take a meat out of the freezer?  That's exactly my day today.  The kids are out of school and time got away from me.  I got a lot done but who has time, or energy for dinner?  Not me.  This is a perfect recipe for days like this.  I can tell you that when I was done making this dinner it was amazing!  They came out way better than I even imagined.  My kids are already asking me to make these Easy Cheesy Bombs next week.
This recipe can be made with just about any canned dough.  We just happen to have on hand the canned pizza dough.  I've used canned biscuits, canned croissant dough and even Rhodes frozen dinner rolls too.  It all just depends on what you have on hand.  They all taste good.   My favorite is between the frozen Rhodes rolls dough or the canned croissant dough.  The Rhodes dinner rolls take a bit more preparation though.  They come frozen so you have to remember about 4 hours ahead of time to take them out of the freezer.  To defrost them all you have to do is place them on a cookie sheet.  Spray each roll with a little nonstick cooking spray and cover with plastic wrap until they defrost and rise.  This would not be the option for you if you had a day like I had today and forgot until the last minute.  This is when having canned dough in the fridge is perfect.
Ingredients Needed for Easy Cheesy Pizza Bombs with Pepperoni and Bacon:
Canned Dough (your favorite)
Small jar of pizza sauce
Shredded Cheese
Sliced Pepperoni
Here's how to make Easy Cheesy Pizza Bombs with Pepperoni and Bacon:
Start by grabbing a quarter size (or a bit bigger) piece of dough.  Roll it up in to a ball and use your thumbs to create an indention in the ball for your fillings.
NoPlace two slices of pepperoni inside the bottom of the ball of dough.
Add some bacon bits
Add about 1 teaspoon of pizza sauce
Add about a tablespoon of shredded cheese.  I like the fine shredded cheese for this recipe.
Grab the outside of the roll of dough and pitch the sides together trapping all the filling ingredients inside the ball of dough
Place the cheesy pizza bomb with the pinched dough side down.
Bake at 350 degrees for about 10 to 15 minutes (until the dough is golden brown)
BAKING TIP:  You can see in the photos that I use my Artisan Silicone Baking mats and they are the BEST thing since sliced bread.  Seriously.  The crust comes out perfect on anything you bake when you use them!  I've had mine for more than 4 years now and use them often.
Folks, it really doesn't get much easier than this unless you are ordering delivery.  I did add a side salad to complete our super easy dinner.  These came out way better than expected and I will definitely be making these again.  Next time I think I will use them when I have left over pulled pork.  Ummm…  can you imagine…  pulled pork and cheese?  Sounds good to me.  I'm always looking for creative ways to use leftover meats from the meal before.  I definitely don't like to waste food.
I hope you enjoy this recipe and much as we enjoyed it!  Please share if you made your own combination.  I would love to try more combos.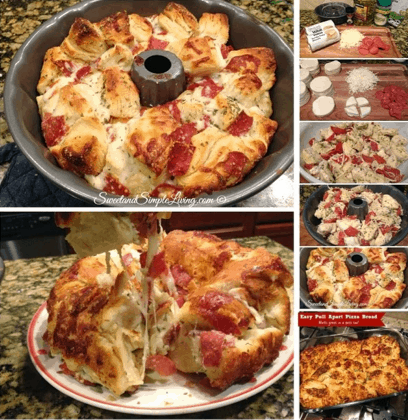 If you enjoyed this easy recipe check out a few more that also use canned dough:
Easy Pull Apart Pizza Bread Recipe (made in a bundt pan!)
Homemade Pizza Rolls recipe
Cast Iron Skillet Chicken Alfredo Pizza Recipe
Pizza Cupcakes recipe (fun way to make pizzas in a muffin tin)
Jalapeno Cheddar Pull Apart Rolls