You gotta try this!!
Pizza Cupcakes Recipe!
Do you love pizza? How about cupcakes?? Have you ever thought of combining the two? I never did, until I came across this really easy Pizza Cupcakes Recipe and I had to try it! You can customize these individual pizzas with whatever toppings you like. That way, everyone is happy!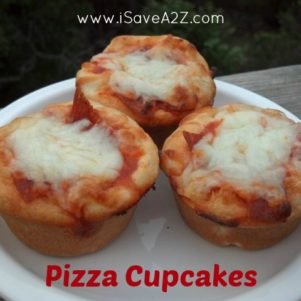 Pizza Cupcakes Recipe
Ingredients
1

can

8 oz of refrigerated crescent dinner rolls or 1 (12oz) can of refrigerated biscuits

pizza sauce

mini pepperoni slices

or just cut the larger ones up and any other toppings you want

shredded mozzarella cheese
Instructions
Pre-heat oven to 375 and spray a regular size muffin tin with cooking spray.

Unroll your dough or separate your biscuits and press them into the muffin cups.

Spoon a little bit of pizza sauce into the bottom of each "cupcake" and then add your toppings.

Top off each pizza with mozzarella cheese.

Bake 16 to 18 minutes or until lightly browned.

Remove from muffin tin and serve warm.
Notes
You can have a variety of toppings and let each family member build their own pizza just the way they like it.
Nutrition facts are provided as a courtesy.
As these started to cook, I was worried they may spill over and run out of the muffin tin, but they stayed just perfect. My kids loved making these too because they have very different tastes when it comes to pizza.
Want to try and make other things in your muffin tin? Here are a couple of cookbooks on Amazon to get you started!
You can get the Kindle version of this cookbook for only $9.87!
It has 200 recipes that you can try!
This one is only $9.99 for the Kindle version and has absolutely adorable treats that can all be made in a muffin tin.
Enjoy!!