Easy Red Velvet Cookies
Valentine's Day is just around the corner and I immediately thought these Easy Red Velvet Cookies would be a perfect way to celebrate love in the air.
Did you know that Red Velvet is actually a mix between a vanilla and mix chocolate flavor that's colored with food coloring or beetroot? I learned this when I was making red velvet cupcakes in a baking class. We made our own red velvet from scratch (along with many other flavors) by mixing vanilla and chocolate together and adding just the right amount of food coloring.
I've always wondered why it was chocolate but didn't taste as strong as regular chocolate cakes or cupcakes. I've always colored mine with food coloring and never used beetroot though.
I have found the most vibrant colors (if you make your own red velvet from scratch) are the gel food colors like these found on Amazon. You just can't get the same vibrant colors as the stuff you find at your local grocery store. I learned that in my class as well.
This recipe is definitely easier though because you are using a box cake mix to make these cookies. We love making Cake Box cookies and you can see more variations in this article titled Top 45 Recipe Variations for Cake Box Cookies. You need to head over to that link and look at the Cherry Chip cookies! If I had to choose a top 10, those would be on that list for sure!
Oh, and speaking of Red Velvet… Have you seen the Red Velvet OREO brand Cookies???!! They are a seasonal item and in stock for a limited time.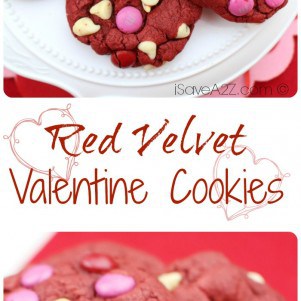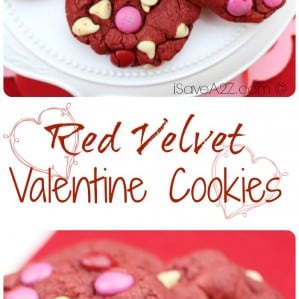 Easy Red Velvet Valentine Cookies
Valentine's Day is just around the corner these are a perfect way to celebrate love in the air.
Instructions
Preheat oven to 350° degrees.

Line a cookie sheet with parchment paper. This will keep the cookies from spreading into each other.

In a mixing bowl, add the cake mix, baking powder, eggs and vegetable oil. Mix until well combined.

Stir in the white chocolate chips.

Add the Valentine M&M's and stir to distribute through out the cookie dough.

Using a tablespoon or cookie dough scoop, transfer the dough onto the baking sheet.

Bake at 350 degrees for 10 minutes only. (FYI - If you leave the cookies in longer than 10 minutes, the white chocolate chips begin to brown and the M&M's start to crack)

Let the cookies cool for 5 minutes on the cookie sheet before transferring them to a wire rack to completely cool.

ENJOY!
Nutrition facts are provided as a courtesy.