Healthy Baked Apples Recipe

Healthy Baked Apples Recipe
I sometimes forget how easy a healthy recipe can be and this healthy baked apples recipe proves just that. I started taking the class at my local YMCA on healthy eating. I often find myself making the super unhealthy, delicious dishes that cause your waistline to expand. I consider myself quite handy in the kitchen and I'm not scared of that many recipes but sometimes the simplest of recipes can be the healthy and also taste delicious.
I'm not a big fan of eating apples. I'm more of a grapes type person. I love pineapple too. If I'm going to eat an apple, it's gotta be dressed up in some way. In fact, you probably remember our Candy Apples or our Jolly Rancher Candied Apples recipes. We may have gone a bit overboard with our popular Twix Caramel Apple Salad recipe too. We have way too many delicious recipes that have tons of sugar in them. Those are okay from time to time but this recipe is much better for you with way less sugar.
Apple Cutting Tips:  When I first tried this recipe I used a sharp knife and a melon scooper. It was doable but not easy. I have sense researched some handy, dandy inexpensive kitchen tools to find the Cuisipro Apple Corer
. Which I know use every time I make this recipe. This is dessert in our house at least once a week. Money well spent for making my life ten times easier in the kitchen.  This is the only tool that has a handle at the top so it's easy to push down and core the apple.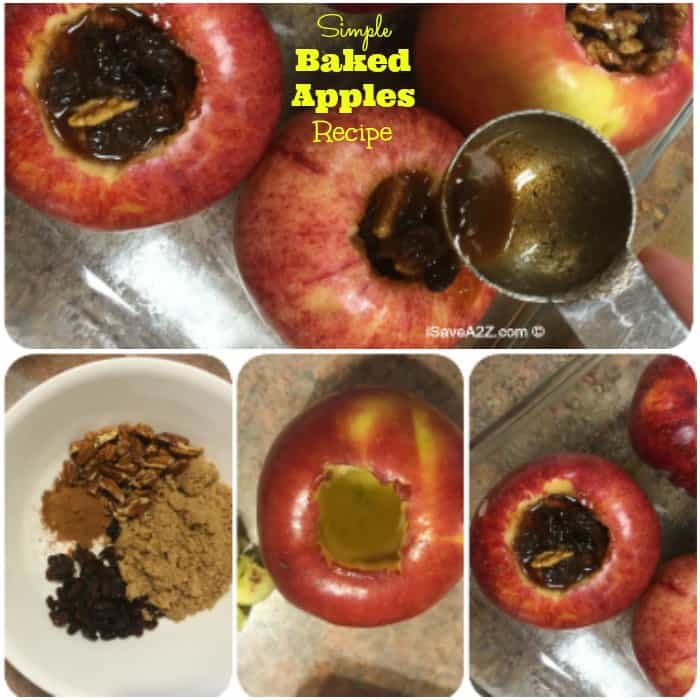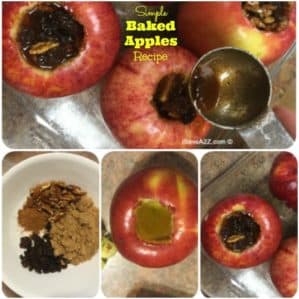 Healthy Baked Apples Recipe
Healthy desserts option
Instructions
Preheat your oven to 350 degrees before you start so the oven will be ready when you are done preparing your apples.

Remove the apple stickers and the core (use a knife or a apple corer)

In a bowl, combine the raisins, nuts, brown sugar, lemon juice and spices.

Place the cored apples in a casserole pan and equally fill each apple with the mixture you just prepared.

Fill the casserole pan with about 1/2 inch to 1 inch of water.

Bake the apples until they are soft. This will take about 45 to 60 minutes depending on the size of your apples.

Cool slightly but serve warm.

This will serve 4 to 8 people. 4 people for a whole apple or 8 in sliced in half.
Nutrition facts are provided as a courtesy.
Here's a Pinterest friendly photo in case you want to "pin it" for later: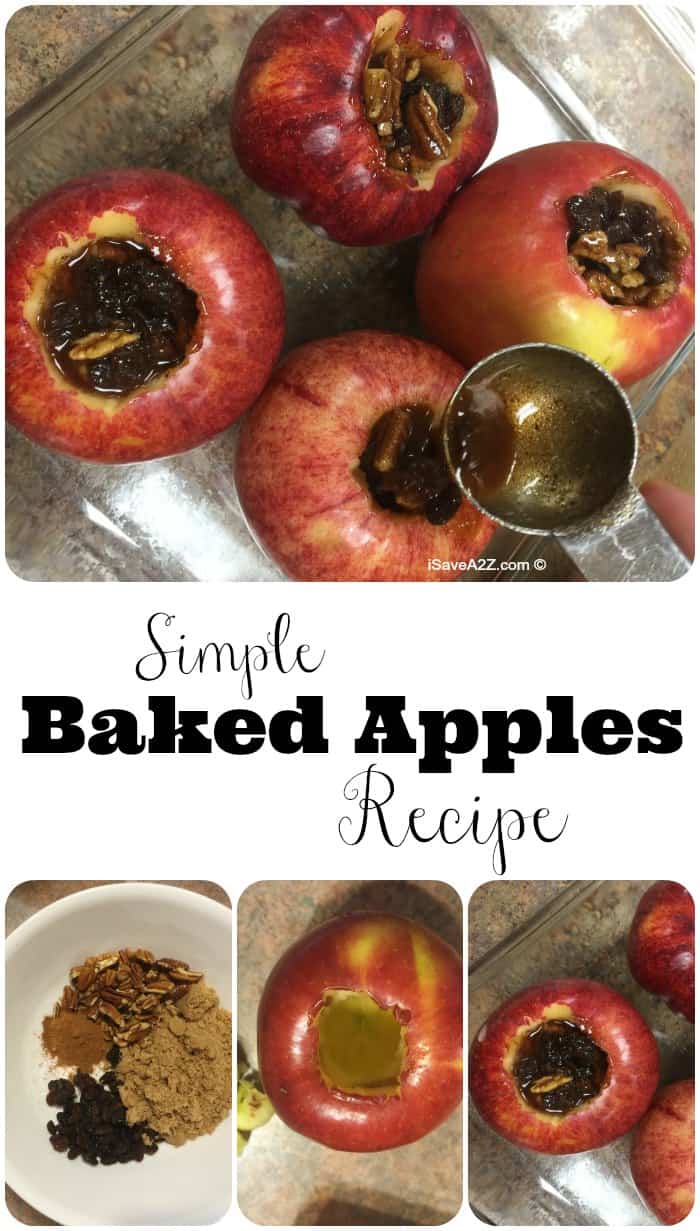 Now if you liked that healthy recipe, then you should check out our article on "How to Grill Peaches!"  I'm a sucker for grilled fruit.  yummmmmm!