Jolly Rancher Candied Apples: Disney's Frozen Inspired Colors

Jolly Rancher Candied Apples:  Disney's Frozen Inspired Colors
I've been so uninspired lately and found myself in a slump.  I feel as though I've had writers block but with a crafter's twist.  It's not fun.  My husband and his partner at work started talking about candied apples made with Jolly Ranchers candies.  They told me you could make them with edible glitter for Halloween.  I decided to give it a try.  My husband said just melt the Jolly Rancher candies on about 250 degrees for about 5 minutes and dip the apples.  Well…  it's not that easy and that definitely didn't work.  We have made regular candy apples before from our regular recipe but not with Jolly Ranchers candies.  Time to give it a try.
As I shopped for the Jolly Ranchers I remembered the beautiful blue colored candies in every bag.  I immediately thought of the latest craze for Disney's Frozen movie.  Voila!  Inspiration hit me!  I must made Disney's Frozen inspired Candied Apples from Jolly Rancher.  YES! YES! YES!  (I was acting out that scene in When Harry Met Sally when it hit me!)
Off to Hobby Lobby I went.  I have their handy dandy app downloaded on my phone so I can always get 40% off any regular priced item because every little bit of savings is worth it.  I had to figure out a way to make that blue colored Jolly Rancher a lighter color and solid.  I've dabbled in lots of food colorings and new that I needed to find a white color to make the color I wanted but I wasn't sure it would mix well with the candy or not.  I ended up grabbing the AmeriColor Soft Gel Paste in bright white (as seen here on Amazon) and I was on the hunt for a silver edible glitter which they didn't carry.  They carried stars and hearts but not the edible glitter I needed.  I was able to order the silver edible glitter on Amazon though.  I don't know if they were just out because it's a popular product or it's just so new they didn't have it.  Lastly, I grabbed some lollipop sticks (be sure to get the 6 inch lollipop sticks like these here on Amazon) because after you stick it in the apple you still have enough room to hold the candied apple in your hand.  Don't get the smaller sticks.  Finally, I was done and headed to checkout at the register.
Now for the testing of this project.  I started by prepping my apples by putting sticks in the tops of them.  I also prepped a glass plate with non stick cooking spray for a place to put my apples right after I dip them.  (don't use wax paper because it doesn't work)
I preheated the oven to 250 degrees.  I put the Jolly Rancher candies (blue color only) in a pan that could go in the oven (make sure the handle on  your pan is safe to bake in the oven).  My candies never started to melt so after about 5 minutes I bumped the temperature up to 350 degrees.  It took about 10 minutes before the candies really started to melt.  I left them in there for another 5 minutes (15 minutes total) to get it at the perfect consistency.  I opened the oven and checked them every five minutes just to make sure they weren't being over cooked.  I used a fork in between every five minutes of cooking the candies to test them.  If the candy is hard to lift when you are testing it, you need to bake it longer.  It should be the consistency of syrup.
Once your consistency is correct pull it from the oven and immediately add a couple drops of the bright white AmeriColor Soft Gel Paste until you get the desired color you want.  If  you decide not to add the white coloring the candy mix it will look almost like glass.   Like this: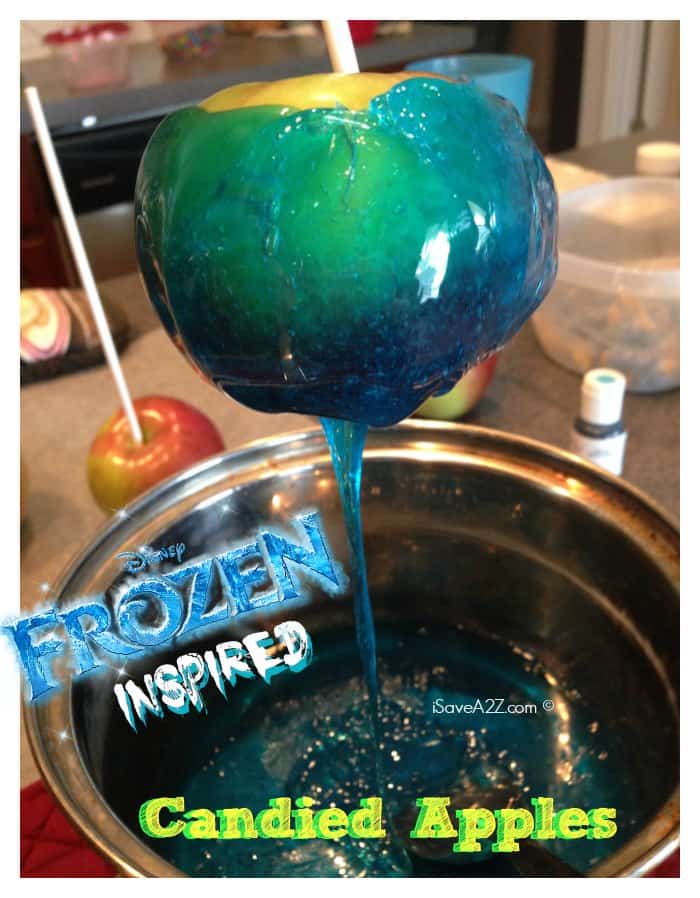 Next, add a couple shakes of the edible glitter (if you want the sparkle effect).  Stir it immediately and dip your first apple.  Be very careful not to touch the handle.  I used a fork and the handle from the lollipop stick to dip the apple then I laid it on the glass plate I had previously sprayed with non cooking spray.    If you find the candy is cooling and getting stiff, just put it back in the oven to heat it up again until you get the consistency you need.  I actually put it back in the oven between apple dips.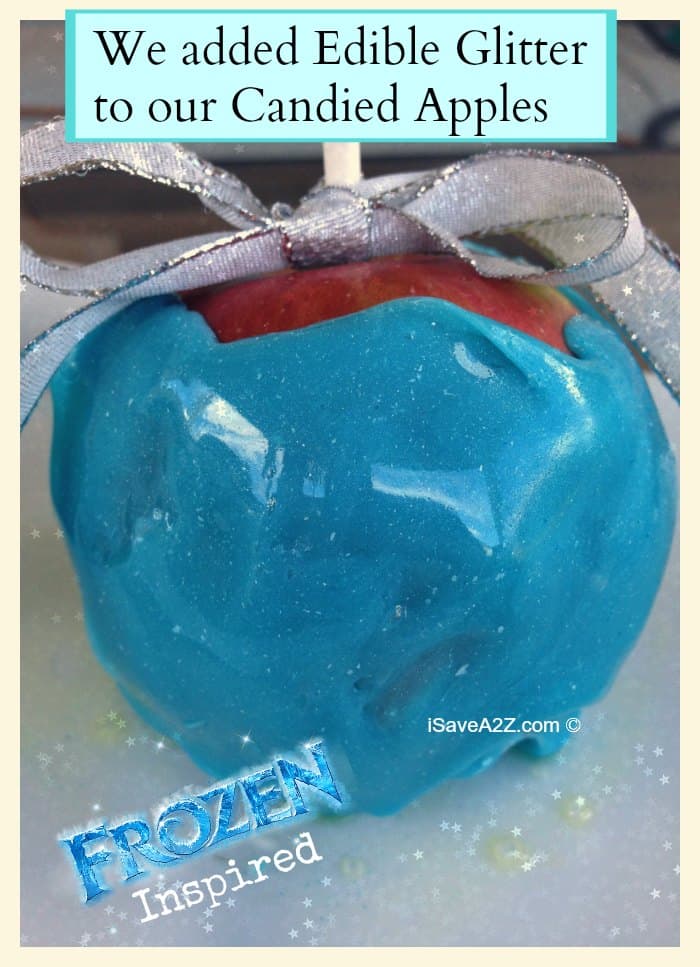 TIP:  If the Jolly Rancher candy is not melted enough, the candy coding on the apple will be too thick to eat.  I found it much easier to eat the apple with a very thin layer of Jolly Rancher candy.
I ended up using a apple slicer to cut the candied apple and eat it.  It reminded me of eating a Tootsie pop.  The hard outer shell with a chewy center.  The candies are very tart so I would use sweeter apples unless you really like the tart of the apples and the candy together.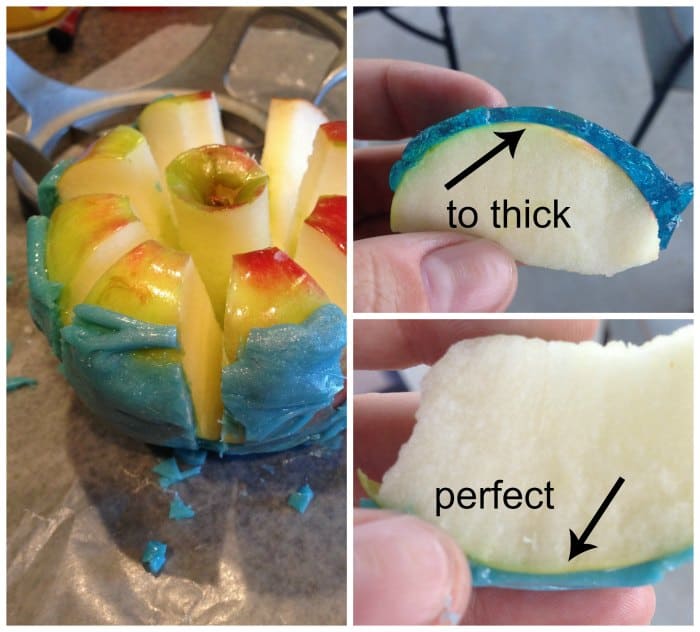 It love the way the edible glitter added a sparkle to our Frozen inspired candied apples!  It's came out perfect!  The kids really like them.  Next time I plan to make an Olaf on the lollipop stick with marshmallows.  That would be cute!  I have tons of Jolly Rancher candies left over and I can't wait to make more with the other colors.  I'm thinking the red ones would be good for the holidays.
The last thing I should mention is the clean up.  Melted hard candy clean up sucks.  It really does.  Don't waste any time trying to clean that pan you used to melt the candy.  Just soak it in water for a few hours and it will melt away.  It doesn't even have to be hot water either.
Feel free to pin it to Pinterest here: