Oreo Eyeballs
Check out this neat and amazing recipe for some halloween themed Oreo Eyeballs! If you have been on the look for some great halloween themed snacks, then you are in luck! The recipe below will bring you step by step into making some of the most amazing Graveyard Pudding Cups! If you are looking for some other recipes like this one, then you should check out our Graveyard Pudding Cups, our Pretzel Pumpkins recipe, and even our Clementine Pumpkins and Banana Ghosts! With these recipes, you should have all the halloween snacks you could ask for! Whether it be for just the kids, or for your very own halloween party! You can't go wrong with these snacks!
If that isn't enough Halloween snack recipes for you, then you should be sure to check out this neat cookbook willed with plenty more halloween snacks for you to try! With all of these recipes combined, there are plenty of recipes for you to have an enjoyable Halloween party! Keep checking back for even more great Halloween party snacks that could help you make your Halloween party even more successful!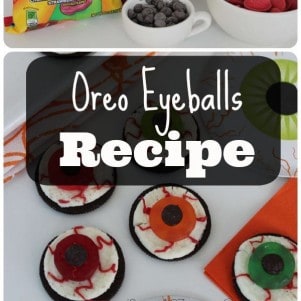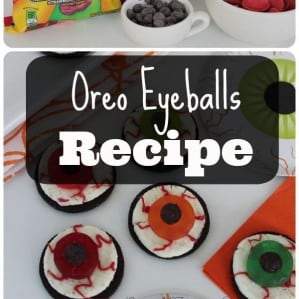 Oreo Eyeballs
Instructions
Carefully remove tops of Oreos and save for use in another treat.

Place on cookie sheet.

Melt red chips by heating in a microwave for 30 seconds then stirring and repeating until smooth.

Tranfer red candy to zippered sandwich bag and clip tiny tip for piping.

Pipe tiny red zig zag lines from center of cookie to edges to simulate bloodshot eyes.

Place a gummie as the iris.

Pipe some red chocolate in the middle of the gummie to act as glue and place a chocolate chip (flat side up) to be the pupil.

Place in refrigerator to set for 10 minutes.
Nutrition facts are provided as a courtesy.