Clementine Pumpkins and Banana Ghosts

Clementine Pumpkins and Banana Ghosts
Check out this absolutely cute recipe that the kids will absolutely love, for some Clementine Pumpkins and Banana Ghosts! If you're looking for a neat way to decorate some halloween themed snacks for your kids, then this will be perfect for you! The recipe below will bring you step by step into making these simply adorable Clementine Pumpkin and Banana Ghost designs! If you enjoyed this recipe, then you are in luck! You should be sure to check out some of our other pumpkin favorites! Like our Copycat Pumpkin Scones, our Nutella Pumpkin Pie, or our Easy Pumpkin Roll Recipe! Get ready for fall with all of these great pumpkin recipes! If you love pumpkin, you should also check out our Homemade Pumpkin Pie Recipe!  It's totally worth trying and it is super easy as well! Get your fall holidays in gear with the right pumpkin recipe!
If these recipes are just the kinds of recipes that you have been looking for, then I have some good news for you! Check out this neat cookbook with even more pumpkin recipes that will sure to widen the variety of pumpkin foods for you and your family this fall! So don't miss out! Check them out now!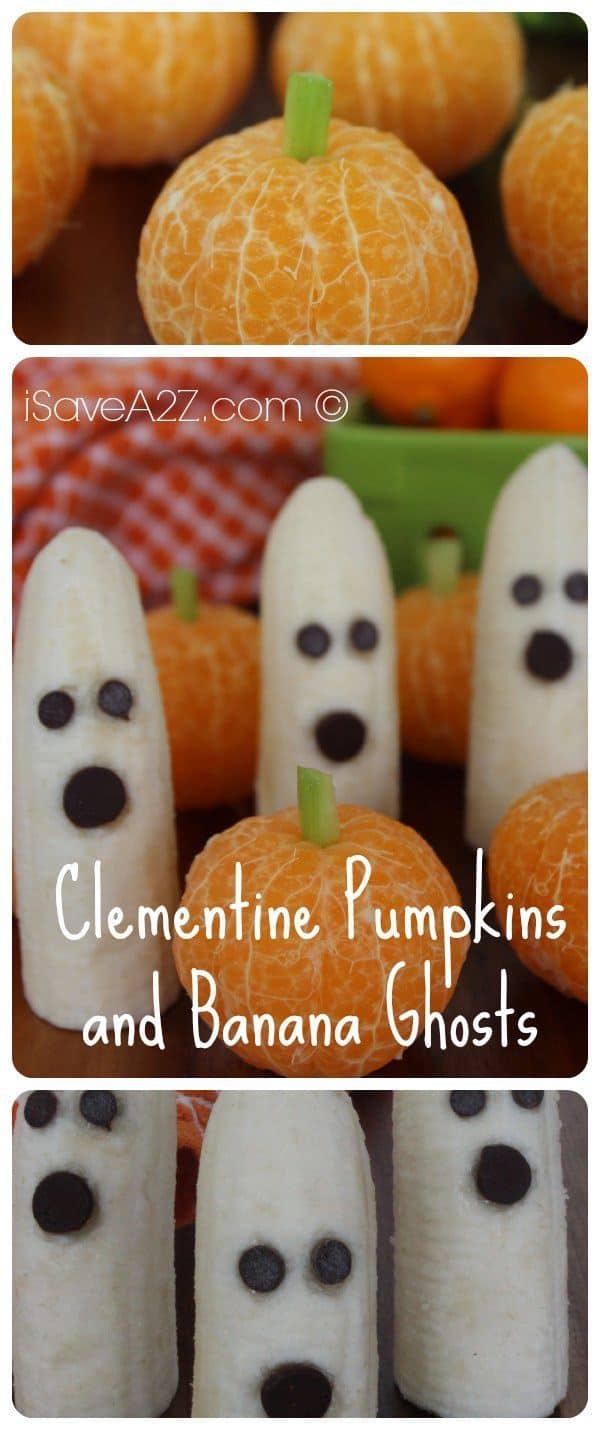 Clementine Pumpkins and Banana Ghosts
Ingredients
Bananas

Chocolate chips

Mini Chocolate Chips

Clementines

Celery
Instructions
Cut each banana in half and peel.

Cut bottom at angle to help ghost stand.

Using a toothpick in a circular motion, make a hole for each eye and the mouth.

Use mini chips for eyes and regular chip for mouth.

Peel each clementine by hand.

Use a soft bristled brush under cool water to help remove white pithy material.

Take a small piece of celery and cut into small pieces to make stems and insert.
Nutrition facts are provided as a courtesy.